Table of Contents
Introduction
Across different industries, there are several examples of incredibly capable and useful tools and technologies being selflessly offered for free by their inventors. The three-point seatbelt or the Kernel platform that supports Android apps are among the most well-known examples.
One of the most blessed industries in this respect may be the digital marketing industry. The web is filled to the brim with excellent tools that provide fantastic marketing value at absolutely no cost. This means that if you are resourceful, you can take care of almost every marketing activity with the help of a free tool. In this guide, we will try to give you a list that will let you create a holistic stack of digital marketing tools.
Without wasting any time, let's jump right into it:
Business Name Generation Tools
The challenge of thinking of a unique and fitting name for your online businesses doesn't seem like a challenge till you actually start thinking of names. There was a time when coming up with the right business name would take hours or even days. Not anymore. Not with these free name generation tools on your side:
1. Naminum
Naminum is a free tool that will suggest business names based on a 'seed' idea that you put into its search bar. The tool works really well and you may find some truly great ideas with Naminum. With that said, keep in mind that the names suggested by Naminum are not verified to have domains. This means, you may find a great name but the domain for that name may already be taken.
2. Business Name Generator
Business Name Generator is a tool that is designed to suggest names for apps. If you have an app idea, this tool is definitely worth checking out. The tool will even check domain name availability with GoDaddy and present only names for which domains are available.
3. Impossibility
Impossibility is perhaps one of the best name generators on the web. The tool allows you to generate names that will include a specific term that you want in your business name and in your URL.
4. Lean Domain Search
Lean Domain Search, as the name suggests, allows you to find business names with a focus on the domain name. What this means is that the tool will help you find names that include your keyword and have a domain available for that name.
5. Domainr
Domainr will give you a list of all relevant domain names based on a keyword that you will enter into its search bar. The tool will also accompany each suggestion with information about domain availability.
Website Building Tools
Trying to build an online presence for your business, or even an online business without a website is virtually impossible. However, custom websites can cost a fortune and many small businesses may not be able to afford professional web development services. However, these free website builders will help you create a professional looking website despite having to development experience:
1. WordPress
WordPress is hands down, the most popular content management system on the web. It is estimated that the platform is powering over 40% of the websites currently active on the internet. The platform also offers an incredibly capable and easy to use website builder that is absolutely free for anyone. However, keep in mind that certain website development and optimization actions on WordPress will require knowledge of programming. Also keep in mind that the website builder is part of the bigger gamut of products offered by WordPress, some of which may be paid.
2. Bootstrap Zero
Bootstrap Zero offers an absolutely free collection of excellent and ready to use website themes. Besides themes, the website also offers mockups and icon images.
3. Strikingly
Strikingly is a website design tool rich with easy to use features and a huge library of templates. The free plan offers restricted access to their services (like a .strikingly domain name) but the website builder is one of the best currently available on the web.
4. HTML Templates
As the name suggests, HTML Templates is a website dedicated to offering free website templates for HTML and CSS based websites. If your website is using any of these technologies, HTML Templates can save your hours of work.
5. BootsWatch
If you are using Bootstrap to build your website BootsWatch is definitely worth checking out. The website offers absolutely free of cost themes for websites built on Bootstrap.
Branding And Logo Design
1. Logaster
Logaster, despite being a free tool, is one of the most easy to use and powerful branding tools available on the web. The tool will generate a multitude of logo options simply based on your chosen business name and your industry. Once you select a logo, it will generate other branding elements with a single click.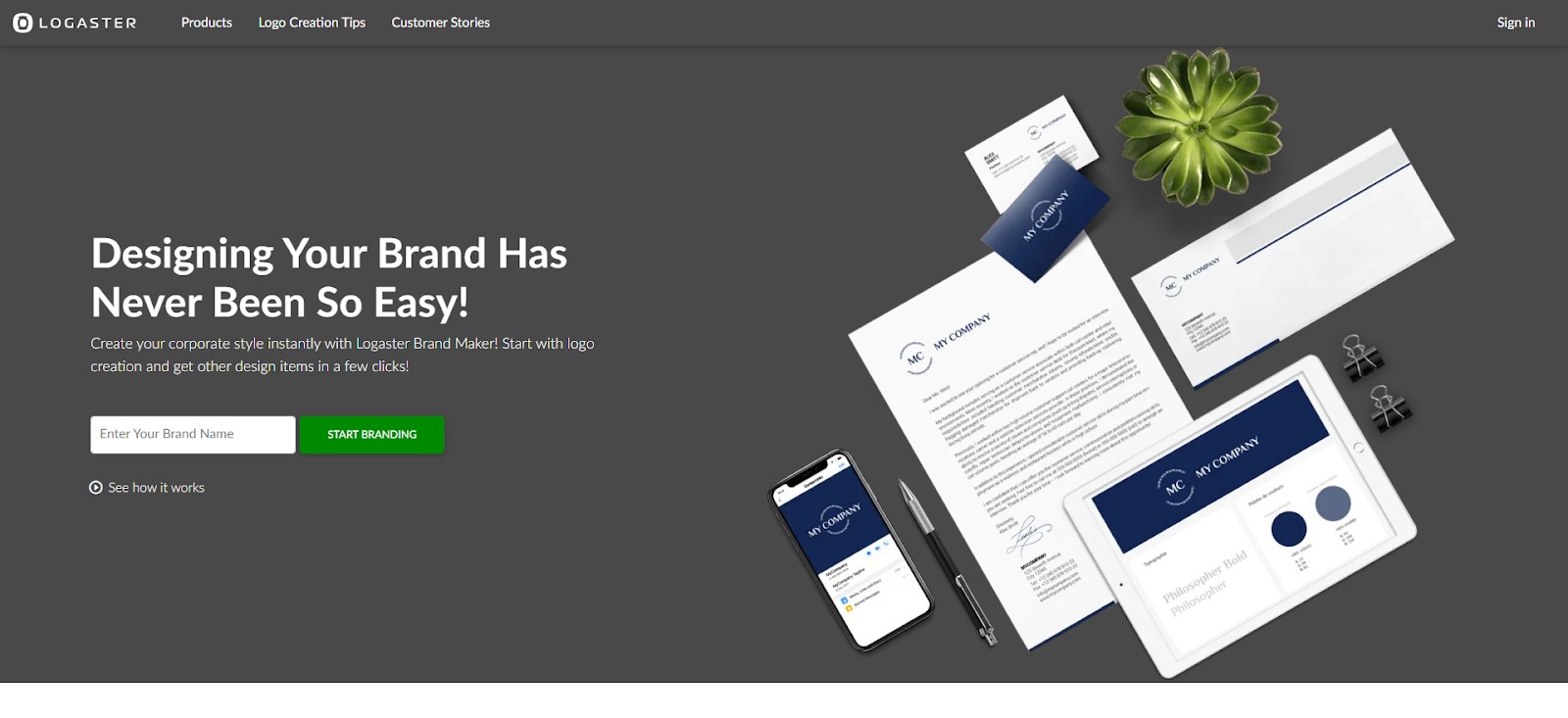 2. Hipster Logo Generator
Hipster Logo Generator is a logo generator that will enable you to create logo designs that stand out and appeal to a younger demographic. If you have a direct to customer brand, this may be the ideal logo generator for your needs.
3. Squarespace Free Logo Maker
Squarespace is a popular premium website builder. However, the logo builder developed by the brand is free to use. The great thing about this tool is that it enables you to see how your logo will look in different settings and on different mediums like t-shirts, coffee mugs, pens, visiting cards and of course, digitally.
Project Management Tools
Digital marketing is a bigger umbrella under which several marketing activities are encompassed. Naturally, all the different areas of digital marketing will require a variety of experts and contributors.
Managing multiple contributors and keeping a large team accountable while ensuring different campaigns are progressing on time can be a management nightmare, if you don't have the right project management tools. Here are our top two picks:
1. Trello
Trello is a collaboration tool that offers a free and a premium version. The free version offers a ton of useful features like the ability to dedicate different "boards" to specific projects and tasks, create shared checklists, allows you to create shared timelines, creates automated progress charts, and even generates automated progress reports. These are just a few of the many features that the free version of Trello offers.
2. Asana
Asana is a well-known alternative to Trello and also offers a free and a premium version. However, unlike Trello, the free version restrictions don't exist for the features available to you. Instead, Asana restricts free accounts to collaborate with up to 15 users.
3. HubSpot
Hubspot is perhaps the most well-known content management system out there. However, that is not all it is. Even the free version of Hubspot offers a ton of features that go beyond simple content management. Features like lead management and marketing automation perfectly complement the tool's robust ability to help you consistently generate quality content to establish your brand as an authority. All these qualities qualify Hubspot to be regarded as a well-equipped CRM.
4. Germ.io
Germ.io helps you 'get from idea to execution'. The tool is designed to help teams collaborate and brainstorm in order to turn ideas into actionable projects. Most of the best features of Germ.io are focused on development teams. So if your core team consists of developers and strategists, this collaboration tool will be perfect for your team.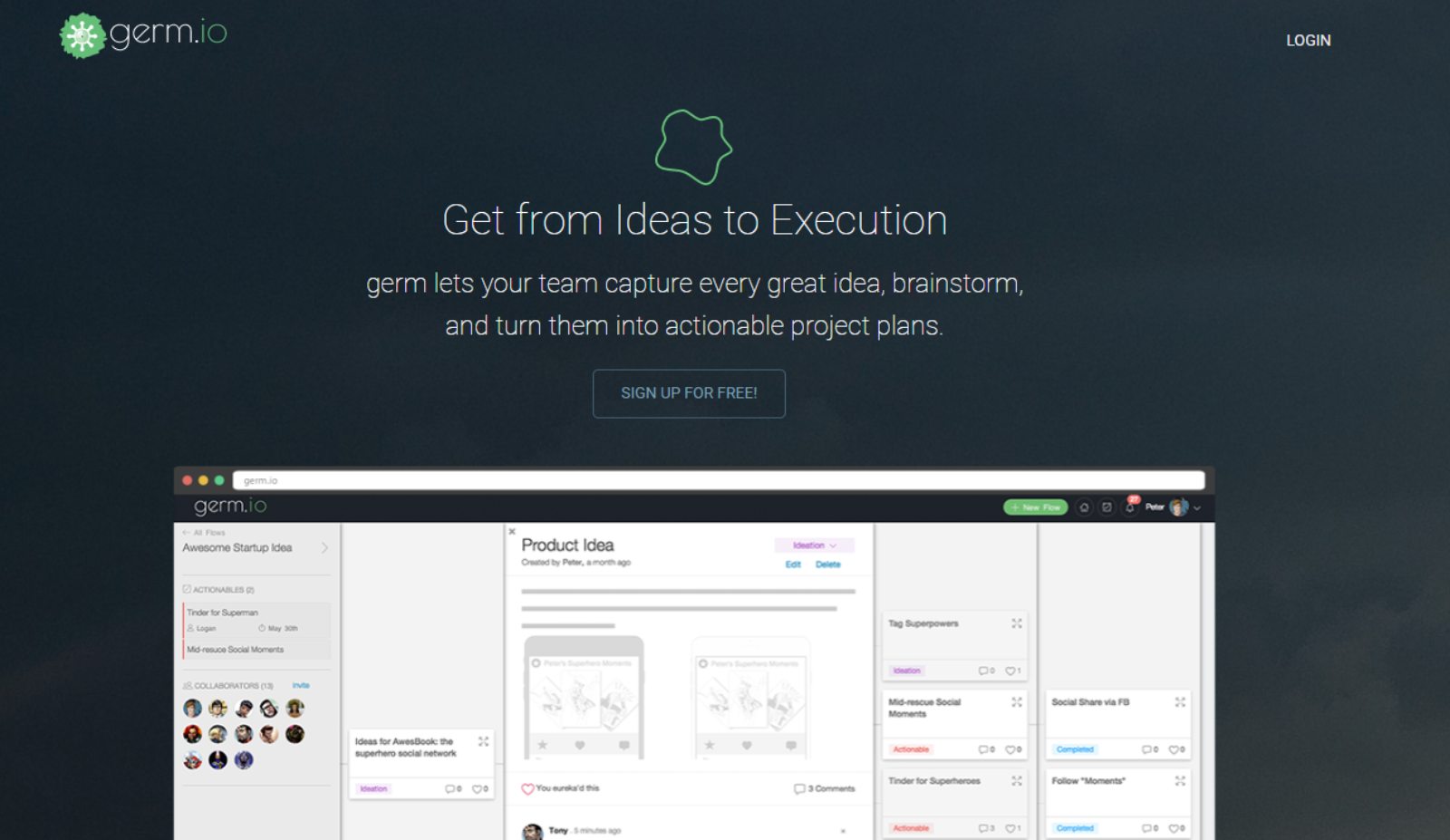 5. Skitch
Skitch was formerly an annotations tool but it's developers have recently added some neat features. The tool is now capable of taking screenshots and adding relevant notes, shapes, and sketches to them, making it perfect for online research and ideation. Please note that the tool is only available on the Mac App Store.
6. Nimbus Screen Capture
If you are a Windows user, the Nimbus screen capture Chrome extension will take care of all your screenshotting needs. The product is truly great. It is responsible for all the screenshots you see in this article. Oh, and it can even help you create screen-record videos.
Search Engine Optimization Tools
While SEO is a subset of digital marketing, it is itself a collection of optimization tasks that can be further divided into different categories. Let's look at the free tools for each one of them:
1. RankWatch Website Audit
RankWatch is actually a full service SEO tool that offers all the features you need to dominate the search rankings in your niche. The tool has recently turned its features into individual tools and offers limited free access to them. The website audit tool by RankWatch will analyse your entire website and tell you about the optimization opportunities that you may otherwise overlook.
RankWatch offers similar tools for backlink analysis, keyword research, and competitor research.
2. Google Keyword Research Tool
Google Keyword Research tool isn't as powerful as it used to be a few years ago but it is still one of the best free keyword research tools available today. The tool will give you keyword suggestions in exchange of a 'seed' keyword, along with performance metrics like (approximate) search volumes and competition among different advertisers for those keywords.
3. Ahrefs Backlink Checker
Ahrefs is a well-known premium SEO tool that offers its individual features without having to pay for them. The Ahrefs backlink checker is one of the most capable in the industry and is offered for free. It can be used to reveal all the links pointing to a specific web page or a set of web pages. However,
4. Google Search Console
Google Search Console is another great free tool by Google that helps you keep track of various aspects of your website's SEO. This includes a real time record of the backlinks pointing to your website and keyword tracking capabilities.
The tool also makes it possible to easily submit sitemaps to Google, making it easy for you to immediately index new pages on your website. The tool can also be configured to deliver automated alerts regarding mobility and indexing issues with your website.
5. Google My Business
Google My Business is not so much a tool as it is a platform that Google developed for the benefit of local businesses. If you have a local business and value organic traffic, Google My Business is definitely worth checking.
The tool allows your business to appear in the Google My Business section of the search results, which usually appears above the organic search results.
6. Local Search Results Checker
If your business operates in multiple locations, you will have to optimize your website for each one of your target locations. Keeping up with website rankings in multiple locations can become challenging and overwhelming. Local Search Results Checker makes it easy with its free and user friendly dashboard.
7. Moz Local Online Presence Tool
One important best practice for local SEO is to ensure consistent business information across different platforms, websites, social media handles, and directories. The Moz Local Online Presence Tool is a citation analysis tool that analyses your entire local online presence and highlights issues with business information consistency.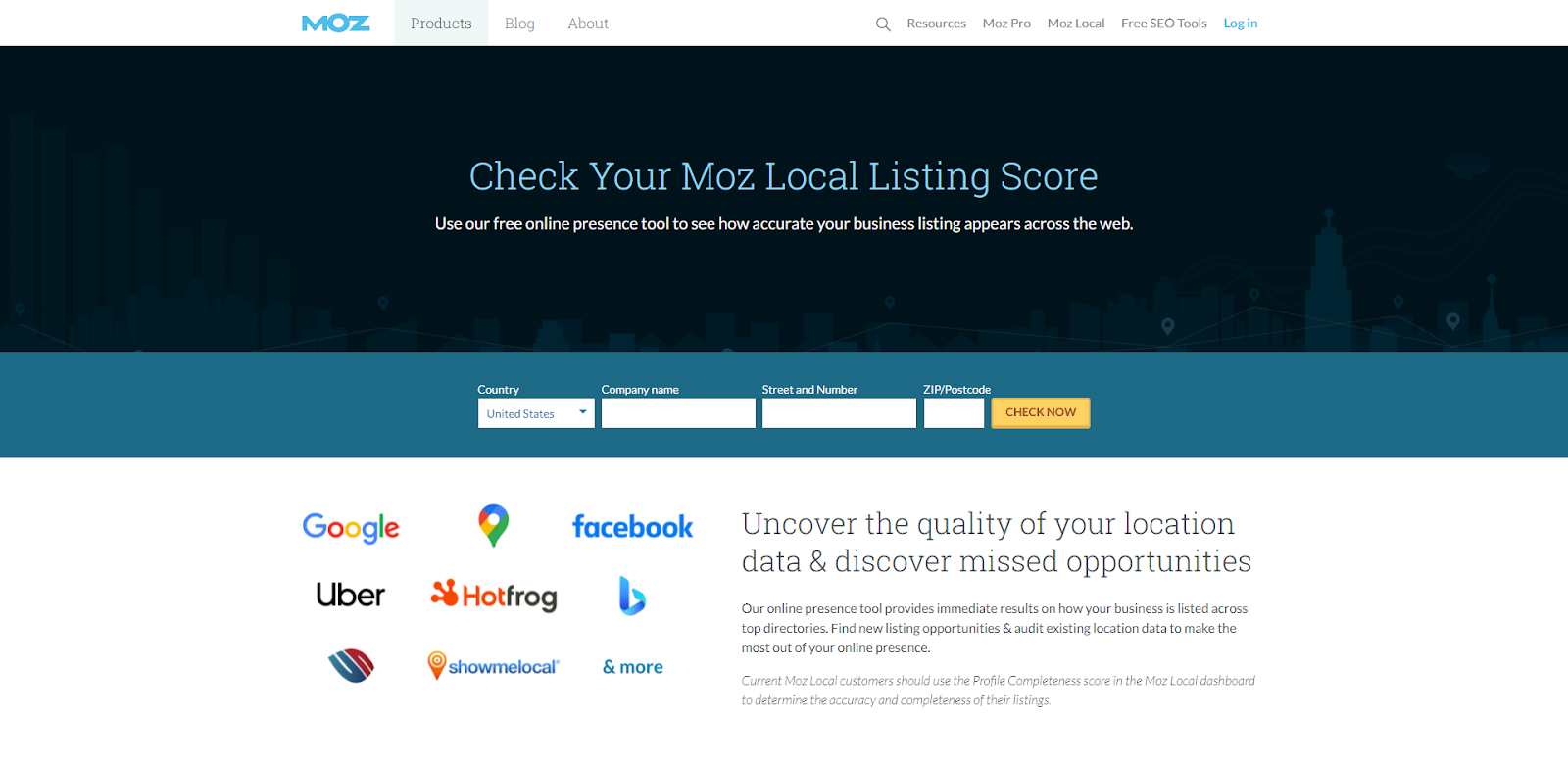 8. Bing Webmaster Tools
Bing Webmaster Tools are Bing's version of the Google Search Console. If you are targeting an audience that uses the Bing search engine, and Bing SERP rankings are important for your business, this free SEO tool is an absolute essential.
9. Keyword Hero
Keyword Hero uses machine learning and AI algorithms to fill in the blanks commonly found in keyword performance metrics. This enables you to make better informed decisions when selecting keywords to target. The free version of Keyword Hero offers usage up to 2,000 sessions every month.
10. MozCast
Keeping up with search engine algorithm updates is difficult. Moreover, there is an enormous chance of missing out on an important update if you are doing it manually. MozCast solves this problem by keeping track of all the Google algorithms updates for you.
11. Screaming Frog
Screaming Frog is a free SEO crawler that audits your website for SEO optimization issues and opportunities. The tool, which enjoys immense popularity in the SEO community, offers tons of features and tells you how your website is perceived by the search engines. It's a must have if you take organic traffic seriously.
12. SEOlyzer
SEOlyzer is another free tool for SEO website audit. The special thing about SEOlyzer is it lets you track your website's SERP performance in real time.
13. Keyword Surfer
Keyword Surfer is a chrome extension that gives you real time metrics of the SERPs you view on your browser. The tool will show you performance metrics of the keywords you enter into the Google search bar, along with an analysis of the results in the SERPs. The tool will then display information about word count and the keywords being targeted by the results in the SERPs.
14. Ubersuggest
UberSuggest is one of the most well-known free keyword research tools on the web. The tool will present keyword suggestions based on the 'seed' keyword you enter into the search bar. Keyword suggestions are accompanied with important organic performance metrics like search volume and difficulty in ranking (on a scale of 1 to 10).
15. Mobile SERP Test
Mobile SERP Test is a local ranking tracking tool that specifically tracks the rank of your website on mobile search results. It is believed the local rankings are more volatile on mobile devices and Mobile SERP Test makes it easy to track them. The tool even allows you to compare SERP results in different locations.
16. Open Site Explorer
Open Site Explorer will analyse the backlink profile of any website you enter into it's search bar. The tool is great for keeping track of your own backlink profile and doing competitor research.
17. Yoast SEO
Yoast SEO is perhaps the most well known WordPress SEO tool, and for good reason. Even the free version of the WordPress plugin offers so many useful features that many users never feel the need to upgrade to the premium version.
18. Rank Math
Rank Math is a WordPress SEO tool that offers a huge variety of useful features. For instance, besides all the other SEO features it offers, the tool also offers the ability to automate redirection in your website. This is great because without Rank Math, you would have needed to install dedicated plugins to get the job done.
Image and Graphic Discovery and Optimization
While using visual content on your website is a marketing best practice, sourcing the right images can often be a challenge, especially if you cannot afford to pay for stock images. Even if you find the right images, if they are not properly compressed, they will end up having a negative impact on the load speed and performance of your website.
A deterioration in website performance may, in turn, have a negative influence over your website's conversion rates and search engine performance.
The following free tools will help you overcome both problems without having to spend a single penny:
1. TinyJPG/TinyPNG
TinyJPG or TinyPNG (both are separate tools hosted on different domains) are free image compression tools. It's one of the most popular tools for compressing images before they are uploaded to a website. There is also a Chrome extension of the tool that you can download and use to compress images without having to visit the website every single time.
2. Compressor.io
Compressor.io is an image resizing tool that enables you to change the dimensions of your images without deteriorating the quality. The tool performs its function incredibly well. In my experience, there is virtually no difference in the quality of the image after it has been processed by Compressor.io.
3. Smush.it
Smush.it is a WordPress plugin and thus, will only work if you have a WordPress powered website. The tool automatically resizes the images you add to your WordPress website. It can even resize images in different sizes depending upon where on your website they will be featured (banners/icons/thumbnails). The tool also enables lazy loading for images on your website, which can result in improvements in load speed and performance.
4. Dunnnk
Dunnnk is a website mockup generator. The tool lets you generate a variety of mockups, all customized with your logo and other branding elements and presented on the screens of different devices.
5. PixelBuddha
PixelBuddha is a free for all collection of digital assets that can be used to beautify websites and empower marketing campaigns.
6. Premium Pixels
Premium Pixels is like PixelBuddha, but for mobile app development assets. The website features a frequently updated and free collection of creative assets like app icons and even some WordPress themes!
7. Graphic Burger
Graphic Burger is an enormous repository of mockups, UI kits, icons, text effects, and backgrounds. If you are serious about creating appealing visuals, Graphic Burger will prove to be an incredibly useful resource. All graphic resources on the website are free for personal and commercial use.
8. Dribbble
Dribbble is an online repository of design assets like landing page mockups, header images, and product mockups (among many others). The platform is powered by contributions from real designers. While a lot of the assets on Dribbble are paid, there are also a lot of high quality 'freebies' that you can find there.
9. Freebbble
Don't want to take the pain of going to Dribbble's search results looking for freebies? Freebbble has collected top freebies from Dribbble and made them available in a single, search powered repository.
10. O-Dan.net
O-Dan is a collection of the all the best free stock images available on different stock image platforms operating on the web.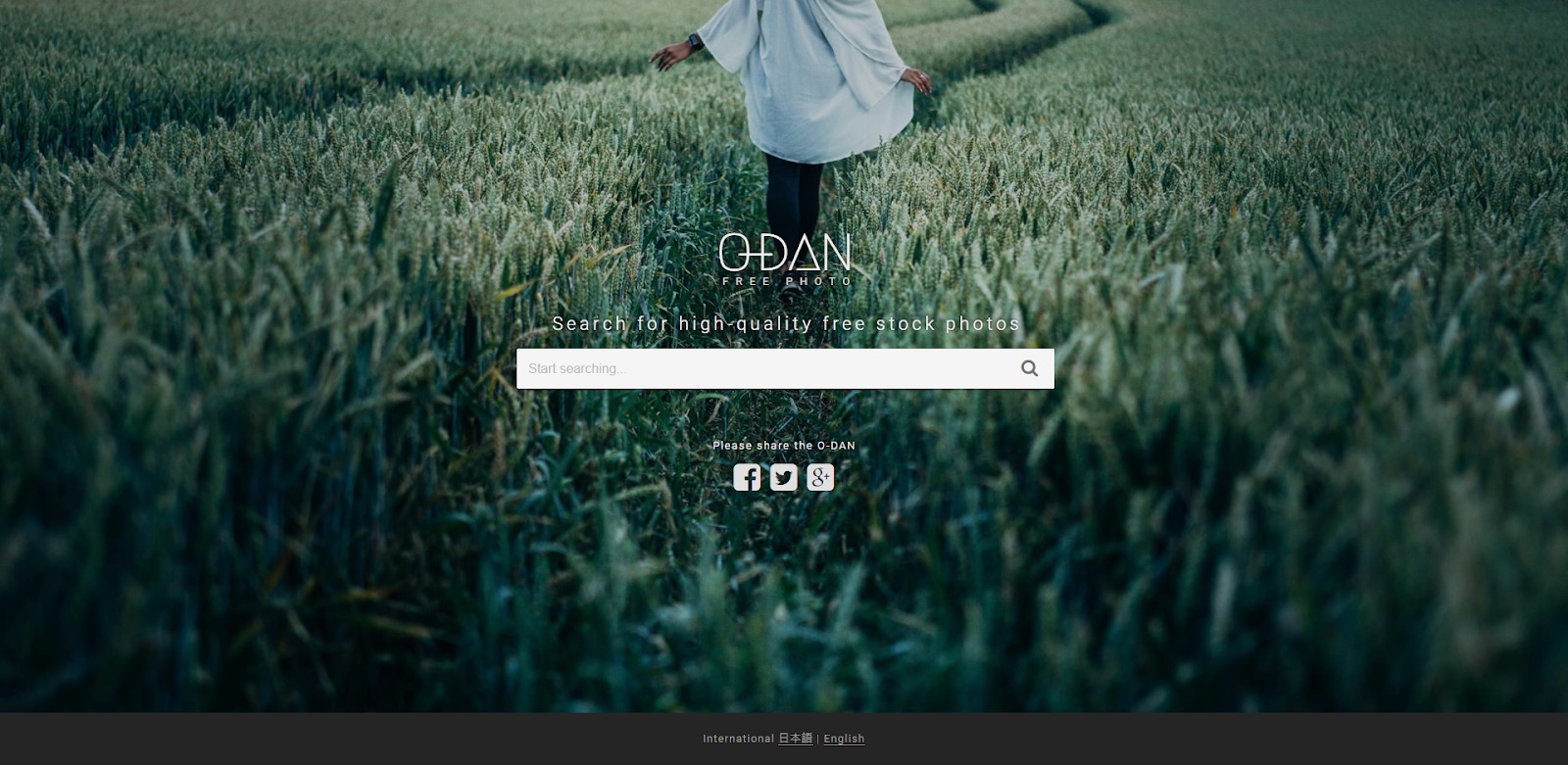 Photopea is a handy free tool that allows you to edit Photoshop files without the need of doing it on Photoshop.
Video Creation, Editing, Optimization, and Hosting
Videos are becoming an increasingly important marketing communication channel and producing videos has become almost indispensable if you are creating a holistic digital marketing strategy. However, creating videos is considered a complex and expensive undertaking. These free video making tools will help you overcome both those challenges:
1. Lightworks- Video Editing
Lightworks is one of the best video editing tools currently available on the web. The tool is not only free and surprisingly easy to use, it offers an incredible capability to help you turn raw footage into professional looking videos that are perfect for social media.
The tool's interface also features a library of tutorials that you can use to learn everything that Lighthouse can do for you. Besides this, the tool also comes packed with an enormous library of stock footage that is licensed to be used with any video.
2. Story Boarder
As the name suggests, the Story Boarder is a downloadable tool that allows you to create free storyboards for your online videos.
3. Celtx
Celtx is a script writing tool and a video production project management platform. The tool will allow you to not only write your script, but also view it shot by shot and frame by frame in the form of index cards. The tool also allows you to add relevant notes and media files to your script and share them with the rest of your production team. While there is a very affordable premium version of the tool that offers some sweet additional features, all the features I just mentioned are available in the free version.
4. Premium Beat
Premium Beat is an online repository of royalty-free music that you can use to jazz up your marketing videos. Keep in mind that in order to use the royalty-free music, you will be expected to give credits to the creator wherever you upload the video.
5. Vidyard
Vidyard is a video hosting platform that enables you to use videos on your website without slowing it down. With the free account, the platform allows you to upload unlimited videos and embed upto five videos to your website at a time. You can pick and choose the five videos at any given time. The only catch is that videos embedded by using a free account will feature a small Vidyard logo at one of the bottom corners of the frame.
Website Analytics Tools
Modern website analysis technology offers incredible insight into user behaviour. This knowledge and information is used every day by smart marketers to improve the results and ROI from their campaigns. With the following tools, you can get such insights for free:
1. Shared Count- Content Shares
Shared Count is very useful for analysing the websites of your competitors. The tool analyses the content on any URL and tells you how many times it has been shared on various social media platforms. A lot of websites don't display this information up front.
Moreover, the tool offers the ability to bulk analyse multiple URLs. You can use this information to determine what kind of content is working within your niche, and what kind of content you should avoid producing.
2. Hotjar- Website Heat Mapping
Hotjar is a tool that will generate heatmaps for any page on your website. The basic plan is 'free forever' and offers access to an unbelievable capability.
The tool will tell you which website elements are capturing the users' attention on any page. You can use this information to understand how your content is being consumed, how your landing pages are being viewed, where your conversion funnels are leaking, and much more.
Inspectlet is also a great eye mapping tool that offers similar features and is free for limited use.
3. Google Analytics- In-Depth Website User Insights
Google Analytics is an extremely powerful website analysis tool that will give you a tremendous amount of data about the people that visit your website. From user demographic data to their preferences and how they spend time on your website, the amount of data offered by Google Analytics is sometimes overwhelming even for seasoned marketers.
However, the tool is incredibly easy to configure and there is not a serious learning curve involved. With that said, it is worth mentioning that there are many features of Google Analytics that are relatively unknown and some will require you to have a basic understanding of website programming.
4. Smylelytics- Easy Website Analytics
If Google Analytics is too complex for you, or if you don't have the time to regularly use Google Analytics to generate periodical reports, Smylelytics is for you. The free tool automatically generates and sends website analysis reports based on Google Analytics data straight to your inbox.
The twice a month reports translate relatively complex Google Analytics metrics like bounce rate, goal conversion rate, new visits, time spent on website, and pages per session into easy to understand and fun graphics. Smylelytics will even let you choose from eight different themes to depict your website analysis metrics.
5. HubSpot Marketing Grader
The HubSpot Marketing Grader is a website analysis tool that reports on metrics that can influence the outcomes of your marketing efforts. This includes (but is not limited to) website speed, mobile device performance, SEO issues, and security grading.
6. Similar Web
Similar Web is a free website analysis tool that reports on all kinds of metrics ranging from website performance to backlink profile information. The platform also offers a Chrome extension that you can use to research the websites that you visit, in real time.
7. GTMetrix
Your website's load speed can impact the conversion numbers, along with the bounce rate. A higher bounce rate can further hurt conversions by resulting in poorer search engine performance. GTMetrix gives you an in-depth view of your website's performance and the issues that are preventing it from performing at its full potential.
8. Google Pagespeed Insights
Google's PageSpeed Insights performs a similar function as the GTMetrix but may reveal additional speed optimization actions that you can take on your website. The information you get from PageSpeed Insights is also more dependable as it is sourced directly from Google's own data. Another special feature of PageSpeed Insights is that it can tell you about the performance on your website on mobile devices as well.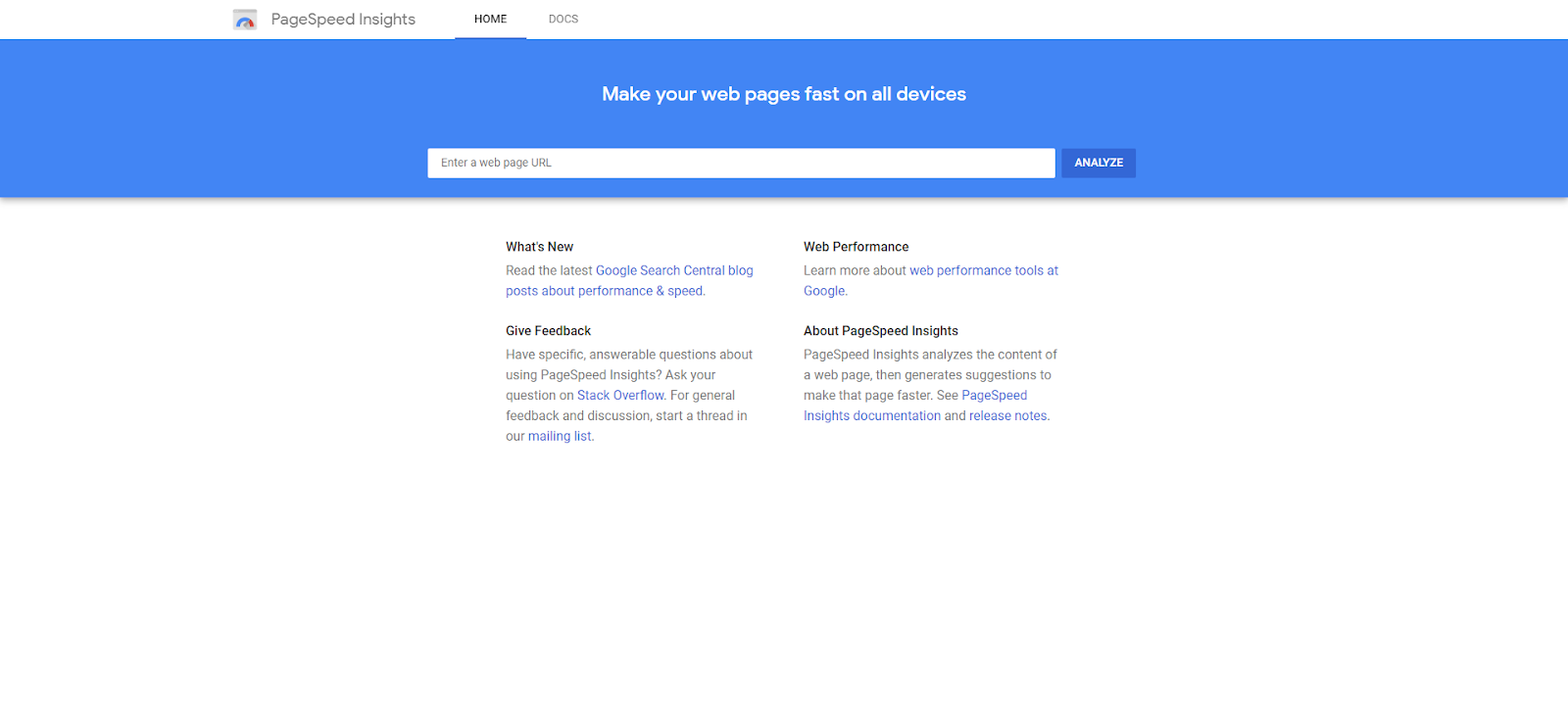 9. Majestic SEO
Majestic SEO is a backlink analysis tool that tells you about the 'quality' of websites linking to your website. It reports on metrics like Trust Flow and Citation Flow. Tracking this information is important because attracting links from spammy websites can result in a decline in organic traffic numbers. The tool offers a free 7-day trial only.
10. Shopify Ecommerce Reporting Tool
If you are running an ecommerce store powered by Shopify, you should definitely consider looking into the platform's reporting capabilities. The insights recorded and reported by Shopify can help you improve the efficiency of your sales funnel and increase conversions.
11. Data Studio
Data Studio is a data visualisation tool by Google. The tool enables you to compile data from multiple sources like Google Analytics and Google Search Console and view it in a single location. Further, the tool presents the data in easily digestible visuals like pie charts. If you find the complexity of Google analytics and other similar tools a challenge, this free tool will prove very useful.
12. Wappalyzer
Wappalyzer is a great tool, especially if you are from a development background. The tool will reveal all the tools in the tech stack of any website URL to feed into it.
Social Media Tools
Scheduling consistent social media posts may seem like a task that you don't require help with, but most scheduling tools offer much more than that. Here are our top picks:
1. HootSuite- Scheduling And Management
HootSuite is a well known tool in the social media marketing industry. However, most beginners are unaware that Hootsuite offers a free version of its tool. The free version allows you to schedule up to 30 different posts through three different social media accounts every month. Besides this, it allows you to track multiple social media feeds in a single location and even offers some neat integrations with other popular tools and platforms like Tailwind.
2. Wolfram Alpha Facebook Report- Tracking And Data
Wolfram Alpha Facebook report generator is perhaps one of the oldest tools on this list. Their APIs ability has been recently downgraded by an update to the Facebook algorithm which now prevents you from analysing competitors. However, you can still learn a lot about your own Facebook present using the tool.
3. Conversation Score- Competitor Analysis
Conversation Score is a free tool that will tell you how your competitors are doing. The tool will analyse any Facebook page and report on metrics like engagement rate, frequency of publishing, number of active followers, and virality.
4. Canva- Content Creation
Canva claims to have revolutionised the accessibility of design capabilities. The company has created one of the most widely used tools on the web, and the popularity of the tool is not a result of chance. The tool is genuinely easy to use and is designed to enable even the most newbie users to create professional-looking social media and other graphics. The best part is that you don't have to pay a penny to make use of any such capabilities of Canva. With that said, the premium version of Canva also offers a variety of amazing features that are well worth the cost of the tool.
5. Social Insider
Social Insider is actually a premium tool that offers a 15-day free trial. Even if you decide to not pay after the trial, the 15-day period is enough for Social Insider to provide you with some invaluable insights about the social media performance of your brand and that of your competitors. The tool is capable of conducting accurate and in-depth brand analysis, ads campaign analysis, and content analysis.
6. TweetDeck
If you are responsible for managing multiple Twitter accounts, TweetDeck is the perfect tool for you. The tool allows you to use custom timelines, manage Twitter lists, and even add team accounts. The tool is absolutely free for Twitter users.
7. SocialOomph
While SocialOomph is actually a multi-platform social media tool, the free accounts offer limited capabilities that are mostly focused on managing Twitter profiles. Don't worry, the tool still offers the ability to schedule and publish Tweets, track keywords, shorten URLs, and manage multiple (five) Twitter accounts with a single dashboard.
8. FollowerWonk
FollowerWonk is a Twitter research tool aimed at helping you develop a deeper understanding of your followers. The tool allows you to analyse the profiles of your followers based on their locations or the accounts they follow. If you want to get more granular, FollowerWonk can also help you find patterns and similarities in the Twitter bios of your followers.
9. Save Publishing
Save Publishing allows you to find 'tweetable' paragraphs from the content you are consuming, in real time. The tool will find and highlight paragraphs that are under 140 characters and provide you with the option of converting them into Tweets.
10. Tweriod
Do you know the best times to post on Twitter. You may have read a few blog posts on the subjects but the industry averages may not necessarily work for your specific audience. Find accurate best timings to post on Twitter for your brand with Tweriod.
Content Discovery Tools
Coming up with unique content ideas can be challenging, especially if you are working in a niche industry. The following free content discovery tools will ensure you never run out of content ideas to share with your audience:
1. BuzzSumo
BuzzSumo is one of the most capable content discovery tools out there. Simply enter a keyword or phrase of your choice into BuzzSumo and it will show you the most shared relevant content pieces. The free account comes with limits on the number of results you can view but still offers a variety of useful search filters.
2. Google Trends
Google Trends does exactly what its name suggests. The tool will tell you about search trends related to a keyword of your choice. THe tool is great for testing the popularity of your content ideas.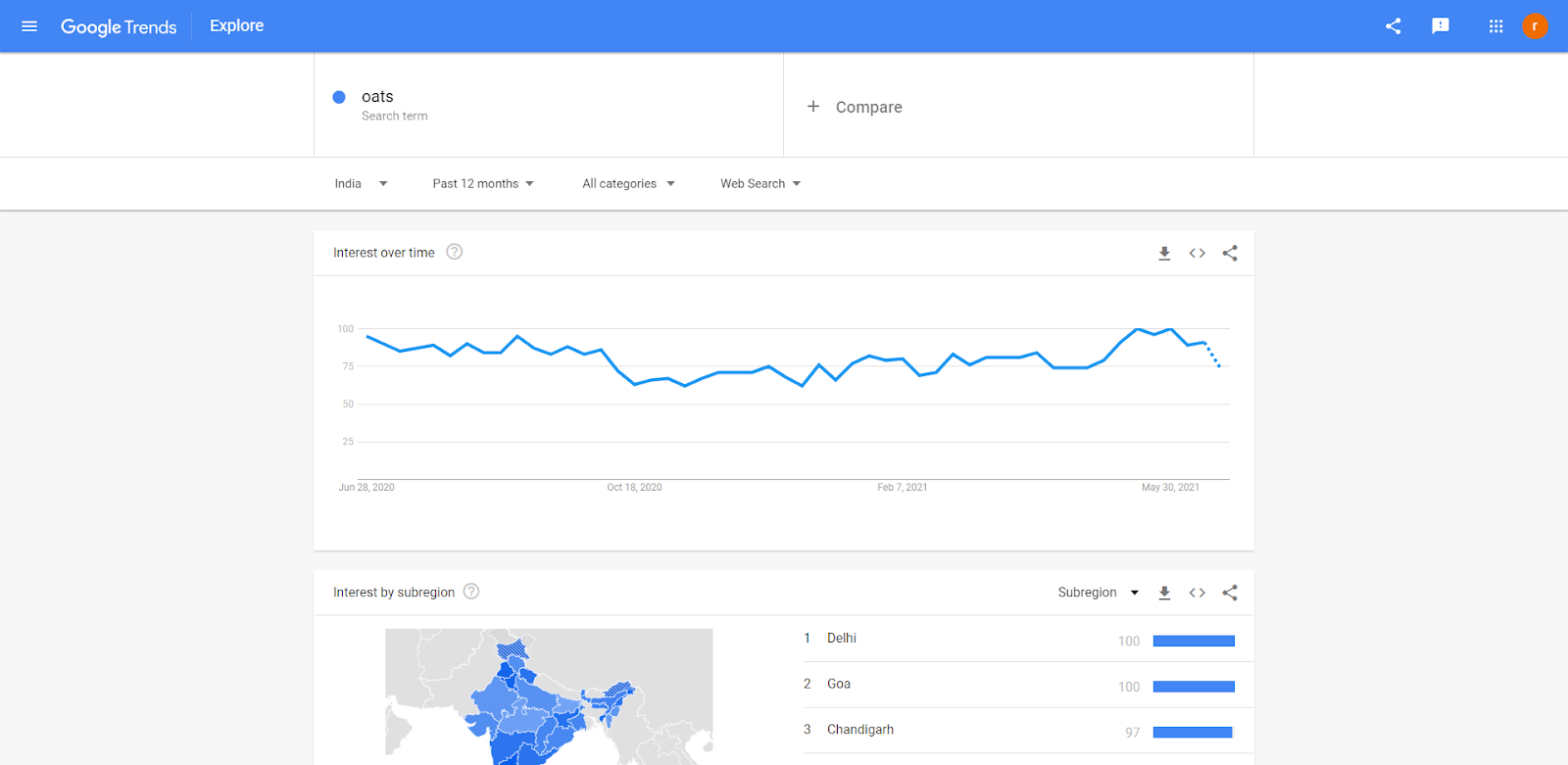 3. HubSpot Topic Generator
The HubSpot Topic Generator is another aptly named tool on this list. The tool will give you a week's worth of content ideas based on up to five different nouns in a single search. You can even unlock a year's worth of ideas by providing Hubspot with some personal information.
4. Content Gems
Content Gems is a free content discovery tool that will tell you about the most popular stories created around the keywords you enter into the tool. The tool is meant to be a content curation tool that you can even use to curate content to share with your social media audiences.
Content Development Tools
Developing quality content is a basic requirement for the success of almost every digital marketing strategy. These free tools will help you ensure you are consistently producing quality content:
1. Answer The Public- Blog Topic Research
Consistently coming up with niche topics and being sure that your audience will find them relevant is one of the biggest challenges associated with producing content. Answer The Public will effectively allow you to overcome this challenge by giving you access to a huge variety of questions that the people on the web are asking.
All you need to do is enter a keyword of your interest into the tool and it will scour the web and present you with hundreds of relevant questions that you can answer with your content.
2. Grammarly- Grammar Tool
Grammarly is a popular editing tool for text-only content. As the name suggests, the tool will highlight grammar issues in your content, helping just about anyone produce coherent and easy to consume content.
3. Hemingway Editor- Writing Clarity Tool
The Hemingway Editor has one simple function, to help you write simple and clear content. The tool will highlight issues related to readability, unnecessary adverbs, and unusually dense paragraphs.
4. Readability Test Tool
As the name suggests, the Readability Test Tool evaluates content for a variety of readability metrics. Just enter a URl into the tool and it will present you with an analysis of the content and report on different readability indexes like the Flesch Kincaid Reading Ease, the SMOG Index, and the Coleman Liau Index, to name a few.
If you don't know what any of these indexes mean or measure, don't worry, each score is paired with a nice explanation of what it means.
5. Headline Analyzer
Writing an enticing headline is critical to success if you care about the readership of your text-based content. The Headline Analyzer by Coschedule will tell you how likely people are to click through after reading your headline.
6. Google Docs
Google Docs is Google's cloud document tool and besides being free, it offers a ton of functionality. Even this list has been written in Google Docs.
Email Marketing Tools
Email is one of the most profitable marketing channels available to businesses. However, that doesn't mean that email marketing is not challenging. The following free email marketing tools will help you overcome said challenges:
1. Hunter.io
Cold emails have been responsible for getting the ball rolling for several multi-million dollar businesses. Hunter.io will enable your cold emailing efforts by helping you find virtually anyone's email address. All you need to do is enter their website into the tool and it will reveal all the emails made with that domain extension. The tool offers 50 free searches every month with the free account.
2. ManyContactsBar
ManyContactsBar is a tool that you can use on the contact section of your website. Every time someone uses a contact form on your website to send you an email, ManyContactsBar will send you another email that contains risk data points about the sender's contact information. The ManyContacts Chrome extension is free for bloggers.
3. Sumo List Builder
The Sumo List Builder offers a ton of features but the most noteworthy is its ability to create aesthetically pleasing and conversion focused email optin forms. The tool is available for free but there is also a premium version that offers even more useful features.
4. Hello Bar
Hello Bar is another email capture tool designed with functionalities to collect emails of subscribers. The free plan allows you to create up to 10 popups using the tool and serve them for up to 5,000 monthly sessions. The tool is incredibly capable and is the choice of digital marketing greats like Seth Godin.
5. Scroll Triggered Box
The Scroll Triggered Box is an email capture pop up tool like Hello Bar, but for WordPress websites. The tool will let you customize when your email optin popup appears after a visitor has landed on your page. By delaying this appearance in terms of time or in terms of percentage of page scrolled through, you can ensure you are only showing your email optin popup to engaged visitors.
6. Send Grid
Send Grip is an API based tool that will integrate with your website. You can configure the tool to take care of all of your automated email sending needs such as sale confirmation emails, password reset emails, and other similar emails. The free account will let you send up to 100 emails every day.
7. Sendinblue
Sendinblue is a complete marketing solution. However, since it evolved from being an email marketing tool, its email marketing capabilities are unmatched. The free version will allow you to send up to 300 marketing emails every day.
8. YAMM
YAMM or Yet Another Mail Merge is an email personalization and marketing software. The tool will personalize specified sections of your email copy based on the information from your data bank. YAMM allows free account holders to send up to 50 emails every day. The tool also offers the ability to automate follow ups and offers great tracking capabilities.
9. GMASS
GMASS is a lot like YAMM, with one major difference, it integrates directly with your gmail account. The free account comes with a 50 emails a day limit.
10. Mailtrack
Mailtrack tracks the open rates, click through rates, and delivery rates (among other metrics) of your email marketing campaigns.
11. Canned Emails
Canned Emails is a platform that will provide you with a variety of pre-written templates for different email interactions. Remember that all these are templates and will require some customization.
Extras
The tools mentioned in this section either fit in multiple categories or don't fit in any of them. Despite that, I have personally found these tools to be incredibly useful. Too useful to not mention them in this list.
1. Xtensio
Xtensio is a free design tool with a specific function. It lets you create sales collateral. The features and templates offered by the tool are specially designed to help you create professional-grade pitch decks, proposals, landing pages, and even client reports. The first design is absolutely free.
2. Javelin
Experiment board (now known as Javelin) is a research and ideation software that helps new businesses shorten the time required to achieve product market fit. From developing a deeper understanding of your customers and their pain points to conducting tests to confirm your hypothesis, the tool offers incredible functionality.
3. CloudFlare
CloudFlare offers several great services but the one feature/service it makes available for free is DDOS protection for your website. This adds a great basic layer of security on any starter website. Free CloudFlare accounts offer other great features like DNS analysis and access to a shared CDN.
4. Zapier
Zapier is a task automation tool and a superb one at that. It offers 3,000+ integrations and will probably integrate with your entire marketing stack and allow you to automate repetitive and time consuming tasks. The free account offers to insert 5 'zaps' and automate upto 100 tasks every month.
5. Wisp Form
Wisp Form is a survey creation tool that allows you to create aesthetic and simple surveys with an easy to use interface.
Conclusion
There you have it, over 100 free digital marketing tools that will help you achieve online success without having to spend a single penny. You may have noticed that most of these tools offer limited features for free users, and I think that's fair. If you find that a tool is truly helping you and adding value to your work and life, definitely consider paying for it and enjoying the premium features.
With that said, if the idea of using such a large variety of easy to use and complex tools seems daunting to you, you're not alone. If digital marketing is not your core expertise, it is bound to start feeling overwhelming at some point. This is when you can start thinking about letting the pros take over. It has turned out amazingly well for our clients, we're confident it will turn out well for you.
Don't take our word for it. Get in touch and let us prove it to you.
FAQs
Digital marketing tools are platforms that use software to help businesses promote their products and services online. These tools assist in online marketing, such as managing social media, analyzing website traffic, and sending email campaigns.
Tasks like scheduling content, monitoring ad success, and search engine optimization are simplified with these tools. Some of the well-known tools are Mailchimp for email marketing, Hootsuite for managing social media, and Google Analytics for website analysis. By using these tools, businesses can more effectively reach their target market, track their outcomes, and enhance their online presence.
To excel in digital marketing, you'll need several essential tools:
Website: A well-designed website is your online storefront.
Social Media Accounts: Facebook, Twitter, Instagram, and Threads are some of the platforms that help you connect with your audience.
Email Marketing Software: Tools like Mailchimp or Constant Contact are crucial for sending emails to your subscribers.
SEO Tools: Use tools like Google Analytics, Moz, or SEMrush to optimize your website for search engines.
Content Management System (CMS): WordPress, Wix, or Squarespace help manage your website content.
Advertising Platforms: Google Ads and Facebook Ads help you with paid advertising campaigns.
Analytics Tools: Tools like Google Analytics track website traffic and user behavior.
Graphic Design Software: Adobe Creative Cloud, Illustrator, Canva, or Figma for creating visual content.
Marketing Automation: Tools like HubSpot or Marketo automate marketing tasks.
These tools help you effectively plan, execute, and measure your digital marketing efforts.
Many free tools in digital marketing are available to help businesses promote their products and services online without investing any money. Some of these tools are:
Social Media Platforms: Platforms like Facebook, Instagram, Threads, Twitter, and LinkedIn offer free business profiles and tools for marketing, such as post scheduling and analytics.
Email Marketing Software: Services like MailChimp and MailerLite offer free plans for sending marketing emails to your subscribers.
Google Analytics: This tool helps you understand your audience better by providing insights into website traffic and user behavior.
Keyword Research Tools: Tools like Google Keyword Planner and Ubersuggest help identify relevant keywords for SEO and content creation.
Graphic Designing Tools: Canva and Pixlr offer free graphic design tools for creating eye-catching visuals.
These tools are available for free to help you get started with digital marketing, especially for small businesses with limited budgets.