Table of Contents
Advertising, unlike other aspects of marketing on the web, is not a new concept. However, the way it is done on the web is dramatically different from how it was done a few years ago.
The most evident difference is that advertisers have more control over who views their ads and how they are viewed.
While this has certainly made advertising a more profitable undertaking, it has increased the amount of work that advertisers and brands have to do in order to secure a positive ROI on their advertising dollars.
Thankfully, modern marketers have a myriad of tools to help them. These tools enable them to not only increase their productive output, it also enable them to effectively track the results of their campaigns.
Even in the case of pay-per-click or PPC advertising, marketers have the option to choose from a number of tools that are all designed to make their job easier. However, not all tools are made alike. Some are more capable than the others. Others are more complex than the others.
This large variety is bound to become confusing for marketers looking for the perfect tool and choosing the wrong tool can easily spell disaster.
Since PPC itself is a pricey undertaking, the tools that enable efficient advertising also come at premium prices. Choosing the wrong tool will not just mean that you end up paying hundreds of dollars for a tool that you cannot use, it may also negatively impact the ROI you are getting from digital advertising.
This article is dedicated to helping you avoid such a situation. However, before we look at our picks of the best PPC tools, let's first look at why using PPC tools is a smart decision.
Why Use A PPC Tool?
PPC advertising is all about the ROI. The ad, the landing page, the graphics, everything is designed to lower the cost of clicks and improve conversions, effectively increasing the ROI from ad spend.
So why would you add a software or tool to the mix? Especially if the tool can potentially cost you several hundred dollars a month?
While it is true that a PPC tool may not be feasible for small advertisers or brands that are just starting out with their digital advertising efforts, such tools can actually deliver incredible benefits to pros.
With certain exceptions, purchasing a PPC tools usually make sense in one of the two following cases:
You are responsible for handling advertising for multiple businesses. This is usually the case of marketing agencies that have clients whose advertising efforts they are managing. In such a case, managing client campaigns manually is not just time consuming, it also increases the chances of human error occurring, potentially opening doors for expensive errors.
You are responsible for managing advertising efforts on multiple platforms. This is also usually the case of marketing agencies but in some cases, even in-house teams are tasked with handling advertising for their employer on multiple platforms. The challenge here is that each platform (like Google Ads, Bing Ads, Facebook, LinkedIn ads) has its own interface and reporting format. Tracking the ROI across these different platforms can quickly become confusing. This confusion can become overwhelming when you are tasked with managing advertising efforts of multiple brands on multiple platforms.
Regardless of which category you fall into, a PPC tool will help you in two ways.
One, the PPC tool will take care of time consuming manual tasks like keyword research. Most good PPC tools are actually equipped with powerful keyword research tools that will give you access to hundreds, even thousands of keywords and their search data in a matter of minutes.
The second way PPC tools help is by enabling the user (you) to control all their advertising efforts in one place. This means being able to implement changes and deploy entire campaigns through the tools and having all your reporting available in a single place.
It isn't difficult to imagine how this makes it easier to manage multiple campaigns across different platforms. Moreover, having all your reports in one place will also reduce the confusion involved in making sense of multiple reports.
With that said, as mentioned earlier, not all PPC tools are created equal. There may be some tools that only offer a limited number of features, potentially depriving their customers of some of the above-mentioned benefits. There may also be some tools that demand a high level of technical expertise from the user.
Choosing the tool that is right for you will depend on the unique needs of your business and the capability of your team to handle the complexity of different tools.
Best PPC Tools
Attribution Tools
Attribution tools don't just help you optimize your PPC campaigns but give you access to data about all your sources of leads. This data can be utilized to create more comprehensive customer journeys that ensure your customers are primed and ready to purchase even before they ever speak to a sales representative.
1. Ruler Analytics
Ruler is one of the most popular traffic attribution tools out there, and for some very good reasons. The tool has the ability to track anonymous website visitors over multiple sessions, even when these sessions are originating from different keywords and traffic sources.
The tool will also automatically match converted customers' details to different marketing touchpoints allowing you to accurately chart out the purchase journey for each one of your customers.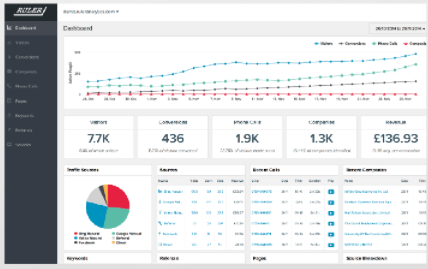 Ruler Analytics can track this kind of activity for over 1000 unique products and can integrate with your Google Analytics account and almost every popular CRM to give you the complete picture of how your sales pipeline works.
2. Campaign Management
Campaign management tools allow you to manage campaigns running on different ad platforms in a single place. These tools enable you to automate many of the tasks involved in campaign management while also giving you access to all your ad data in one place. This, in turn, allows you to better interpret and analyse the data to draw insights that can boost your ROI on each of the platforms that you are using.
However, most PPC campaign management tools currently only track campaigns on Microsoft, Google, and Facebook platforms. This means, if you are using other platforms like LinkedIn, you will have to track their progress manually.
3. Adzooma
Adzooma is one of the most popular campaign management PPC tools out there, and for good reason. The tool offers powerful functionality packed with an intuitive user interface. Adzooma allows users to manage their campaigns on different platforms in one place.
With that said, Adzooma is one of the platforms that currently only supports Microsoft, Google, and Facebook ad platforms.
4. Acquisio
Acquisio is an AI powered campaign management tool that does more than just enabling single point control for campaigns running on different platforms. The AI feature of Acquisio will actively work to optimize your bidding strategy. It also comes equipped with automation tools that make campaign creation a breeze. The tool also offers some powerful reporting capabilities and allows users to integrate data from virtually any source.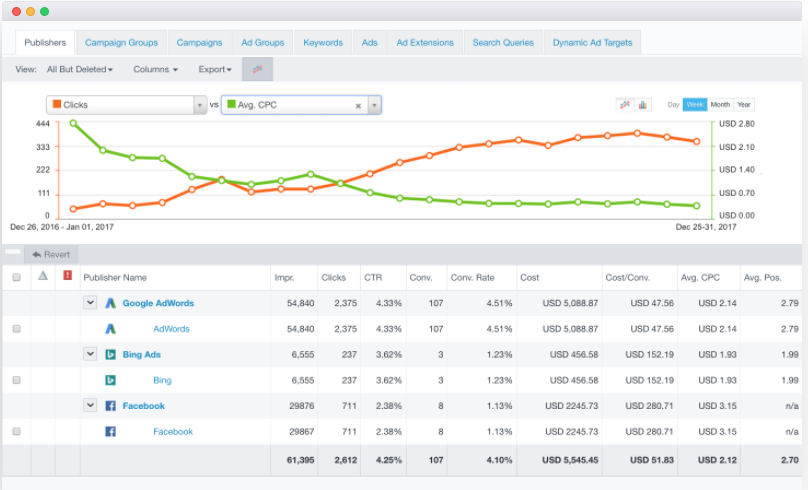 In other words, when it comes to campaign management, Acquisio offers a set of features that will make every aspect of the task more profitable for your business.
Keyword And Competitor Research
Competitor research is a great way to keep your finger on the pulse of your industry. It allows you to research what's working for the competition and that information can be incredibly valuable when designing your own campaigns. In the case of PPC advertising specifically, competitor research can help reveal hidden keyword opportunities that your competition hasn't yet found (and a lot more).
Some of the best keyword and competitor research tools are:
1. RankWatch
While RankWatch is quite well known as an SEO tool, the keyword research feature also offers a powerful paid traffic research capability. The tool reports the top domains that are running ads for your target keywords, along with the ad copies that they are using.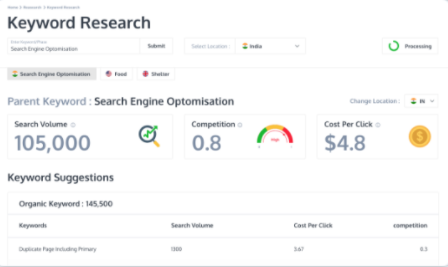 The tool also reports over 10 different data points on just keywords and domains. All of these can help you gauge how your competitor weighs on the scale of ad quality score.
2. Ispionage
Ispionage is a competitor research tool that allows you to identify all the keywords that your competition is bidding for. The tool has special features to track local advertising campaigns, making it a superb choice for small businesses and agencies working with small businesses.
The tool also allows you to track the customer journey for not just your website, but of your competitors' websites as well. Living up to its name, Ispionage is a true competitor intelligence tool.
3. WordStream Grader
WordStream Grader is a great tool to find out how your ad accounts size up against the competition. The tool 'grades' any account in a matter of 60 seconds and gives tailored optimization recommendations.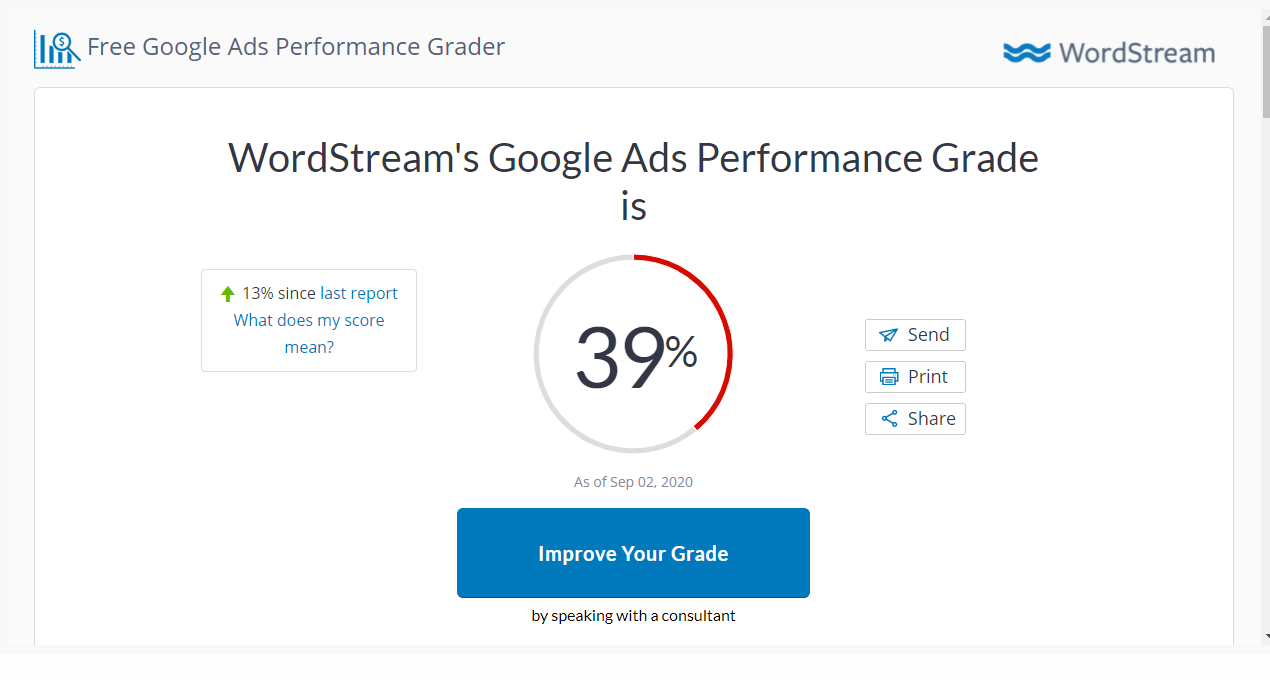 You can use the tool to analyse your own accounts and your competitors' accounts to identify gaps where you can improve. You can also use the same technique to identify optimization opportunities
PPC Call Tracking
Generating more calls is a common objective for many businesses engaging in advertising. After all, more calls lead to more business, right?
Not always.
The truth is that unlike lead generation campaigns, inbound call generation campaigns have much better potential to drive profitable ROI. However, in order to make it happen, you must track specific metrics that let you optimize your inbound call generation campaign. This is where PPC call tracking software becomes relevant. Some of our favorites are:
1. Callrail
Callrail is a call tracking software that allows you to track every aspect of your call generation campaign. You can find out everything starting from which ads or ad platforms are generating the most qualified calls to finding out whether your landing pages are working well.
The software even allows users to record incoming calls from prospects. This feature, when used right, can offer some incredible insights. For instance, it can reveal the common preconceptions and apprehensions that prospects coming from a particular platform have. You can then use this information to design better ads that address said apprehensions before a prospect even decides to call you!
2. Invoca
Invoca offers features that are quite similar to Callrail, with a few amazing exceptions. Invoca helps you capture, manage, and learn from the conversations that your sales team is having. It integrates with 30 different platforms, making it incredibly capable at collecting insightful data.
The best part is Invoca's capabilities are not limited to the realm of PPC. The tool is even capable of tracking calls coming from affiliate partners. In fact, the tool also has features that will connect your business with qualified pay-per-call vendors that can send targeted calls your way.
PPC Reporting
Reporting is one of the most important aspects of running a profitable PPC campaign. This feature is especially important for agencies handling PPC budgets for their clients as reporting allows them to show how their efforts are driving a positive ROI for their clients.
Some of the most user friendly and accurate reporting tools out there are:
1. Tableau
Tableau is a data visualisation tool that can be used for a number of purposes, including tracking and visualising PPC campaign data. The tool will seamlessly integrate with your Google Ads account and give you access to campaign data in a manner that makes it easy to extract actionable insights.
2. Reportgarden
Reportgarden is actually a complete PPC management tool that allows you to manage multiple campaigns running on different platforms in a single place. However, as the tool's name suggests, it offers some special reporting capabilities that enable informed advertising decisions.
Besides reporting and PPC management features, Reportgarden also offers a variety of search engine optimization features, making it a handy tool for your organic campaigns.
PPC Automation Tools
Automation is perhaps the greatest gift given to marketers by technology. The practice, when implemented right, can enable marketers to be more efficient and drive bigger profits. However, when it comes to applying automations to PPC campaigns, there is no tool that can help you and that's why, a lot of advertisers think it isn't possible.
The reality, however, is that automation is possible for Google paid advertising campaigns. Since there is no tool that can get the job done, advertisers use Google Scripts for this purpose.
Google Scripts
Google scripts, as the name suggests, are actually small pieces of code that can instruct your PPC account to perform specific actions when specific conditions are met. While this may sound like a lot of technical work, the good news is that other technically adept marketers have created a number of great Google scripts and made them available for free.
Since most scripts enable a specific kind of automation, all you need to do is figure out the aspects of your advertising that you want to automate, find a relevant script, and start running it on your Google AdWords account.
With that said, before you can do any of that, you must first know what kind of automations are possible. Here are just a few examples of the actions that you can automate with Google Scripts:
Important but tedious and repetitive tasks: These include actions like sifting through reports of different search terms, applying bid modifiers, adding negative keywords, fixing capitalisation mistakes in copy, and keeping track of monthly budget spend, among many others.
Bidding for high conversion keywords: Even when you are using tools that make all your advertising data available in one place, keeping track of everything that is happening all the time is not practical, unless you have a Google Script doing it for you. As your ad account identifies low cost, high conversion keywords, scripts can be programmed to automatically increase your bids for such keywords.
Crisis management: Scripts can be used to automatically stop ads when a broken link is (accidentally) involved. Similarly, they can be programmed to send you custom notifications about paused campaigns, budget limits, and even billing issues.
Reporting: Scripts can be programmed to automatically scrape data from specified data sources and present them in a report created in a predetermined format.
Automatically disable ads when necessary: This is perhaps the best use of scripts. Let's assume you have an ecommerce store running ads for its best selling products. You're on a vacation, probably somewhere with no reception and suddenly, the store runs out of one of the products. In any other case, the ads would have kept running (and spending your money) till they were manually stopped. However, with scripts, such actions can be automated.
Landing Page Creation Tools
Landing pages are a critical factor when it comes to deciding the effectiveness of your advertising campaigns. Custom landing pages allow you to create a 'post-click' experience that is consistent with your advertising messaging (and other elements). This in turn, allows you to achieve higher conversion rates.
There are a number of landing page creation tools out there. Here are some of our top picks:
1. Unbounce
Unbounce is not just a well known landing page builder, it is perhaps one of the most well known tools on this entire list. The landing page builder offers a drag-and-drop functionality and plenty of other features that allow you to ensure your landing page isn't just consistent with your ad, but with the rest of your brand's online presence.
Unbounce also comes with an inbuilt A/B testing tool and allows you to create separate landing pages dedicated to different PPC campaigns and even edit them in real time.
2. Instapage
Another well known landing page builder, Instapage also offers its users the ability to build landing pages with its drag-and-drop builder. Instapage users also get access to almost a 100 unique tested landing page templates that they can customize according to their unique needs. It also offers advanced features like behaviour mapping and allows users to automatically create mobile screen friendly landing pages.
The best part about Instapage is that the tool offers integration with a variety of other marketing tools. This ability allows for more accurate attribution and data tracking.
Ad Creative Creation Tools
Ad creatives are usually the first thing that a prospect sees when they come across your ad. Why getting them perfect is important is not difficult to imagine. However, the lack of graphic design skills is a known deterrent when it comes to creating graphics.
If you are facing a similar challenge, these tools may be able to help:
1. Canva
Saying that Canva has revolutionised the graphic design space would be an understatement. The cloud based tool offers a user-friendly way for beginner designers and thrifty web users to create their own graphics. The best part is that as long as you have your own elements to include in your design, you don't even have to pay to use Canva. With that said, when compared to professional design tools, Canva is substantially more pocket friendly.
2. Share As Image
Share As Image is a tool similar to Canva. It is usually an alternative for those who are unable to use Canva's user interface. Share As Image offers a simplified dashboard with all the features that Canva offers. The best part is that the premium version of Share As Image is priced at just $8 a month!
3. BlogGIF
GIFs are a popular way to communicate on the web, especially if your brand is trying to portray itself as a witty and humorous entity. BlogGIF is an incredible GIF creation tool that not only allows you to convert videos into GIFs, but also offers the ability to add special effects and animations, allowing you to truly create GIFs that stand out. BlogGIF is absolutely free to use.
Conclusion
There you have it, a tool to take care of every aspect of your paid advertising campaigns. Remember that this list is not exhaustive, it is a list of the tools that we use and love.
Depending on your needs, a different tool may be suitable for your business. To make sure you are choosing a set of tools that is capable of addressing all your needs and is aligned with your technical capabilities, you will have to conduct your own research.
If you have questions or want to suggest more awesome tools to our audience, drop them in the comment section below!