Table of Contents
Introduction
Backlinks are a crucial SEO entity. In fact, Backlinko has found that these links still hold relevance and count as a crucial ranking factor. When you're trying to build a strong online presence, your SEO efforts should include aiming for high-quality backlinks.
One of the most effective ways of achieving this is through content marketing. A strategic content plan can help you expand your readership and bring great results for your business.
SEO is not easy. But when you use content to build quality backlinks, you can drive focused traffic to your site, become a reliable source of information for your users and therefore establish your brand as the "go-to place" for getting relevant industry trends. That's how content powers your brand credibility!
To help you, here we have laid down four ways to build quality backlinks through content.
For more link-building tactics, read this> 25 Tips To Generate Backlinks That Stay Forever Yours
1. Utilise Guest Blogging Opportunities
Guest blogging isn't just a good networking opportunity, it comes with the benefit of quality backlinks – so long as you don't just use it to acquire backlinks. Yes, you read that right.
When it comes to guest posting, the purpose should be to deliver useful content to people and build your online authority through it. Earning backlinks through a guest post should only be a secondary motive, not the whole reason behind it.
Additionally, when building your guest author profile, make sure to target sites with high authority. Focus on contributing unique and quality content that invites more people to engage with it.
2. Build Your Case Studies

Want a high-quality backlink? Create useful and enticing case studies that offer unique insights and value to the reader. Post them on various online channels, make sure to put them on your social profiles. This way, you can get exposure to the companies that are on the constant lookout for relevant data.
To craft the subject for the case studies, identify market questions through an extensive search on Quora.
If your case study helps someone cement their research or findings, they will happily link back to it. In fact, case studies are the most useful way of creating original content that people can trust, rely on and use in their content to enhance its value.
3. Create Useful And Relevant E-Books
If you look at the landing pages of authority sites in any niche, you would find that they offer valuable insights in the form of ebooks. And this trend isn't limited to any particular industry.
With e-books, companies can address the major problems faced by their readers. Like this ebook here helps you resolve the in-house versus outsourcing debate.
These ebooks, when put behind an email gate can even help you in building your email list.
4. Craft Compelling Visual Content
Visuals can be a great way of earning quality backlinks. Additionally, because of the variety of formats available in visual content, you can implement more than one type to acquire backlinks.
With quality video content, useful infographics and GIFs, you can attract backlinks. It doesn't matter what format you use, it is important that this content is easily shareable. Also, try to include influencers in your content as it further boosts your chances of getting links. Like Rankwatch has done here: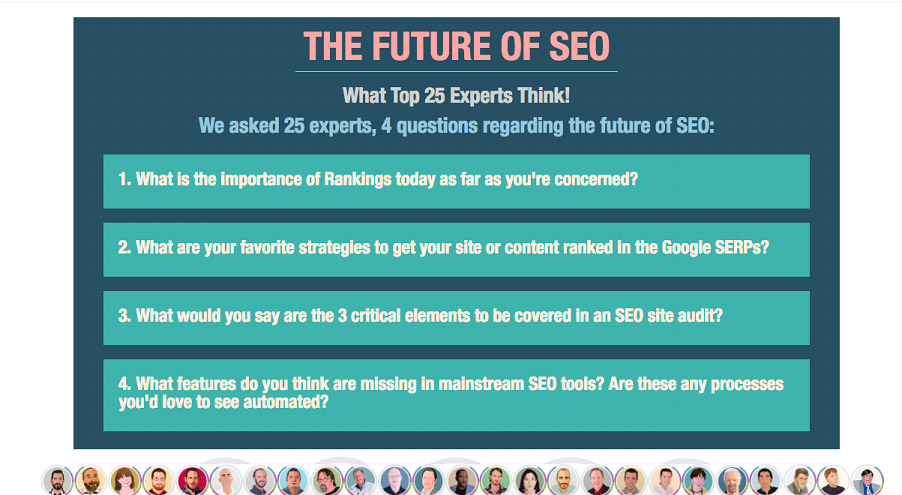 Wrapping Up
Backlinks improve your online profile by giving you SEO boost. And content provides you with the ladder to help you move up the SERP. Implement the above tips to build quality backlinks with content.