Table of Contents
Introduction
Google may be the giant in its industry, but that doesn't mean it's your only option. Whether you are looking for an alternative search engine because of privacy concerns or because you're looking for something that Google cannot find (I know, hard to believe!), this list is for you.
For the sake of ease of understanding and browsing, I have divided the search engines into special categories based on their function.
Without further delay, let's jump right into the most complete list of alternative search engines on the web:
Generic Search Engines
These are the search engines that function similar to Google. They may not be as popular, but each one of the search engines on this list have their own unique differentiators that make them useful in different ways.
1. Bing
Bing, as you may already know, is Microsoft's answer to Google. While it may not enjoy a market share that is comparable to Google, Bing is actually a great search engine. It also enjoys decent popularity in the USA. Some estimates suggest that Bing actually processes a quarter of all the searches being conducted in the United States.
One of the things that Bing perhaps does better than even Google is searching for images. The image search feature of Bing is incredibly intuitive and the way search results are displayed is surprisingly user friendly.
Another well kept secret of Bing is its reward system. As you shop and search on Bing, your Microsoft account collects points that you can redeem against apps and other items on the Microsoft Store.
2. Yahoo!
For many internet users, Yahoo! Is the original search engine. While many assume that Yahoo! Is not significant anymore, it is still the third largest search engine by market share. Yahoo! still processes over 340 million search queries every single day.
The most noteworthy aspect of Yahoo's many capabilities has to be its video search engine. The video search on Yahoo! will return results from all major video streaming platforms including YouTube, Hulu, Dailymotion, Metacafe, and other similar platforms.
3. Yandex
Yandex is a pretty popular search engine in the Easter-European countries and in Russia. So much so that the search engine only supported the Russian language until recently. While over 40% of Russians use Yandex, the search engine is also popular in Turkey, Belarus, Ukraine, and other nearby countries.
Like Google, Yandex offers a variety of cloud-based services, a map API, and even app analysis services. One of the most unique things about Yandex is that it's ranking parameters are very different from most other search engines. With Yandex, websites that are able to positively influence user behavior and maintain high dwell times are ranked higher. Unlike Google, Yandex doesn't place a lot of value in backlinks.
4. Ask
As the name suggests, Ask is a question-answer style search engine. The search engine may not be popular but still offers a great ability to process natural language searches. It is also worth noting that Ask offers one of the most clutter-free and simple user interfaces of all search engines, making it a perfect choice for internet users that may not be as tech savvy as the rest.
Building on its question-answer format, Ask now also displays a bunch of frequently asked questions (and their answers) that it considers relevant to your search query.
5. Baidu
Baidu is China's number one search engine. Since Google is banned in China, most Chinese citizens and those visiting the country have to depend on Baidu.
6. Dogpile
Dogpile performs one simple but incredibly useful feature. It pulls results from all top three search engines and displays them in one place, eliminating the need to visit them individually.
7. Wolfram Alpha
Wolfram Alpha is an AI and computation based search engine that will provide you with answers for just about any question. Besides searching for specific websites and webpages, Wolfram Alpha will also allow you to conduct complex mathematical calculations, better understand engineering and computational sciences, and do much more.
8. Gigablast
If you miss the version of Google from a decade ago, Gigablast is a great option to take a stroll down memory lane. The retro looking search engine performs almost exactly like the Google search engine from 2010. For those of you who remember them, Gigablast still boasts the Instant Search features that Google has stopped using.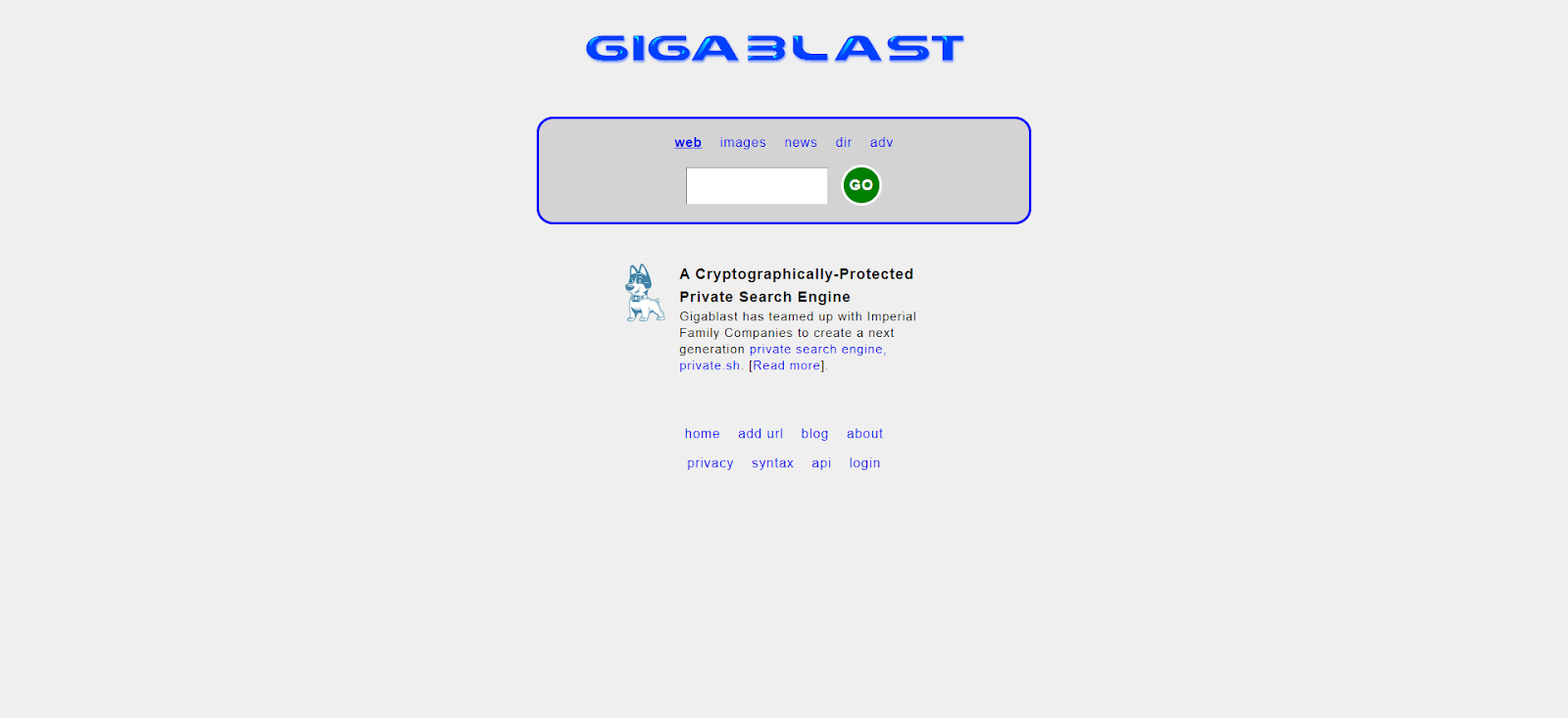 Privacy-Focused Search Engines
In recent times, privacy has become a growing concern for those who use Google's search engines and other products. If you also have such concerns, the following list is for you. These are search engines that have built-in features that protect your privacy:
1. DuckDuckGo
As far as privacy focused search engines go, DuckDuckGo is hands down the most popular option, and for good reason. DuckDuckGo prides itself with respecting the privacy of its users and collects absolutely no data. As a business, DuckDuckGo's stance against Google's alleged violations of online privacy is so strong that they have invested heavily in developing and distributing free content resources that explain how Google is tracking everything you do online.
As a search engine, DuckDuckGo will not offer you a chance to complain. The interface is clean and straightforward and there are only a few ads. One of the most noteworthy features of DuckDuckGo is called Bangs.
By adding a prefix, you can search directly on a different website. Confused? Here's a simple example:
When you enter "!amazon sports shoes" into DuckDuckGo, you will be redirected directly to the Amazon search result page for 'sports shoes'.
DuckDuckGo also recently acquired another popular privacy focused search engine that was known as Yippy. If you are familiar with Yippy, opening Yippy will now redirect you to DuckDuckGo.
2. Startpage
Startpage is another search engine that neither tracks your IP address nor does it serve cookies that collect behavioral data. The best part is, the results you see on Startpage are actually pulled straight from Google's results. This means, you get Google's accuracy without the related privacy concerns.
3. Qwant
Qwant is a Paris-based search engine that operates according to EU online privacy laws. The search engine claims to 'respect the privacy' of its users and makes good on that promise. It doesn't serve any cookies, dissociates search queries from IP addresses, and doesn't store any history of the searches that you conduct.
4. One Search
One Search was introduced in January last year. Owned by Verizon, the search engine claims that it serves no cookies, enables no personal profiling or retargeting with ads, and no storing of user search history. It even encrypts all search queries and promises to provide users with unbiased and unfiltered search results.
5. Swisscows
Like other privacy focused search engines, Swiss Cows also doesn't collect any user data or serve any cookies. The Switzerland based search engine also offers a ton of features for 'safe' searches, claiming to create a 'family friendly' search environment. While the search engine uses its own index to process search queries in German, results for all other queries are sourced from Bing.
6. Search Encrypt
Search Encrypt takes user privacy to the next level by intercepting search queries that may be 'compromised' and may end up revealing your user data and redirects them to its own 'privacy-enabled' search engine. There is, however, one catch. Search Encrypt will save your search query history for up to 30 minutes.
7. Gibiru
Gibiru was developed with the objective of offering users access to unfiltered search results. With a Firefox browser plugin, Gibiru will process all your search queries through a proxy IP address, ensuring other users cannot track your search history. This clean slate of search history will enable you to see search results that are not influenced by your previous search behaviour.
8. Disconnect Search
Disconnect Search enables users to view results from a search engine of their choice, without having to visit said search engine. When you enter a search query into Disconnect Search and select your preferred search engine, it anonymizes your search query with its own servers and then forwards it to the search engine of your choice. The results you get are from a source you know without the associated worries about compromising your online privacy. Currently, Disconnect Search only supports three search engines- Bing, DuckDuckGo, and Yahoo!.
9. Lukol
Lukol is an 'anonymous search engine' that doesn't record any user data whatsoever. Even the search query history is wiped seconds after you enter your search query into Lukol. The search engine pulls results from Google custom search while protecting your privacy. The search engine also offers safe browsing features that will warn you whenever you are about to visit an unsafe website.
10. Metager
Metager is another privacy focused search engine that offers unbiased results. It does so by disregarding click through rates as a ranking factor and sourcing search results from up to 50 different search engines. Metager is owned and operated by a non-profit organisation that claims that their search engine uses 100% renewable energy.
11. Oscobo
Oscobo is a search engine and a Chrome extension that allows you to easily conduct online searches without compromising your security. Oscobo protects your privacy with a three pronged approach. The search engine doesn't use any third part tools or scripts, giving you complete protection against hackers. It also encrypts all traffic it sends to websites in its search results, preventing them from capturing any user data. Oscobo doesn't even share the search query you entered before clicking on a result with the website that you are visiting, ensuring complete anonymity for you.
12. Infinity Search
Infinity Search offers all the privacy protection bells and whistles offered by the other search engines within this category. However, it also offers a couple of special extras. For starters, Infinity Search offers built-in integrations with many useful apps such as maps and an HTML editor. The search engine also sources its results from several different websites to provide you with no-nonsense, unfiltered results. Infinity Search also features a sidebar in its search results that allows you to conduct searches on many different websites, while being protected by the privacy features of Infinity Search.
13. SearX
SearX is an open source, 'privacy respecting' metasearch engine that anyone can use. The source code is available right on the homepage of the SearX website. You can use it to add custom features to the search engine or even develop your own search engine.
Search Engines That Donate
Now, you can search the web while also simultaneously making a positive difference to the world. The search engines in this list will donate to a charity every time to conduct a search. Let's find out more details:
1. Ecosia
Ecosia is a search engine that uses its revenues to invest in the betterment of the environment. With 15 million active users, Ecosia has already planted over a 100 million trees with its revenue. The company that owns Ecosia claims that every search conducted on their search engine removes one kilogram of carbon dioxide from the environment. Currently, Ecosia only has a 0.13% share in the US but it is emerging as one of the fastest growing search engines on the planet.
Search results on Ecosia are powered by Bing and offer all the awesome functionality of a top search engine including (but not limited to) rich snippets, conversion calculators, and knowledge graphs. The search engine even offers users the ability to turn off tracking, enabling them to conduct searches and give back to the world while protecting their privacy.
2. Ekoru
Ekoru is another charity focused and privacy focused alternative to Google. The search engine donates its earnings to the betterment of oceans. Ekoru openly donates to programs like Big Blue Ocean Cleanup and Operation Posidonia. Even the servers that power Ekoru are powered by renewable hydro-electric power.
Ekoru also encrypts all traffic and doesn't store any search history on its server as a bid to make searching on the web anonymous and safe.
3. giveWater
giveWater is a search engine in the traditional sense. It makes most of its revenue from targeted ads. However, there is one difference between giveWater and most of the other search engines on this list. giveWater uses its ads revenue to solve one of the most saddening and serious problems in the modern world, the lack of accessibility of clean water.
With its revenues, giveWater is doing its part in solving this grave issue. Besides clicking on the ads shown in the giveWater search results, you can also help by downloading and installing their Chrome extension.
Specialised Search Engines
Sometimes, you don't find what you are looking for on Google. Certain search engines that focus on a particular type of search queries are much better at finding specific things than all-rounder search engines like Google. Don't understand what I mean? Take a look at the following list to understand:
1. YouTube
When sheer search volumes are considered, YouTube is actually the biggest search engine right after Google. Processing over 3 billion search requests every month, the search volume of YouTube is more than the search volume of Bing, Yahoo!, AOL, and Ask combined.
The YouTube platform, besides offering excellent search functionality, is home to billions of hours worth of video content and does a great job of managing so much content. YouTube offers one of the best user interfaces ever seen on the web.
2. Unsplash (Stock Images)
Visual content is becoming an increasingly important part of building and maintaining an online presence. Even offline business collaterals regularly require the infusion of an appropriate image to prevent them from looking drab and lifeless. If you cannot afford to purchase stock images for all your image needs, Unsplash is for you.
The platform, which is powered by user generated content, is a search engine that lets you find professionally clicked photographs based on the keywords you enter into the search bar. All images on Unsplash are free to use. Just don't forget to give credits to the creators when you do use one of the images on the platform.
3. Slideshare
Slideshare, as the name suggests, is a platform dedicated to sharing presentations. The platform has been around for quite some time and in this time, it has garnered some serious popularity. If you are looking for a presentation on a specific subject, there is a good chance that you will find it on Slideshare. Even presentations used by well known speakers in webinars and conferences are available on Slideshare.
4. GIPHY
GIPHY is the world's biggest GIF search engine. GIFs have emerged as an important element that makes marketing more interactive and GIPHY offers a library of over 10 billion GIFs. If there's a GIF that you have in mind, there is a very slim chance of not finding it on GIPHY.
5. Wiki.com
Contrary to what the name may suggest, Wiki.com actually lets you search for information on Wikipedia and other encyclopedias that are publicly accessible on the web. If you use a lot of community-powered information in your work, Wiki.com can be a superb resource to find verified information quickly and easily.
6. Listen Notes
Podcasts have gained incredible popularity in the recent past. Unfortunately, the Google search engine is not primed to search for podcasts. This gap is being filled by Listen Notes. The search engine is dedicated to finding podcasts and it performs exceptionally well. Listen Notes also offers a neat 'Discover' feature for those who want to explore new podcasts.
7. Creative Commons Search
One of the biggest downsides of searching for images on Google is that they may be incorrectly marked as 'royalty free' and by using them, you may attract legal action. This problem will not bother you when you use Creative Commons Search or CC Search to look up images. The platform is chock full of free to use and modify images that you can use for virtually anything. The platform sources its results from other platforms like Wikimedia, SoundCloud, and Flickr.
8. Internet Archive/Wayback Machine
The Wayback Machine is an historical internet archive. If you are looking for a web page or website or a resource that is no longer available, there is a good chance that you will find it on the Wayback Machine. Besides offering access to millions of pieces of content, thousands of tools, and other creative assets, the Wayback Machine is also a great place to conduct historical research on your competition or for your clients.
9. Blog Search Engine
The Blog Search Engine is an aptly named search engine that pulls information from various blogs that are live on the web. If you are looking for in-depth niche information or guides or listicles, or even specific pieces of content that you can no longer find on Google, the Blog Search Engine will prove to be an incredibly useful tool.
10. Scribd
Scribd is a collection of original content pieces and offers access to them in a search engine fashion. The platform not only lets you search for original content pieces but also lets you filter results by category, length, language, file type, and upload date. Please note that unlike the other options shared in this list, Scribd is actually a membership website. However, there is a 30-day free trial that you can use to decide whether the platform is worth $8.99 a month.
11. Flickr
Flickr is one of the most well known image discovery platforms on the web. The platform boasts a collection of over 2 million groups and billions of high-resolution photos. From social media assets to images that you can use in pitch decks and on your website, you can find photos for all sorts of purposes on Flickr.
12. Tin Eye
Tin Eye is a reverse search engine for images. Meaning, the search engine will tell you where on the web a certain image appeared. You can use the search engine by either uploading an image directly or by entering the URL of the web page where you found the image. Tin Eye is also available for download as a Chrome extension that you can use to find sources of images in real time, without having to visit Tin Eye every single time.
13. Wikimedia
Wikimedia Commons is another resource for finding free media files that you can use without having to worry about licensing costs and issues. The platform, which operates like a search engine, boasts a collection of millions of images, sound bites, and videos that you can use freely for any purpose. The Wikimedia search interface is equipped with some great filters that will let you categorize results by file type, date, size, and much more.
14. Sidereel
Looking for a new show to stream but don't know where to find it? Sidereel can help. The search engine goes beyond the video searching capabilities of YouTube and pulls results from streaming services like Netflix, Amazon Prime, and Hulu. Sidereel also features a calendar that lists all the upcoming releases across different platforms.
15. AOL Video Search
AOL was one of the top search engines at one point. During this time, the company acquired the Truveo video search platform and integrated it with the main AOL search engine.
AOL Video Search, unlike YouTube, doesn't show video results that are limited to the AOL platform. Instead, it pulls video results from several different platforms all across the web and gives you access to the results in a single location. Besides acting as a search engine, AOL Video Search also provides access to a list of top videos from across the web. This list is updated every day.
It may also be worth noting that the AOL search engine itself is still operating and can be used to get a fresh insight on the results for your desired search terms.
16. Keyhole
For instance, if you want to know how many times a competitor's blog post was searched, you can select the 'URL' option and paste the URL of the blog post in question into the Keyhole search bar. Keyhole will then show you all the instances where the blog post was shared.
Please note that Keyhole is a paid tool but offers a 7-day free trial that you can use to see if you find the tool useful enough to pay for it.
17. Social Mentions
Social Mentions, as the name suggests, is a mention tracking tool. The tool lets you search for your brand mentions across many different platforms including (but not limited to) blogs, microblogs, comments on videos and blog posts, event pages, images, news platforms, and social media platforms.
Special Mentions: Social Media Platforms With Powerful Search Features
As you may have noticed, not all the websites and platforms mentioned on this list are actual search engines. Some platforms that are not search engines still manage to offer powerful searching capabilities.
This case is also true for some social media platforms. While almost every social media platform on the web offers a search feature, not all social media search engines are created alike. Some offer incredible functionality and usability and these have found a special place on our list.
1. Twitter
When considering the number of active users, Twitter is one of the biggest social media platforms on the web. The platform has managed to garner such a large user base that views expressed on Twitter now have the capability to influence major real world events including presidential elections.
Despite being a social media platform, Twitter has also managed to position itself as a source of news. On many occasions, news stories have broken out and gone viral on Twitter before any major news network took notice.
Over the years, Twitter has accumulated a variety of news stories and the public's notion around these stories. The Twitter Advanced Search offers all the filters you need to find such stories.
The Twitter Advanced Search is also a superb feature for businesses looking to gain a better insight into their local audience. The search engine offers a 'near this place' filter that allows you to filter tweets by location.
2. LinkedIn
LinkedIn has gained incredible popularity in the past months, especially after the global lockdowns started. From being viewed as a glorified job hunting platform, LinkedIn is now being used by B2B businesses from all kinds of industries to connect with potential clients and turn their businesses into well recognized brands.
While LinkedIn offers a wide range of incredible features, the most noteworthy one has to be its search feature. LinkedIn search allows you to find accounts of specific professionals from its 770 million+ user base. It makes searching easy and accurate by offering the ability to filter results by location, seniority, current organisation, past organisation, education background and a lot more. The platform even offers the ability to search for business pages and pieces of content that are trending on the platform.
However, your experience with LinkedIn search may feel restricted at times, especially if you are a new user. This is because the free LinkedIn accounts are not allowed access to profiles that are beyond their 'third connections'. Meaning, if a certain person is not in your connection list, or in the connection list of someone who is added to your list of connections, you will not be able to view their profile.
The simple way to overcome this is to sign up to a premium account with LinkedIn. Based on your needs, you have the option of choosing from three different types of accounts. However, the most advanced search features are available for Sales Navigator users. The search feature of LinkedIn Sales Navigator allows you to view any profile on LinkedIn and offers even more search filters than the regular LinkedIn search interface.
3. Pinterest
If you are looking for visual content, there may be no platform that offers the capabilities that match those of Pinterest. The image based social media platform boasts an incredibly large variety of images that are primed and ready to be found by you using its equally incredible search capabilities. The platform allows you to find and download images by searching for them with keywords.
However, be warned that many of the images that you will find on Pinterest may be copyright protected. So make sure that you verify that the image that you are downloading or using is royalty free and will not attract any copyright infringement penalties.
4. Facebook Search
Let's face it, Facebook has had a lot of time to perfect its platform. Fortunately, the result is truly brilliant. Besides being a superb platform from a business and a social media perspective, Facebook also boasts one of the most intuitive search features ever seen on a social media platform. Just type in your query into the Facebook search bar and you can look up relevant profiles, pages, groups, posts, places and much more.
Bonus: Advanced Google Search Options
Despite the privacy concerns, Google is pretty much a perfect and definitely the most capable search engine out there. However, despite being one of the most used digital tools on the planet, there are some amazing aspects of Google search that most users don't know about. Let's check these out:
1. Google Scholar
In the case of some rare searches, Google Scholar results find their way into regular search results. However, it has been happening less and less often of late. Regardless of that, Google Scholar is a superb speciality search engine. Searches on Google Scholar will reveal results in the form of expert-written articles, original research, theses, books, abstracts, and even court opinions, among other similar content. Most results are sourced from well recognised and highly regarded academic publishing personalities and platforms, universities, and professional societies.
So if you are looking for authentic data points and facts to include in your content, Google Scholar is perhaps the biggest online library to find relevant ones.
2. Google Books Advanced Search
Google Book Advanced Search engine, as the name suggests, returns results from books. The search engine, unlike most others in this list, presents its almost confusing variety of filters right from the get go. Using these filters, you can look up extremely specific text excerpts and find out about books that contain the keywords you enter into the search engine.
The search engine will let you filter your results by the language, the date or window of time of publishing, the genre of the books, the writer of the book, the publishing house, and of course, the title. Google Books Advanced Search even has the ability to filter results by ISBN or ISSN numbers.
Even the search bar is equipped with easy to use boolean search features. Meaning, it allows you to search for specific terms or characters while excluding other specific words and characters. It also has the ability to return text excerpts from newspapers. In some cases, Google Books Advanced Search will even give you access to publicly available books in pdf format that you can download and read through at your own leisure.
The search engine may require some getting used to, but it can be a great resource for conducting research.
3. Google Search Help
As the name suggests, Google Search Help is not so much of a search engine as it is a knowledge center. The Search Help aspect of Google is made to enable users to make the most of the features offered by the Google search engine.
In light of recent privacy concerns surrounding Google, the company has also introduced tools that allow users to protect and manage their online privacy. The online knowledge center also offers a variety of resources that educate users about online privacy and how it can be kept intact in today's intrusive online environment.
As an added bonus, Google Search Help even offers a tool that will help you manage your podcasts.
Optimizing For Organic Traffic From Alternative Search Engines
When market share is viewed in terms of percentage, the search engines mentioned in the list above currently serve 'negligible' percentages of the market. However, when converted to numbers, even negligible percentages turn into enormous numbers. Each one of the search engines mentioned in this list are serving a few hundred thousand monthly users, minimum. Many are serving tens of millions of users.
In other words, even alternative search engines can be an excellent source of organic traffic.
With that said, in the case of many of the privacy focused options, there is not much that you can do to influence your website's rankings in their search results. However, the good news is that most of the search engines on this list, including many of the privacy-focused search engines, are sourcing their search results from one of the search engine giants, i.e., Google or Bing.
This means that by optimizing your website to perform well in the search engine result pages (SERPs) of Google and Bing, you will automatically place it higher in the search results displayed by alternative search engines.
While both search engine giants use a lot of the same ranking factors to rank websites in their SERPs, there are a few key differences that you must keeping in mind:
Places a high value on exact match keywords. In other words, targeting exact match keywords has been known to positively influence a website's search rankings.On the other hand, while Google does not absolutely hate exact match keywords, neither does it especially favor websites that target and optimize for exact match keywords. In fact, over optimizing for such keywords may even result in a Google penalty.With that said, it is not an impossible task to find the right balance of exact match keywords that get you more traffic from both Google and Bing.
It has been over a decade since Google disregarded the presence of keywords in meta tags and descriptions. In Google's opinion, if your meta description is aptly descriptive, it doesn't matter if there are keywords in the text or not.
However, meta keywords still hold great value on Bing. This means that including the right keywords in the right density can potentially help you achieve better rankings on Bing.
Both search engines place great value in backlinks but view them differently. In the case of Bing, backlinks from websites that have been around for a while and have established themselves as industry authorities hold incredible value.
The perceived value of these links (from Bing's point of view) is even more if they are coming from .org or .edu websites.It has also been observed that Bing places slightly more value in the number of backlinks pointing to a website than Google does.
Many experts agree that Bing's image searching capabilities are better than Google's. That's perhaps why Bing places a lot of emphasis on visual content. If you are using the right kind of visual content, it is much easier to rank higher on Bing.
Google has outright denied that the social media presence associated with a website has any influence on search rankings. On the contrary, Bing has openly accepted that social signals have a significant influence on their search rankings.
Finally, you will have to use Google's Search Console to submit sitemaps to Google and Bing's Webmaster Tools to submit your sitemaps to Bing.
Conclusion
I have tried to make this list of alternative search engines as complete and as accurate as possible. However, nobody's perfect. If I have missed out on mentioning your preferred alternative search engine, do share its name with me and every one reading this article by dropping a comment.