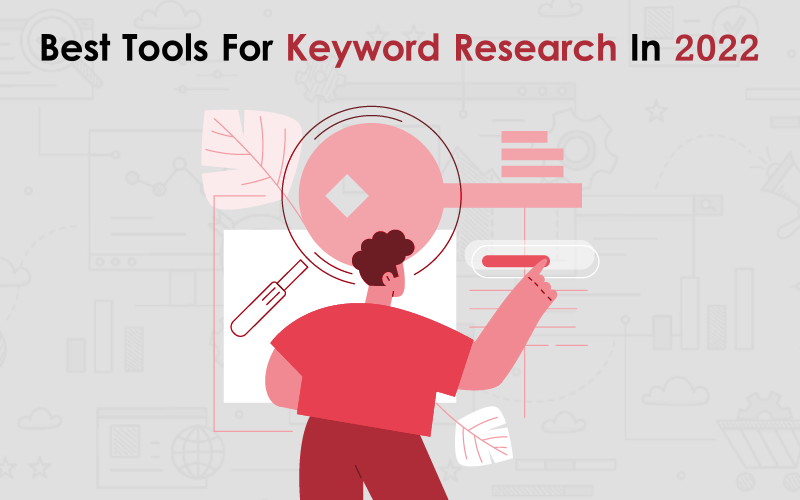 Table of Contents
Introduction
Finding the ideal keywords to boost the SEO of a website requires the use of the best tools, which is necessary if one wants to conduct efficient keyword research. For your website to receive more visitors, keyword research is essential. It assists you in creating the ideal content to boost visitors from organic searches.
However, how can you tell which ones are best for you when new tools, algorithms, and competitors are being introduced on a regular basis? Finding the best keyword research tool might be difficult, particularly if you're just getting started with SEO (Search Engine Optimization).

The best keyword research tools for SEO may streamline and improve your workflows when used appropriately. They make it simpler to find and select the optimal keywords to target and provide you with the information you require to actually rank for those keywords. However, they shouldn't demand you to spend all of your money to get access to that information.
Want to learn more about keyword tools? Keep on reading. 
In this article, we will first discuss what is a keyword research tool and its importance. Then we will explore the most reliable and competitive keyword research tools to help you make an informed decision when it comes to choosing the best-suited keyword tool for your needs.
What is a keyword research tool?
SEO must include keyword research as a key component. One of the most effective ways to draw regular, quality visitors is by using good-quality keywords, whether you're launching a blog or creating your content plan for your website.
You can find topic ideas by using a keyword research tool to find out what people are looking for on search engines. 
You can discover ideas for material that will appeal to your audience this way. After that, you can organize your content strategy to include those themes in your landing pages and blog posts.
You may find the top seed keywords and long-tail keywords that your competitors are ranking for by using keyword research tools. When you have done that, you can adjust your content to focus on those keywords and draw in their readers.
Why is keyword research crucial?
The importance of keyword research in a digital marketing campaign cannot be overstated. The following are a few of the most important reasons:
Understanding your keywords will assist you in better understanding your brand and business. Knowing your keywords can assist you in better grasping who you are if you don't already.
In contrast to what you might expect, keyword research might reveal what consumers are actually looking for and give you better keyword ideas.
You can learn important details from keyword research, including your position for particular keywords, the phrases that are easiest to rank for, and the keywords that your rivals are ranking for.
Choosing appropriate keywords for outreach and blog posts helps increase website traffic.
Your website may only be ranked by search engines if they are aware of the industry you are in. If you target particular keywords on various pages of your website, you might rank for those keywords.
Any digital marketing strategy should begin with keyword research, but it should be a continual effort. Checking your keyword rankings and seeing how you stack up against your competitors should be a regular practice.
Create pages and content that are targeted at those keywords after conducting keyword research. This can help you rank and get people to find your website when combined with several other SEO techniques.
Top 10 Keyword Research Tools in 2023
Here are the top keyword research tools for 2023 that you can use to strengthen your content and engage your audience:
1. Rankwatch
Rankwatch is one of the best keyword research tools with unmatched keyword research capabilities and actionable keyword ideas. It provides you with access to thousands of organic keyword suggestions.

With Rankwatch you get access to the entire list of suggested keywords based on keyword difficulty and other metrics that are relevant to your seed/parent keyword. It enables you to score quick victories, surge ahead of your rivals in the SERPs, and locate keywords that your competitors have overlooked and that your customers use to search for goods and services in your business.
Rankwatch is more than just a keyword research tool. It is a comprehensive collection of multiple tools and resources to help you optimize your SEO. It is an extremely rational tool for keyword research. The Rankwatch keyword research tool has the complete set of data you would need to assist you in deciding which keywords to pursue, even the long-tail ones. 
You may use this keyword tool to gain quick wins for your SEO and PPC campaigns because it takes into account average CPC (Cost Per Click) rates, expected competition, and even search volumes.
How does it work?
Simply enter the term or phrase, choose the country, and within seconds, the tool will extract precise information and keyword ideas connected to the entered keyword, helping you to finally achieve higher ranks.
If you want to increase the number of times your site appears at the top of the SERP, RankWatch gives you access to keywords with greater search volumes.
Your supplied keyword's search volume will be displayed, along with similar long-tail and short-tail keyword ideas, ranked in order of high to low search traffic.
Pricing
Before becoming a full-time user of the tool, you can first try it out for its effectiveness by signing up for a free 14-day trial. Thereafter, you have the option to choose plans on a monthly, half-yearly, and annual basis.

Moreover, you can choose your plans based on the number of keywords you want. The plans are divided into M, L, and XL for 250, 1500, and 7500 keyword capacity respectively. There is also a 'Custom Tailored' plan, which, as the name suggests, allows you to decide the number of keywords you would like your plan to provide. 
2. SEMrush
SEMrush is a complete SEO tool suite and encapsulates multiple keyword tools within it to help users find everything there is to know about the keywords that matter for their business. 
How does it work?
You simply need to input a keyword into SEMrush's Keyword Overview tool to obtain a complete picture with all the necessary details you need to know. This covers the monthly search volume (how many times a month the term is searched), the Trend (whether the keyword is gaining or losing popularity), and much more.
Then, as you scroll down, you'll get a useful list of additional related phrases you might want to use as well as a list of organic search results, allowing you to see how your competitors are performing for the keyword. Additionally, you can look at Google Ads that employ that keyword for PPC advertising (pay-per-click ads).
To check their keyword information, organic search terms, and other organic traffic metrics, you can enter any competitor's website in the Domain Overview box.
Moreover, you can view relevant keywords, the Search Engine Result Positions (SERPs) of your competitors, the traffic value (Cost per click), and more by selecting the Organic Research tab.
Pricing
Before becoming a full-time user of SEMrush, you can first try it out for its effectiveness by signing up for a free 7-day trial. It also offers four distinct pricing tiers. The greatest deals include yearly billing.
Pro: This package, which starts at $99.95 per month and is billed annually, is designed for websites and freelancers with a tight budget.
Guru: The features in this plan are ideal for small- to medium-sized businesses, SEO companies, and content sites daily. Guru's monthly starting price is $191.62.
Business: It starts at $374.95 a month and is perfect for eCommerce stores and agencies.
Enterprise:  SEMrush may create a plan that is specifically tailored to your needs if your content strategy is broad and goes beyond the capabilities of the aforementioned solutions.
3. Ahrefs Keyword Explorer
Ahrefs is one of the market's most well-known SEO software suites. It has an extraordinarily potent keyword research tool called Keywords Explorer that is certainly worth checking out.
It is arguably one of the best keyword research tools for content creators today. The software offers a user-friendly keyword report that is comprehensive and uses clickstream data to produce relevant unique click metrics.
How does it work?
Each of your keywords delivers incredibly detailed information. It provides you with the standard information (such as search traffic), as well as a breakdown of the competition on page one and information about how many users click on pages in the results.
It is also well renowned for having a substantially better keyword difficulty metric than those of its rival products. It does not merely assign you a score or difficulty rating at random. Instead, it provides you with an actual breakdown of the number of backlinks you would generally require to rank on page one.
Pricing
There is no free trial available for Ahrefs Keywords Explorer, however, website owners can join up for Ahrefs Webmaster Tools to test out Site Explorer and Site Audit with restricted access.
Its plans begin at $99 per month. However, because of modifications to their pricing strategy, you get much less for your money. Even with their $999/month plans, all accounts are limited to 500 monthly reports. Should you exceed, automatic overage charges will be applied.
4. Google Keyword Planner
When it comes to free keyword research tools, Google Keyword Planner undoubtedly stands tall in the queue. Google Keyword Planner is one of the best resources for PPC keyword research. There are no restrictions or pricey upgrades because it is entirely free even if you choose not to purchase Google Ads.
How does it work?
There are two main components of Google Keyword Planner: one is for keyword discovery and exploratory research, while the other is for a more in-depth analysis of search volume and forecasts.
The "Keyword ideas" feature is comparable to many of the tools we are covering in this list in that it asks you to enter a seed term, and then it suggests more keywords while also providing information on monthly search traffic, competition, change over time, bid ranges, and ad impression share.
Branded or generic keywords, source websites, and other factors can be used to narrow down your keyword selection. Highlighting areas where ranking organically Keyword Planner could allow you to reduce your reliance on PPC advertising and also aid you with your organic strategy.
It is simpler to budget and plan for paid advertisements if you also use Google Ads' "Forecast" tool.
Pricing
As already mentioned, Google Keyword Planner is completely free to use. 
5. Moz Keyword Explorer
Moz Keyword Explorer is a great keyword search tool. Without sacrificing the numbers you truly want, it makes for a less intimidating user experience for folks who aren't skilled search marketers.
How does it work?
You can look up any term using Moz Keyword Explorer to learn more about its difficulty, organic clickthrough rate (CTR), and monthly search volume. From there, you can scroll down to view an analysis of where it now ranks in the results as well as suggestions for related keywords.
Additionally, it provides a "Priority" score that makes keyword research easier by letting you know whether a keyword is worthwhile for you to pursue. Along with your "My Score," Moz automatically determines the score based on the volume, difficulty, and organic CTR of the keyword. Based on your personal experience and in-depth understanding of your company and industry, you determine "My Score," a measure that indicates how essential a certain keyword is to your organization.
You can find all the keywords that your rivals rank for but you don't, using a new feature of Moz's Competitive Research tool called the Keyword Gap.
Pricing
Up to 1,000 keyword recommendations and SERP evaluations are provided with each of the free keyword research features 10 monthly searches per tool. Moz Pro plans begin at $99/month for 150 monthly keyword queries.
6. Google Search Console
Although Google Search Console isn't designed to be a keyword research tool, it might help identify keyword prospects. Google Search Console has historically been utilized mostly for rank tracking, however, it is also feasible to acquire insightful and useful keyword ideas from the Search Console.

Just like Google Keyword Planner, it serves as a free keyword research tool if you know how to extract its full functionality. 
How does it work?
You can see where your pages typically place in the SERPs for particular keywords by using the performance report for your site through Google Search Console.
Any keywords for which your pages fall between positions 8 and 20 can be viewed as 'opportunity keywords'. You can either concentrate on optimizing your website's content to enable your pages to move up the rankings or you can generate fresh pages to target the keywords for which your existing pages fall further down the rankings.
Although it's an uncommon method of keyword research, skilled marketers use it to outperform their rivals. Additionally, Google Search Console is free, so you don't need to spend money on expensive tools to test out this strategy.
Pricing
It is completely free to access and use Google Search Console.
7. BuzzSumo
The content marketing platform BuzzSumo has a cutting-edge integrated keyword research tool. One of the finest options for content marketers, it provides all the resources at your disposal to develop a successful content strategy.
Buzzsumo may be used for a variety of purposes, including researching keywords and trending topics, coming up with content ideas, analyzing top-performing material in your niche, finding frequently asked questions on any subject, finding influencers to help you market your content, and much more.
How does it work?
To get started, use BuzzSumo's Discover feature and enter a term or topic. This will display a tonne of information. The volume of searches made last month is displayed at the top. If you want to examine how search volume has changed over time and whether it is trending up or down, click the Monthly Search Trend indicator to the right.
The average cost per click (CPC) and the total number of articles written on the subject in the previous 12 months are displayed next to that. Few other methods provide the data point that articles published do, yet it is quite helpful. It gives you a quick sense of how overpopulated the subject is with material so you can decide if it's still worthwhile to target.

Along with all the crucial information like search trends and volume, you can view related keywords (keywords broadly linked to the subject) and similar keywords (long-tail keywords that include the precise search question) underneath that.
When you select the View Analysis tab, a graph with overlapping markers for search volume and content over time will appear. Based on what is currently ranking, BuzzSumo will also recommend some content ideas for the subject and even pull up proposed questions regarding the term from communities like Reddit.
You may see the most influential people on the subject from many social media sites, including Twitter and YouTube, on the same page. It lists their number of followers and other crucial statistics.
Pricing
You can start out on BuzzSumo by creating a limited-time free account. If you want to upgrade, paid options begin at $79 per month.
8. Ubersuggest
Ubersuggest is a free tool by Neil Patel that provides information on search traffic, keyword ideas, an estimation of how challenging it will be to rank for your phrase (keyword difficulty), and more.
How does it work?
It includes a function like this called Content Ideas where you can enter a keyword or phrase and it will display all of the popular blog articles that contain that term. The content linked to your keyword is also displayed under "Content Ideas," along with the number of shares on social media platforms like Facebook and Pinterest. It also shows the projected monthly visitors and backlinks for each piece of content.

It allows you to view the top 100 Google results for that term in a tabular format, the number of backlinks, estimates of visitors, the total number of social shares, a domain score,  as well as a tonne of recommendations for related keywords.
Using your Google account to sign into Ubersuggest will provide you access to more keyword suggestions, daily rank tracking, and personalized SEO guidance. Additionally, UberSuggest provides a Chrome plugin that could increase your efficiency.
Pricing
Ubersuggest is a free keyword research tool and offers great functionality without having any effect on your pockets. 
9. Wordstream Keyword Tool
The WordStream Keyword Tool should not be overlooked if you're looking for one of the best keyword research tools. The keyword tool is free and offers tactical guidance as well alongside its normal functionality. It offers a keyword database with wise suggestions for about 60 verticals.
How does it work?
Step 1: In the search field of WordStream's Free Keyword Tool, type a keyword or URL.
Step 2: Sort by region (you can select from over 23 different countries) or industry (you can select from 24 different verticals) that you are interested in.
Step 3: Along with a list of suggested long-tail and related keywords, you would also receive information on the search volume, level of competition, and cost per click for Google and Bing. The top 25 terms would be immediately shown by the algorithm, and you could choose from them.
For suggestions on how to use high-volume keywords, scroll down to the Popular Keywords page. For suggestions on how to market in a specific vertical, see the particular vertical website. Finding seed keywords and campaign launch places is made easy with this tool.
Pricing
There is no charge for the first 25 results, and there is no charge for receiving the remaining results through email. All in all, you don't have to spend anything on this tool. 
10. Serpstat
Most consumers will find Serpstat to be a fantastic option. With more than 30 features, it's an all-in-one SEO software suite that can assist you with all facets of your marketing initiatives, not simply keyword research. Even though Serpstat's keyword research tool has a large feature set, it is good and doesn't skimp on anything.
How does it work?
To develop a list of similar keywords, you can start with a seed term. Alternatively, you can research the domain of your competitors to see what keywords they are ranking for and get keyword ideas from there. You can analyze your keyword ideas using all the indicators available in Serpstat, including volume, competition, difficulty, and popularity.
It is simple to get a list of popular search terms using the Keyword Trends tool. To find out what is popular where you are, choose a country or region. If you need to analyze a large amount of data, you can execute a batch analysis employing 18 metrics in total.
With the help of the Competitor's Graph function, you can see which websites are competing with one another for the chosen phrase and similar search terms. Larger bubbles draw attention to specialized authorities and reflect increased competition.
In addition to the keyword tool, you have access to a site auditing tool, rank tracking, backlink analysis,  and many other helpful features. Considering all the things you can do with it, it's surprisingly affordable.
Pricing
When you commit to a minimum of 24 months, plans begin at $45 per month. There are other options. Additionally, you can register for no cost, to begin with, with basic access and daily credit.
Conclusion
We have explained in detail the importance and benefits of keyword research for improving your SEO efforts. Moreover, we have provided a list of the top 10 keyword research tools in 2023 to help you choose the one that best fits your needs and budget.