Table of Contents
Introduction
The initial days of search engine marketing and optimization were much simpler than today. Back in the 2000's, website owners could achieve a first page SERP rank by simply stuffing their webpages with enough keywords.
Some even went to the extent of putting keywords in a colour that blends with the background colour on their webpages, so that search engine crawlers would see them but humans won't.
Thankfully, Google put an end to such practices with algorithm updates like the Florida update (2003), the Panda update (2011), and the Hummingbird update (2013).
With these updates, and some others, the importance of keywords in achieving success with SEO and PPC campaigns diminished. However, this doesn't mean keywords and keyword research are now obsolete.
Users still make use of keywords to search products, services, and information on search engines. Search engines still use keywords to determine the relevance of websites to specific search queries and decide which ones will be displayed in the results.
In other words, keywords may not be responsible for determining the rank of your website in the SERPs, but they still play a critical role in deciding whether your website will be displayed in the result for relevant search queries.
Perhaps that's why most SEO tools have an in-built keyword research feature.
While some of these tools like RankWatch and AHREFS offer incredible keyword research features, those who are just beginning with their SEO efforts may not be able to justify the cost associated with them.
If you identify with the previous statement, you've landed on the right page.
In this article, we will explore top free keyword research tools that you can start using right away. However, before we begin, I would like to remind you that there is a reason behind the popularity of paid tools.
While going through the following list, make sure you remember that what you are saving in terms of money, you will have to spend in terms of time. Most of the tools on this list will enable you to do specific keyword research tasks.
With that out of the way, let's jump right into the list of our top free keyword research tools on the web:
Google Search Engine
The Google search engine is a surprisingly powerful tool for conducting keyword research. It can help you get relevant keyword suggestions, question keyword suggestions, and can even help you better understand the intent behind specific search terms.
Let's find out how:
1. Getting keyword suggestions with Google search engine
Finding keyword ideas with the Google search engine is incredibly simple. Log on to Google.com and type in your seed keyword and as you do, you will see a number of suggestions that can be used as keyword suggestions. It will look something like this:
Create a spreadsheet and note down these keyword ideas. Depending on the nature of the keyword (transactional/informative), you can use them in your product pages or create blog posts around them.
2. Using Google Search Engine To Get Question Keyword Suggestions
A 2017 study revealed that out of the 3.5 billion searches conducted on Google every day, 8% are in the form of questions. That's 280 million question queries every day. It is safe to assume that the number has grown dramatically since 2017, thanks to the improving implementation of featured snippets and "People also ask" section in the SERPs.
In other words, question keywords are something no website should ignore. Thankfully, obtaining question keyword suggestions is not a difficult task.
Do you ever notice those little question boxes that appear in-between search results? They are great for getting long-tail question keyword suggestions. This is what they look like:
These are all questions that people are already asking on Google. By answering them on your website, you stand a chance of getting featured in one of the answers.
Please note that in many cases, the list of questions expands when you click on one of the questions. Keep clicking on more and more questions, and Google will keep loading more.
This means, you can get access to a virtually endless list of question keywords in this manner.
3. Understanding Search Intent With Google
Whether or not your website ranks for a certain keyword depends on several factors.
Among these, the alignment of your webpage content with the search intent is one of the most important factors, and the Google search engine can help you with ensuring this alignment.
Before that, let's understand search intent with a quick example.
Suppose you go to Google and search for the term "how to write cold emails". This is an informative query. The searcher (you) wants to learn how to write better cold emails.
Now, if a landing page selling an email marketing tool starts ranking for this keyword, it won't be aligned with the intent behind the search. In this case, blog posts and guides around cold email marketing will work well. The SERP page proves this assumption is right:
Now, this is what happens when I search for Bluetooth headphones:
This means, in the case of writing cold emails, the search query was informative. In the case of bluetooth headphones, the query was transactional. This means, in the first case, most searchers were in learning mode but in the latter, most searchers are in buying mode. In both cases, Google presented results relevant to the search query, not just based on the keywords.
This is exactly what you have to achieve with your content as well.
So, before you create landing pages or even write the content for a page, try to Google the keyword you wish to target first. Looking at the results and the presence of various SERP features (information graph/featured snippet/shopping ads), you can determine the search intent behind the keyword.
Google search is free to use, and it can help you find unlimited keyword ideas and can also help you understand who is using these keywords and what kind of content they want to see.
Bulk Keyword Generator by HigherVisibility
As the name suggests, Bulk Keyword Generator is a keyword suggestion tool, and it is incredibly easy to use. However, what the name does not tell us is that the Bulk Keyword Generator is best suited for local businesses looking to target location-specific keywords.
The tool uses a 3-step process to provide you with a list of keywords that are relevant to your business. Let's see what this process looks like:
Step 1: Choose Business Type

When you log on to the website, you will see the above bar. When you click on the bar, you will be presented with a drop down menu that contains various business types that you can choose from. For the sake of this example, we are choosing "fitness" as a business type. When you select the business type, you will be presented with a list of relevant service types. Here's what it should look like:
After you have selected the relevant service types, click on the "SELECT SERVICE TYPES" button to move on to the second step of this process.
Step 2: Select Locations
In the box, enter the locations you want to target with your keywords and then click on the "GENERATE KEYWORDS" button. In this example, we have added "Baton Rouge" as the target location.
Now, let's see what step three looks like.
Step 3: Copy Keywords
Based on the choices you made in the previous steps, Bulk Keyword Generator will provide you with a list that looks something like this:
As you can see, you can either copy all these keywords by using the icon right next to the "Keyword" header or simply download the CSV file by clicking on the button at the bottom.
Now, you may have noticed that the Bulk Keyword Generator provides us with only keywords and no information about the search volumes or ranking difficulty. Without these metrics, these keywords are no good.
Moreover, there is a good chance that only a few people in Baton Rouge are actually searching for 'exercise classes in Baton Rouge". Instead, many may be simply searching for 'exercise classes' thinking that Google will automatically detect their location and present them with relevant results.
So, to turn this raw data of keywords into a list of keywords that you can use, we will have to use another tool called the Google Keyword Planner.
To do this, go to Keyword Planner and click on the "Get Search Volumes And Forecasts" box.
Next, pick a handful of service-type keywords from the list of keywords we obtained earlier and paste them in the Keyword Planner box (without including the name of the location).
Click on "Get Started". You'll be presented with a page that talks about forecasts. At the top of this page, you will see the option of changing the target location. Select your desired location using this option.
A little below that, you will see the option of looking at historical metrics. When you select it, you will see the average monthly search and competition for your keywords. The competition is determined by the number of advertisers targeting that keyword in their ads on Google. Higher the number, higher the competition. And higher competition means that the advertisers may need to bid with bigger amounts to secure better ad positions.

Answer The Public
Answer The Public (ATP) is a keyword research tool that helps you find suggestions for question keywords, along with prepositions, comparisons, and alphabeticals. Here's what the query page looks like:
Confused?
Here's what the results will look like and mean:
1. Questions
Questions are among the first results you'll get when you click on the "Search" button. Here's what they look like:
If you select "List" instead of "Visualisation", it'll segregate all the relevant questions under what, why, when, who, which, where, how, are, and can. Something like this:
These are all questions that you can target with informative content. While there is no confirmation for the same, rumours are that ATP sources this data from Google Keyword Planner and Google's autosuggest.
This means, there is a good chance that a good fraction of your audience is searching for the questions suggested by ATP. Next, we have prepositions.
2. Prepositions and Comparisons
Prepositions usually contain search queries in the following format:
<Seed keyword><Preposition><word>
Here are a few examples from my search using seed keyword "fitness coach":
fitness coach for seniors
fitness coach for free
fitness coach for hire
Similarly, the list of comparisons contains queries in the following format:
<Seed keyword><comparison word><relevant word>
Here are a few examples:
fitness coach and nutritionist
fitness trainer vs coach
what is the difference between personal trainer and fitness coach
3. Alphabeticals
Finally, there are alphabeticals. These are the lists of various Google autocomplete suggestions triggered by different alphabets.
Once again, these usually have high search volumes and can prove to be a goldmine of keyword ideas.
Keyworddit
Keyworddit lets you pull keyword ideas from Subreddits on the Reddit platform.
When you log on to the website, you will be asked to enter the name of a subreddit.
When you click on "Get Keywords", the tool will mine the Subreddit specified by you for search terms that people are talking about. The result will look something like this:
As you can see, for people engaged in the Personal Finance Subreddit, things like income tax brackets, savings accounts, and different types of taxes are important.
You can also see that the search volume of these queries are high.
Using these metrics, you can determine which keywords you want to target, and the kind of content you should target them with.
If you find yourself confused about the latter, you can click on "Context" at the far right and the tool will pull up the conversation threads where the keyword was derived from in Google Search. Something like this: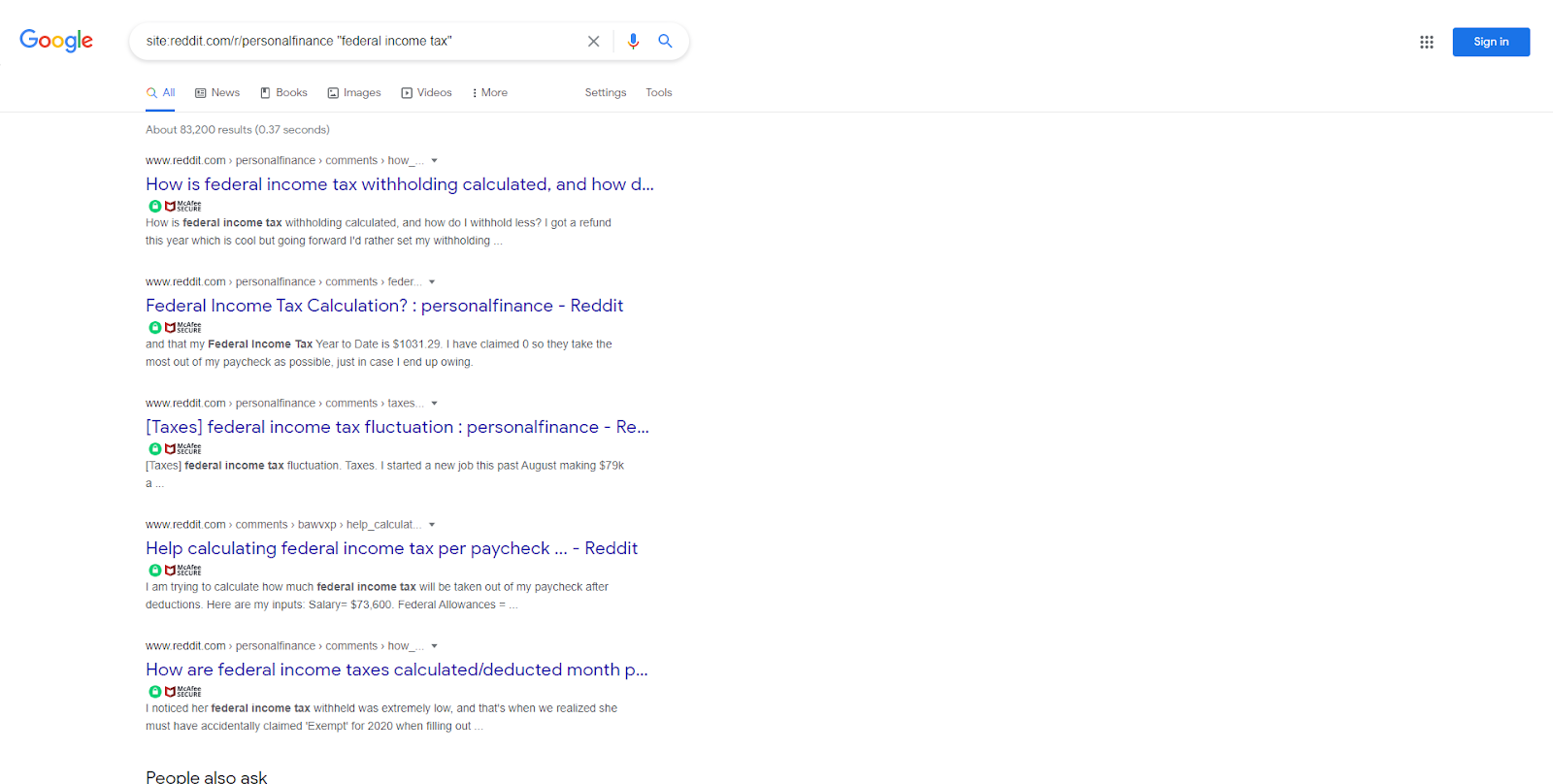 Here, you can visit specific conversations around your search term and find out what the users are talking about.
When used right, this information can be critical in determining the success of your content marketing and SEO efforts.
Google Trends
Google Trends can be used to obtain more information about a specific search term.
When you enter a term in the search bar, you'll be presented with information about interest in the keyword over time, and by geographical locations.
Google Trends also allows you to filter search results by locations, timelines, categories, and the search platform (limited to Google search, Google image search, Google news search, Google shopping search, and Google's YouTube search).
As you can see, you can also compare the trends for two different keywords to decide which one merits your efforts and time.
The "Interest over time" graph can be used to plan your content calendars. For instance, the interest over time for the search term "mangoes" looks something like this:
Being a seasonal fruit, mangoes enjoy increased popularity in specific months.
For relevant search terms, this information can help you ensure you are creating content around keywords and search terms that are currently trending, instead of focusing on a trend that is currently struggling with declining interest.
However, make sure you are using the right kind of timeline when drawing comparisons. For instance, the search term "iPhone X" historically has way more volume than the more recent "iPhone 12".
Yet, if you compare the two in a 12-month interest graph, you will find that in recent times, the interest in "iPhone 12" has surpassed the interest in "iPhone X".
Pro Tip:
Combining different tools to conduct keyword research will enable you to obtain invaluable insights about the keywords that you want to target. For example, when you run the keywords you obtain from Keyworddit through Google Keyword Planner, you can determine search volumes for specific locations and even determine the kind of competition you can expect. Similarly, by running the same keywords through Google Trends, you can find search terms and keywords that command urgency. Finally, by using these keywords to search on Google, you can determine the search intent behind them and ensure that the content you are creating is relevant.
Sure, conducting keyword research like this is time consuming. However, you can rest assured that your keyword research is complete and informative.
Conclusion
Keyword research is usually the first step of every SEO strategy. However, when you are just starting out, being able to justify a monthly retainer of hundreds of dollars for an SEO tool is challenging, if not impossible. Thankfully, with a little bit of innovation, one can conduct their initial keyword research without having to rely on premium tools.
With that said, keep in mind that the free tools mentioned in this article require a lot of manual input in order to produce actionable and dependable keyword suggestions and metrics. Doing this isn't a scalable strategy.
As you start generating results from your initial efforts, do consider investing in an SEO tool. Besides saving you precious time, SEO tools will give you access to powerful insights that free tools aren't capable of procuring.
FAQs
Keyword research is a crucial step in a website's SEO strategy. It refers to identifying and analyzing your customers' words and phrases when searching for related information, products, or services on search engines like Google and Bing. Keyword research can also help you understand your audience's language and terms when looking for content related to your business. It also helps you analyze the keywords your competitors are using and identify gaps and opportunities you might miss.
The end goal of this data is search engine optimization of your website to help them rank high on SERPs.
Keyword search volume refers to the number of times a keyword has been searched within a given time frame. There are a few tools available online that help you find the search volume of a keyword for free:
Google Search Engine: This can be an excellent tool for keyword research. The auto-complete feature of Google helps you find relevant keywords for your topic.
Google Trends: This tool helps you find the search volume of a particular keyword and related queries and topics currently trending.
Keyworddit: This tool helps you generate keyword ideas from Reddit.
The Google keyword planner is designed to help you research your keywords efficiently. You can use it by following the steps mentioned below:
Access your Google keyword planner account.
Navigate the tools and settings options and click " keyword planner."
 Select "discover new keywords" to find new keyword ideas.
The tools will give you relevant keywords based on your search intent.
Look for the best keyword ideas relevant to your products and services.
If you already have a list of keywords, you can use the tool to find the search volume and forecast.