Client Profile
'Action Days' is one of the top corporate event planners in UK. Having worked with brands like John Lewis, Boots and McDonalds, they have the correct knowledge and experience for making any event a success.
Challenges
On January 1st, 2018 when we started search engine optimisation for actiondays.co.uk, following are the challenges that we had to face.
Highly competitive and specific niche: Every brand needs companies to manage their corporate events. In an industry like this, high competition is an obvious challenge. Action Days' competition line up was no different. This called up for a strict action plan.
Low traffic and less sales.
Poor search rankings: Major keywords were not ranking well in Google SERPs.
On-page issues that we found and how we dealt with those
Before starting any search engine optimization campaign, we need to know where the brand currently stands with their SEO game. So, to find that out we analyzed Action Days' website for on-page SEO issues.
Results made us realize that the website required some design changes. Here's a list of the issues that we found and changes that we made.
Issues at that time
Their website had hundreds of web pages. Which is a good thing. What ruined the game was that none of these pages were properly optimized.
Meta-data that they were using was not adding value. It lacked important keywords and information that mattered
Category pages lacked relevance
Some of their webpages had thin content. Web pages with thin content can't rank in the searches anymore
Also, apart from being important for search rankings, quality content is crucial to keep users informed and entertained throughout their journey.
Solutions that we came up with
Titles, headlines, meta descriptions for web pages, category tags and tags for articles. Everything was updated.
The aim was to make use of meta data as it is a powerful factor which inflicts search rankings.
Replaced old, thin content with new engaging content which would interact better with the users.
Also, we ensured the right use of important keywords which we listed out after in-depth keyword research sessions.
Off-page issues that we found and how we resolved those
After getting done fixing on-page issues, it was important to find out how the website was performing around the web. For that we used Rankwatch's backlink analysis tool.
Issues that we came across
Less number of links.
Sites linking to actiondays.co.uk lacked authority and web traffic.
Solutions that we gave
Guest Posting: The next thing we did was made a list of blogs and websites in and around Action Days' niche. To come up with top blogs about corporate events we used a few search terms as "top corporate event blogs".
We raided the search results for blogs with decent web traffic and authority. Now, being done with the blogs' list, it was time to find the blogs' owners' contacts and pitch them for Guest posting.
The email template that worked the best for us went like:
"Hello, [Name]
I've been a subscriber of [Blog Name] for some time now – and I especially enjoy reading to [Blog category/section/series name] on daily basis.
I've been working on an idea for a post about [blog idea] – and it struck me that this would be a great fit for your audience. Recently, I've had several successful guest posts on major blogs including [Blog Name], [Blog Name] and [Blog Name] – which you can see here:
LINK #1
LINK #2
LINK #3
The working headline for the post is [title] although I'm open to changing it up if needed. I feel that the post would be especially relevant to your readers because [State how it will help the readers] The summary of post is…
[Bulleted list or paragraph summary of your blog]
Although there are many such blogs out there that covers the same thing, I haven't seen a lot of posts that walk readers through [main key point] very well. For that reason, I think your readers would find it very useful.
What do you think? Should I write it up and send you a draft?
I look forward to hearing your thoughts,
Thanks, [Your Name]"
It might come as cheesy to many, this template seemed to work the deal for us. As a result, we got guest posting opportunities on sixty websites/blogs over the span of a year.
These blogs' DAs ranged between 30 and 69.
Results
As we kept moving ahead with bringing in the important on-page changes and taking required off-page actions, actiondays.co.uk's search traffic started increasing.
Starting off on September 1st, 2018, exactly after 1 year, traffic and search ranking stats for actiondays.co.uk are as follows.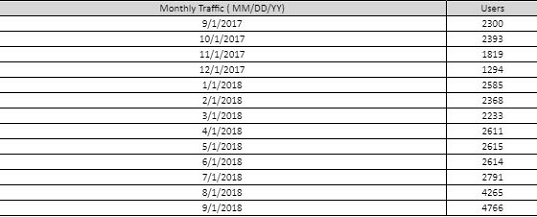 Web traffic growth (numbers) from 9/1/2017 to 9/1/2018
Web traffic growth (graph) from 10/1/2017 to 6/31/2018
Search Engine Rankings (positioning) before/after comparison
Conclusion
We always knew SEO isn't rocket science. It's just about partnering with search engines to provide their users with what they are looking for.
While working over actiondays.co.uk's SEO, we came across some challenges and issues which we won over with sharp solutions. Results that followed compelled us to sharing this case study with our readers.
We hope this helps you game up your SEO strategy.