A lot of people say that SEO traffic is free.
While organic traffic sure is a lot cheaper than traffic from paid advertising, it certainly is not free.
Generating organic traffic is a skill and labour intensive task that sometimes takes months of consistent efforts.
That's not all, another little known cost of doing SEO is the money spent on acquiring the right tools and having the right tools can make a ton of difference. Popular premium SEO tools offer features that improve the efficiency of every aspect of your SEO strategy. The catch, however, is that such tools are usually expensive, sometimes costing several thousand dollars every month.
Thankfully, there is an alternative to using these awesome but expensive premium SEO tools. That option is to use free tools and the good news is the web is filled with some amazingly effective free SEO tools. The catch however, is that most free tools offer specialised features that are fit for tracking and optimizing only certain aspects of your SEO strategy or website.
SEO is not a single thing, it's a series of optimization actions that together work towards improving the search engine result page (SERP) ranking of your web pages for relevant keywords. Different areas of SEO include website analytics, indexing, keyword research, backlinking, local SEO, mobile SEO, website performance, and competitor research.
For each area of SEO, there are a number of free tools that you can use and in this article, we have listed all the options that are worth considering.
Analytics
Google Analytics
One of the most popular tools on this list, Google Analytics is so powerful that it often finds its way into the marketing arsenal of even those marketers that use premium SEO tools. True to its name, Google Analytics offers in-depth insights about the traffic your website is attracting. It enables website owners to track everything from origin data (location, demographics, number of site visits) to behavioral data on the website (time spent on site, pages visited).
Insights and data from Google Analytics can help you determine if your strategies and content are producing the kind of results you expect and if they are not, you can even use the data to determine why your strategies are not working.
Insights from Google Analytics can also be utilised to inform search engine advertising efforts.
Google Search Console
The Google Search Console is exactly what the name suggests. It is a free tool by Google that gives you access to search engine performance related metrics of your website. The tool also tells you about optimization opportunities like fixing technical issues.
The best part about data from Google Search Console is that you can be sure that it is coming from a trustworthy source.
Google Search Console also enables website owners to take care of website indexing tasks by enabling the submission or a sitemap or by requesting a crawl.
With that said, there are certain limitations of the Google Search Console. For instance, it only tells you about a handful of possible technical website issues that might need your attention. Similarly, the tool only informs you about the top 1,000 links and organic keywords.
Bing Webmaster Tools
Bing Webmaster Tools are Bing's version of Google Search Console. Similar to the case of Google, if you want your website to be indexed and eventually ranked by the Bing search engine, you will need to submit a sitemap using Bing Webmaster Tools.
The great thing about Bing Webmaster Tools is its keyword research feature. Unlike Google Keyword Planner (more on this in a bit) or Google Search Console, the keyword research feature of Bing Webmaster Tools gives you unrestricted access to organic keyword ideas.
Data Studio
Data Studio is another free tool by Google that enables data collection and visualisation. The tool enables you to collect data from different sources like Google Analytics and Google Search Console, compile it, and present it in visually digestible formats such as pie charts (among several different options).
You can then go on to share such visualisations with the rest of your team and get even the most technically handicapped members of your team (or clients) to understand what the numbers mean.
Enhanced Google Analytics Annotations
Enhanced Google Analytics Annotations are powered by a Chrome plugin developed by a Barcelona company called SweetLabs.io. The plugin, which is absolutely free, enables website owners and marketers to account for dips in traffic caused by events like search engine algorithm updates or global holidays.
Keyword Hero
In many cases, you may find yourself struggling with missing keyword data, especially related to performance metrics.
This problem can be solved with the help of Keyword Hero. The tool uses some impressive machine learning and advanced mathematics to fill in the blanks left by incomplete keyword data.
Keyword Hero is free to use for up to 2,000 sessions every month.
MozCast
Keeping up with the algorithm updates rolled out by Google and other search engines is an important and challenging aspect of doing SEO right. Keeping track of the hundreds of changes introduced by search engines can be difficult, if you don't have MozCast.
The free tool keeps track and updates you about all the changes introduced to the algorithms of various search engines.
Crawling/Indexing
Beam Us Up
Beam Us Up is a website analysis tool that tells you where your website is falling short of following the SEO best practices laid out by search engines.
The analysis reports can be viewed with a variety of filters and can even be exported in Excel, CSV, and Google Drive friendly formats.
Link Redirect Trace
Link Redirect Trace does exactly what it's name suggests. It tells you about the link redirects you have in place. This tool, which is available in the form of a Chrome plugin, can be used to ensure your link redirects are working properly and are leading people and website crawlers to web pages that you want to take them to.
Redirect Path
Redirect Path is another Chrome extension developed with the aim of helping website owners get a better understanding of the redirects that they are using.
The tool will flag all instances of 301, 302, 404, and 500 HTTP status codes. The tool will also highlight meta and JavaScript redirects, enabling you to pinpoint and immediately address any redirect issues on your website.
Redirect Path can also reveal HTTP headers like server types and caching headers, along with server IP addresses.
The tool also makes it incredibly easy to share all the information it produces for you.
Screaming Frog
Screaming Frog is an extremely popular tool in the SEO community, and for good reason. The tool offers a free version that allows you to crawl up to 500 URLs, which is usually enough for most new website owners.
Screaming Frog is also popular because of the sheer number of features it offers. The website auditing capabilities of this tool are currently unmatched by any other free tool on this list, making it one of the best desktop-based website auditing tools out there.
Screaming Frog Log File Analyzer
The Log File Analyser by Screaming Frog is a tool that will tell you about the crawling status of your web pages. The tool will identify all the URLs that have been crawled by Google's bots, discover how frequently they are crawled, inform you about uncrawled pages, give you insights to improve crawl efficiency, and will even audit your pages for performance.
The Screaming Frog Log Analyser can also be used to find and fix broken links and audit redirects that are being used on your website.
SEOlyzer
SEOlyzer performs a lot of functions that Screaming Frog's Log File Analyzer performs, with one big change- SEOlyzer allows you to track your SEO metrics in real time.
The objective of the tool is to help you find out about SEO related as they start emerging and becoming serious. According to the SEOlyzer team, it is often too late by the time a problem is highlighted in the Google Search Console and that's why, the real time insights offered by their tool are incredibly helpful.
Xenu
Xenu is perhaps one of the oldest tools on this list. Having been around since the early 2000s, Xenu is the original free SEO audit tool. Even after all these years, Xenu's ability to locate and highlight broken links is unmatched.
Keyword Research
Answer The Public
Answer The Public (ATP) is perhaps one of the best keyword research tools on the market, and it's completely free to use!
As you may have guessed from the name, ATP doesn't give out keyword suggestions like other tools but it gives out suggestions in the form of question keywords. In a saturated SEO space, finding question keywords and creating the right content is the secret to securing the revered "position 0" in the SERPs (featured snippets).
Another little known but awesome feature of ATP is its ability to find comparison keywords. Depending on your industry, the number of searches comparison keywords attract may run into several thousands.
Keyword Explorer
Keyword explorer is a keyword research tool that gives you keyword suggestions, coupled with all the information you need to make informed decisions about keyword targeting. The tool retrieves information like keyword difficulty score, the CTR of the results that currently appear for a keyword, and even an analysis of the SERPs that help you create the right kind of content.
The free version of Keyword Explorer allows you to conduct 10 searches every month.
Keyword Planner
If you have used Google's Keyword Planner in the past, you already know that the tool is not as powerful as it used to be. However, the Keyword Planner is still one of the most capable keyword research tools currently present on the web.
While most of the data presented by the Keyword Planner is more relevant for paid marketing on the search engines, the accuracy of the data makes it great for use in organic campaigns as well.
Keyword Shitter
Nope. Not a typo. The Keyword Shitter does exactly what the name suggests. Keyword Shitter, apart from giving keyword suggestions, also gives you free access to other important keyword metrics like keyword search volume, competitor data, and even the cost per click that advertisers targeting that keyword are paying.
Keyword Surfer
Keyword Surfer is a Chrome extension that gives you real time search volume of the keywords you enter into the Google search bar. Besides that, the tool also tells you about the word count of the top ranking pages, along with the number of keywords targeted by each top ranking page.
Ubersuggest
Ubersuggest is one of the oldest free keyword research tools. The tool sources its data from Google's Keyword Planner so you can be sure about the accuracy. Like the other keyword research tools on this list, Ubersuggest will show keyword suggestions alongside helpful metrics like CPC, competition, and monthly search volumes.
Ahrefs' Keyword Generator
Ahrefs is actually a full service SEO tool. In fact, it is easily one of the most widely used SEO tools on the market. The company, following the ongoing trend in the market, has decided to give limited but free access to the different features of the tools to everyone.
This means, you can get access to Ahrefs' Keyword Generator, one of the most powerful premium keyword tools on the web, at absolutely no cost. The only restriction is that you will be given access to a limited number of keyword suggestions. The rest can be unlocked by paying for a premium Ahrefs membership that starts at $100 per month.
Google Trends
Google Trends is one of the best known SEO tools offered by Google. The tool, as the name suggests, gives you access to trends related to specific keywords. The information offered by Google Trends can be incredibly granular.
The tool can not only tell you about the search volume of the keyword you are researching, but also about the number of searches coming from specific geographical locations. You can also use the tool to see the fluctuating search volumes for seasonal keywords (like "ice cream").
Keyworddit
Keyworddit is a unique tool because it helps you find keywords from a great source that many of your competitors are overlooking- Reddit.
One of the most popular social media platforms, Reddit features Subreddits and there is a Subreddit for virtually every single topic under the sun. Keyworddit lets you find keywords within these authentic, user generated conversations.
The keyword suggestions are also paired with monthly search volume numbers, along with the context behind each of the keywords. When you click on the "context" next to a keyword, you will be taken to the Subreddit conversation from which the keyword was pulled. You can go through the entire thread (or as much as you need to) to understand the intent behind the keywords you decide to target.
AlsoAsked.com
Alsoasked is another tool that helps you find question keywords related to your seed keyword. However, the great thing is that the visualisation capabilities of this tool enable you (and your clients) to easily understand the intent behind each of the keywords that you want to target.
Understanding intent, in turn, allows you to create the kind of content that is most likely to appear higher in the SERPs or is most apt to be used for a Featured Snippet or Knowledge Graph.
Link Tools
Disavow Tool
The Disavow Tool by Google is one of the least known tools introduced by the search giant, and for good reason. It is very easy to use this tool to cause harm to your website's SEO.
However, at the same time, the same tool can save your website from getting its backlink profile devalued or worse, from a Google penalty. The Disavow Tool enables website owners to 'disavow' backlinks from spammy websites, helping them keep their backlink profile clean and authentic.
Link Explorer
The Link Explorer tool is actually a free to use feature of the Moz SEO tool. The tool is extremely powerful and boasts the data of over 35 trillion backlinks. The free version of Link Explorer allows users to conduct 10 searches on the tool every month. The results are limited to 50 rows of data for free account users.
Link Miner
The Link Miner is an extremely handy Google Chrome extension. It gives users real time insights of links in the Google search. The tool is also capable of finding broken links on any web page.
Detailed
Detailed is perhaps one of the most unique backlink research tools on the market and it's absolutely free. The tool, unlike its competitors, focuses on finding out what is attracting the highest amount of quality backlinks in different niches. The tool's objective is simple, to make backlink research straightforward.
Backlink Checker
The Backlink Checker is another free to use feature offered by one of the leading SEO tools in the market, Ahrefs.

Ahrefs has built up a reputation for offering accurate and actionable SEO data and has emerged as one of the favorites among seasoned and beginner SEO professionals. If all these facts are making you hold high expectations of their Backlink Checker, you will not be disappointed.
With that said, since it is a free offering by a premium tool, you get restricted access. This means, without paying for Ahrefs, you will be limited to viewing the data of 100 links and will not be able to use the incredible filters offered by the Backlink Checker.
Despite these limitations, the Backlink Checker can prove to be a powerful addition to your arsenal of free SEO tools.
Local SEO
Google My Business
Google My Business is an absolute must for local businesses that take their online presence seriously. To say that the tool has leveled the field for multi-location businesses with enormous marketing budgets and small, bootstrapped businesses, would be an understatement.
Claiming your Google My Business listing is also one of the most basic tasks that you must take care of, before you can move on to more complex local SEO tasks.
Google Review Link Generator
For local businesses, collecting reviews is extremely important. Surveys revealed that 97% of online users read reviews when it comes to choosing a local business. 78% of respondents also said that they trust online reviews almost as much as they trust recommendations from friends and family.
The Google Review Link Generator makes it easier for you to collect reviews and for your customers to give honest reviews. The tool will generate a link that you can share with your customers.
Local Search Results Checker
The Local Search Results Checker is a powerful local SEO research tool developed by Brightlocal. The tool solves one of the biggest challenges for those optimizing for local search rankings- keeping track of local rankings in different locations.
The tool will enable you to manually choose any location and enter the keywords to see the top ranking websites in that area.
Moz Local Online Presence Tool
Having consistent business information on your website, on business listings, and on local citations is an important aspect of local SEO. The Moz Local Online Presence Tool helps you ensure this sort of consistency across all local business aggregators and directories that search engines like Google use to rank local businesses in their search results.
Mobile SEO
Mobile First Index Checker
Google and other search engines have realised that mobile device users have already started to make up for the major percentage of internet users. As a result, most search engines prioritize ranking websites optimized for mobile device screens higher in the search results.
As a result, many businesses have had to create a different mobile version of their desktop website. If you are one of them, the Mobile First Index Checker will ensure that the elements of your website, like links, structured data, headers, etc., stay consistent across both versions.
Mobile SERP Test
The Mobile SERP Test tool performs the same job as the Moz Local Presence Tool, but for SERPs that are displayed on mobile devices. The results displayed on mobile devices vary as locations change, even more so than desktop websites.
The Mobile SERP test tool allows you to track such changes in the SERPs for the locations of your interest. The tool is incredibly powerful as you can search by specifying location to specific addresses.
Mobile-Friendly Test
Google and other search engines have specific requirements that websites must follow in order to be considered 'mobile friendly'. To help website owners determine whether their website is mobile friendly enough, Google has provided free access to the Mobile Friendly Test Tool.
Multi-Tool
Chrome DevTools
Chrome DevTools are often overlooked in conversations about SEO tools. However, the reality is that Chrome DevTools are incredibly capable and can help you optimize multiple aspects of your website for better performance in the SERPs.
The features offered by Chrome DevTools make it possible for website owners to perform tasks like auditing the JavaScript on their website, making speed related optimizations, among several other on-page SEO tasks.
With that said, Chrome DevTools are not exactly very user friendly. It appears that these tools were not made with the needs and capabilities of SEO beginners in mind. If you are a beginner and are facing challenges while using Chrome DevTools to optimize your website, here's an excellent resource to get you started.
Marketing Miner
Marketing Miner, as the name suggests, is a tool that mines SEO data from a staggering number of sources. The tool helps marketers perform competitor research, get reports from other tools, track rankings, and track SERP data, among a number of other tasks.

Source
While Marketing Miner is a paid tool, there is also a free version that will let you perform a lot of the tasks mentioned above.
RankWatch
RankWatch is an incredibly powerful full-suite SEO tool. The tool is capable of taking care of literally every aspect of your website's SEO. While RankWatch is a (affordable) premium tool, it offers its features as individual free-to-use tools. Free users are limited by the number of tasks they can perform with the features offered by RankWatch. In most cases, you can conduct 10 searches on any RankWatch tool with a free account.
MozBar
The MozBar is one of the oldest SEO toolbars available today and it has aged pretty gracefully. Over the years, the toolbar has been loaded with a ton of super useful and intuitive features.
Today, the MozBar is capable of providing users with real time link metrics as they surf the web, conduct thorough SERPs analyses, and even perform on-page analysis of any web page open in your browser.
While MozBar is also a premium tool, there is a free version that offers a ton of utility. The paid version is also one of the more affordable options on this list and comes with awesome additional features like a powerful keyword suggestion tool.
SEMrush
SEMrush is another powerful SEO tool that offers a premium and a free version. The free version is great for users that are working on a single 'project' (website) and only need access to limited high-level data.
SEO Minion
SEO Minion is one of the most powerful SEO Chrome extensions available today. The tool, that is offered in the form of a browser toolbar, can conduct on-page SEO audits, perform hreflang checks, find broken links, review SERPs, and can even provide you with a Google search location simulator to see how your website performs for location specific keywords.
SEOquake
SEOquake is another SEO toolbar that offers all the features that other SEO toolbars offer, with a bunch of customization features. That's right, you can customize the SEOquake toolbar according to your SEO needs and track the metrics that matter to you, in real time. One of the most noteworthy features offered by the tool has to be its domain comparison feature that offers insightful data between two websites, making it one of the most powerful tools for competitor research.
Sheets for Marketers
Sheets For Marketers is not a tool but a website. However, the website itself is a great resource for marketers, and not just SEO experts. Sheet For Marketers offers free Google Sheet templates that you can use to perform a variety of marketing tasks including (but not limited to) performing competitor analysis, site audits, and keyword research.
Small SEO Tools
Small SEO Tools is again a website, and not a tool. However, it is one of my personal favorites. The website offers completely free access to a variety of SEO tools that perform specific actions. Over the years, the developers of the website have been consistent in adding more and more tools to their website.
Today, there is a Small SEO Tool for every imaginable SEO task, including the ones that leading premium SEO tools don't offer, like a proxy tool or a JSON tool.
Varvy
Varvy is a website that is very similar to Small SEO Tools. The only difference is that the tools offered by Varvy are mostly focussed on helping you perform an on-page SEO audit. With that said, the tools on this website are very user-friendly and can enable you to perform a site audit in record time.
On-page SEO
Natural Language API Demo
Google's Natural Language API Demo is, as you may have guessed, the free version of a paid tool. Even with the free version, the tool offers a variety of advantages. The tool will analyse the content and data of any web page to tell you how a search engine would view the content in terms of entities, syntax, categorization, and sentiment analysis.
Rich Results Test
A few years ago, Google introduced Rich Results within their SERPs. With Rich Results, the SERPs go beyond just displaying the meta title and description of a search results and includes additional elements like carousels and images. In order to make your website eligible for Rich Results, you need to optimize it with structured data.
The Rich Results Test allows you to see whether your structured data is supported by Google and whether your website is fit for Rich Results.
Please note that passing this test is not a guarantee that your website will appear with Rich Results. However, passing the test is important to make your website eligible for rich results.
Structured Data Testing Tool
As mentioned earlier, Google accepts structured data in a specific format. The Structured Data Testing Tool is made available for website users to troubleshoot the issues within their website's structured data.
The tool is obviously free to use and enables you to even edit the code within the tool to make sure your structured data is error free. You can also use the tool to conduct competitive analysis of the structured data of your competitors.
Tag Manager
Tag Manager is a popular tool by Google that enables you to insert different "tags" into your website. However, a lot of people do not know about the tools abilities as an SEO tool. For instance, did you know that the tag manager can be used to track every single click made by every single visitor on your website?
Here's a superb resource about the SEO tasks and analyses that you can perform with the Google Tag Manager.
View Rendered Source
View Rendered Source is a Chrome extension that tells you how search engines see your pages, while factoring in Google's dynamic serving practices. The tool shows you how a web page's original HTML is rendered by the browser and highlights the modifications made by JavaScript. The tool works really well when it comes to performing JavaScript audits.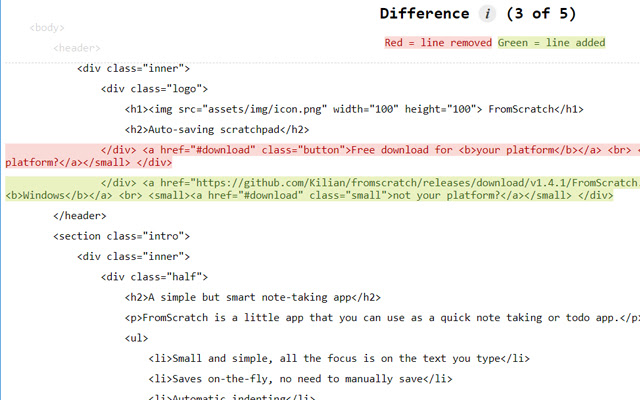 Research
BuzzSumo
BuzzSumo is a great tool for researching when you are producing SEO content. The tool will show you the top content pieces that are attracting the most shares, for any topic of your interest. BuzzSumo is also one of the most reliable sources for getting estimates of social shares for specific pieces of content.
The free version of Buzzsumo offers access to limited data but that data is enough for most SEO beginners.
Hunter.io
Hunter.io is an email search tool. Simply search the tool with a company website and it will reveal all the email addresses associated with that domain. The tool offers 50 queries a month to free users.
SimilarWeb
SimilarWeb is a competitor research tool that will tell you everything you need to know about your competitor's traffic, the pages on their website that attract the most traffic, the marketing channels they use, and the kind of engagement they are generating with their content.
SimilarWeb is a premium tool that offers a free version that restricts access at 5 results for each metric. That is usually enough data to kick off your SEO strategy.
Wappalyzer
There are several tools that tell website developers about the tech stack used by the website that they are researching. Wappalyzer is a similar tool meant for SEO research. It will tell you what SEO tools are operating on a competitor website (like Yoast or All In One SEO).
Wayback Machine
Wayback Machine is a hot favorite in the SEO community. The tool, which is 100% free to use, offers a treasure's worth of historical data using Robot.txt files that it has stored. You can use it to uncover historical trend data for SEO purposes.
Bulk Domain Availability Checker
The Bulk Domain Availability Checker is one of the most aptly named tools on this list. While it is also popular among black hat SEO practitioners, it has one incredibly useful use for ethical SEO professionals- the ability to check the availability of upto 20,000 domain names in a single go.
Site Speed
Cloudflare
Cloudflare is a tool that solves multiple website performance issues. It is a popular content delivery network (CDN) that can speed up your website, it also offers powerful DNS analysis features, and it will protect your website against DDOS attacks for free.
The free version of Cloudflare is so useful that many users end up never upgrading to a premium version.
GTmetrix
GTmetrix is one of the most popular website performance testing tools. The special feature of GTmetrix is that besides telling you about the load speed of your website and how you can improve it, the tool also gives you access to (relevant) historical data of each page that you analyse using the tool.
Lighthouse
Lighthouse is another speed testing tool. The open-source tool by Google is well-known for offering the most up to date insights about website speed performance metrics and specialises in delivering accurate data about mobile optimized websites.
Lighthouse should be a definite addition to your site performance testing arsenal as many seasoned SEO experts believe that Google's algorithms use a number of the same metrics that Lighthouse tracks.
Page Speed Insights
Page Speed Insights is another Google speed testing tool that is quite similar to Lighthouse. However, there is one special feature that Pagespeed Insights tool offers that no other tool does- the ability to track Field Data.
This ability allows website owners to see how their website is performing for real users and gives them access to real world insights and not just insights collected in testing environments.
SpeedMonitor.io
SpeedMonitor.io is a tool that eliminates the need for manually and regularly checking the performance of your web pages. Instead, the tool uses data from Lighthouse to track the performance of your website in real time and stores the data for you to access at any time. The tool can also be used to conduct manual site speed audits and even track the website performance of your competitors.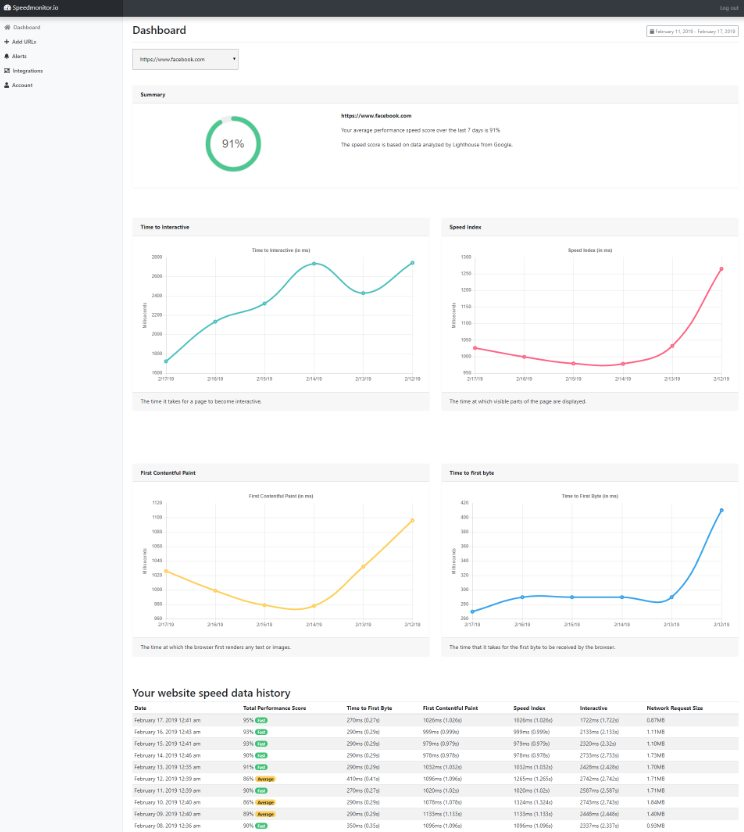 WebpageTest
WebpageTest is a direct competitor of GTmetrix. The tool breaks down your website performance into different grades, making the data it generates much easier to understand. It is also worth mentioning that Webpage Test offers some of the most detailed page speed insights available anywhere on the internet.
WordPress
Rank Math
Rank Math is a great, relatively new tool that has become available for WordPress websites. The tool is gaining incredible popularity thanks to the large variety of features it offers. A lot of the features offered by Rank Math, like automatic redirection, would otherwise require additional plugins or manual interventions.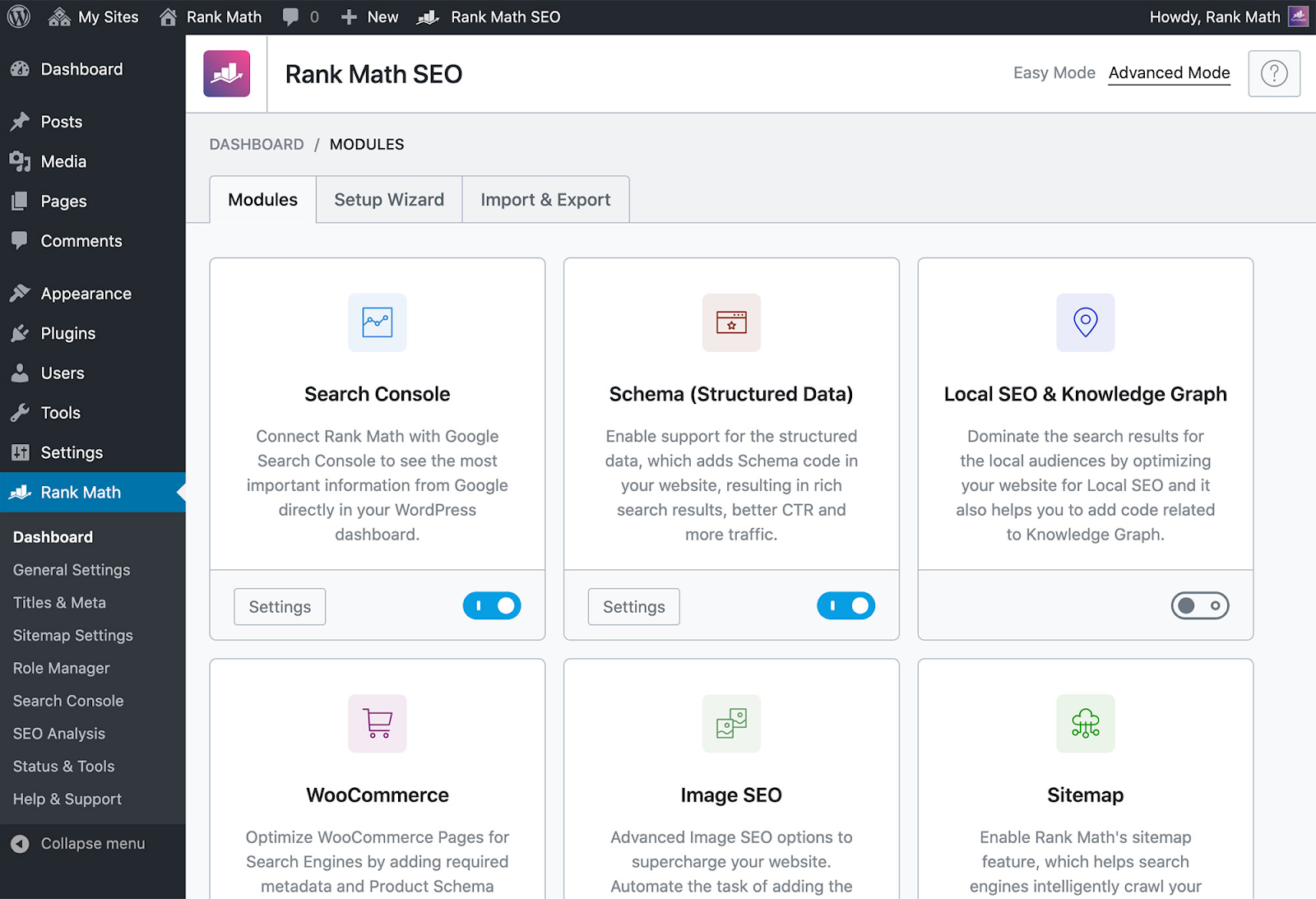 Yoast SEO
Yoast SEO is perhaps the most well known WordPress SEO tool around, and for good reason. The robust tool has been around for quite some time and has seen tremendous advances in its SEO optimization capabilities.
All in One
The All in One SEO tool my SEO Press has been named aptly. The WordPress plugin offers all the SEO functionalities that you may require to get your WordPress website noticed by Google. The best part? All in One SEO offers Whitelabel reporting even with its free plan, making it a superb choice for SEO professionals and service providers.
Conclusion
There you have it, the most complete list of free SEO tools on the web. The list features at least one tool that will take care of every SEO-related task that you may be required to perform. Most of these tools are meant for beginners and are very user-friendly. With that said, using so many different tools to perform such a large variety of SEO tasks can easily feel overwhelming. If you need professional help, reach out to us at Digital Web Solutions.
Our team not only uses the best, most capable SEO tools, but is also equipped with nearly two decades worth of experience in taking hundreds of websites to the first page of the Google SERPs, and we would be happy to make it happen for you!
Did I forget to mention your favorite free SEO tool? Drop its name in the comment section below and tell me (and everyone reading this list) about it!