Producing or having duplicate content on your website is not good.
Producing or having duplicate content on your website is not good.
Even someone with no knowledge of SEO will agree to the above statement. That's because even when we overlook the SEO repercussions of having duplicate content published on your website, it will still hurt your overall brand image, your respect among your peers, and may even lead to legal repercussions.
However, even if you think only a part of the previous statement is true, you will not waste your time with copied or plagiarized content.
So, why should you care about duplicate content checkers?
If you are the only one producing content for your website, maybe you don't need a plagiarism or duplicate content checker.
However, that's rarely the case. Most business websites are backed by a marketing team that include in-house content writers. Some may outsource their content to freelancers.
The point is that a lot of the content on most business websites is produced by people that are not responsible for the upkeep of the website. Sometimes, these people are not even a part of your organisation.
Since you cannot blindly trust everyone, especially when your organisation's brand image and organic rankings and traffic are involved, you need duplicate content checkers.
Even when you are absolutely confident that none of the content on your website is plagiarized, it is wise to still run in through a duplicate content checker to ensure the same.
Now that we have understood why duplicate content checkers are important, let us introduce you to Five of our favorite duplicate content checkers (in no particular order):
Duplichecker
Duplichecker is one of the most well-known tools in the market and offers incredible functionality for free. The tool returns accurate plagiarism reports about your content 99% of the time and allows for a variety of input options including pasting the text on the tool website, or uploading a MS Word document.
In fact, Duplichecker will even enable you to directly check for plagiarized content on a live webpage by entering the URL into the tool.
The tool will even let you download the plagiarism report in a PDF or MS Word file. There is a premium version of the Duplichecker that starts at $30 per month. The exact cost will depend on the number of words you plan on checking with Duplichecker.
The premium version offers an ad free experience, along with something the Duplichecker team calls "Deep Scanning". Here's the definition of Deep Scanning, according to Duplichecker:
"This plagiarism scanner will dive into the ocean of millions of webpages on the internet to find the exact matches against your content. The deep scan feature will thoroughly check "the documents, websites, research papers, and articles to reveal the best results."
Besides the obvious plagiarism scanning abilities, the Duplichecker website also offers access to a number of SEO/webmaster tools such as backlink checker, DA checker, a paraphrasing tool, and the ability to conduct a reverse image search.
The only limitation of Duplichecker is that it can only take up a limited number of words for a single scan.
Siteliner
At the first glance, Siteliner may seem like a much simpler tool when compared to Duplichecker. However, the truth is that Siteliner is more capable than Duplichecker in many ways.
One reason Siteliner is superior is because it offers users the capability to scan an entire website by simply entering the URL of the site. However, that may also be one of its weaknesses as Siteliner does not offer the option to check content that isn't part of a website.
This means, if you have received an article in Google Docs and want to check it for plagiarism before uploading it to your website, Siteliner cannot do it for you.
However, don't let that think that Siteliner is not a powerful tool. Besides checking your entire website for duplicate content, Siteliner will also check for broken links, number of words on each page, lists of internal and external links, and even the individual page load time of each page on your website. Siteliner even allows you to download this entire information in the form of a PDF report.
With that said, Siteliner limits its service for free users to a single scan for a single website in a month. Premium users can conduct unlimited scans and if you are responsible for a number of websites, there is a good chance that you will find Siteliner Premium incredibly affordable.
Copyscape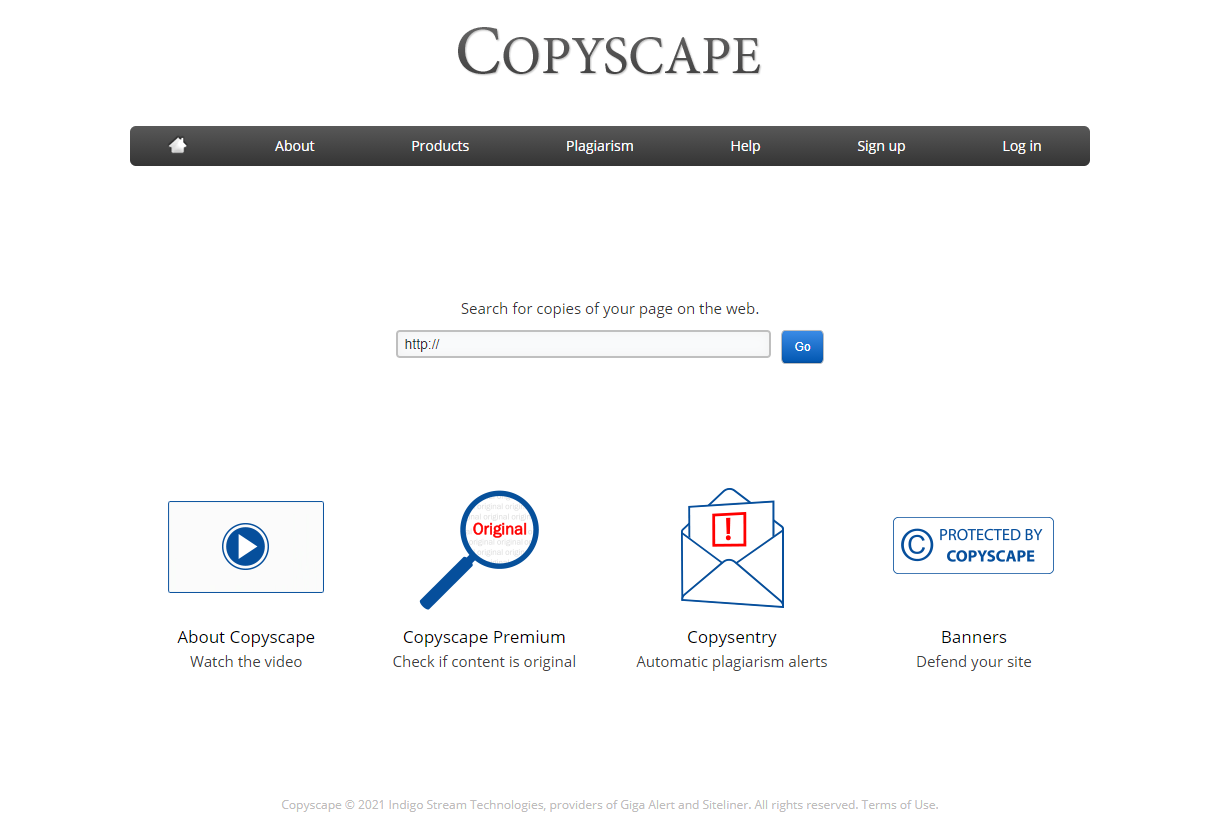 Copyscape is perhaps the most popular tool on this list, and for good reason. The no-nonsense plagiarism checker may not offer fancy additional features, but it does its job well.
Copyscape can scan your entire website for plagiarized content, for free. If you sign up for a premium account, Copyscape will even break down the text on your website into smaller chunks to find partial plagiarism matches. This is Copyscape's own version of a "deep scan".
These days, Copyscape also offers a service they are calling Copysentry. Once you sign up for Copysentry, you virtually never have to conduct a manual plagiarism check for your website. Copyscape will automatically and routinely check for plagiarized content on your website and send you a notification if and when it finds any such content.
You can even opt to ember a Copyscape "banner" or trust badge that will help you communicate to your website visitors that the content on your website is original.
Small SEO Tools
If you don't already know about Small SEO Tools, I strongly recommend you check them out. Started in 2010, Small SEO Tools has now become one of the biggest aggregators of SEO and writing tools that they make available for anyone for free.
The Small SEO Tools plagiarism checker scans billions of pages to check if your content is plagiarized. Yet, it delivers results with surprising speed and accuracy. The plagiarism checker tool accepts inputs in the form of text (limited to 1000 words per scan) and in the form of website URLs. It also offers the ability to upload a text document or a document from Dropbox or Google Drive.

There's also a nifty little feature that allows you to scan entire websites while leaving out specific pages.
Moreover, you can also use the plagiarism checker tool as a plugin and check webpages for plagiarized content on the go.
Not to forget, the plagiarism checker is a part of a 17-tool-suite that is dedicated to text content on the web. Here's everything it includes:
Copyleaks
Copyleaks is a cutting-edge plagiarism checker that utilises artificial intelligence to find whether your content is plagiarized.
With the ability to detect "spun" or paraphrased content, Copyleaks is popularly used by educational institutions.
The Copyleaks website has a page dedicated to a 'plagiarism spectrum' that includes eight different types of plagiarism cases that Copyleaks can detect. It can also detect code assignments for plagiarism and supports plagiarism checks for over 100 different languages, including all major Asian languages. Not to forget, Copyleaks also seamlessly integrates with Google Docs and MS Word to give you access to real time information about plagiarised content.
Copyleaks is free to use as long as you limit the number of your scans to 20 in a month. With that said, the paid plans start at under $10/month which makes Copyleaks one of the most affordable plagiarism checkers currently available in the market.
Conclusion
As you may have noticed by now, different plagiarism checkers have carved out their own little niches and offer features that are designed to address the unique needs of those niches.
The industry you operate in, and the kind of content you want to check will dictate which plagiarism checker is right for you.
We hope that this article will help you start moving in the right direction.
Got questions? Drop them in the comments and we promise to get back with prompt replies.