Table of Contents
Introduction
One of the most elementary steps involved in creating a website is the transfer of files from a local hard drive to the website servers. While transferring a couple of files and folders is a fairly straightforward task, most websites are made up of several files and folders. In fact, there may be thousands of files involved in the creation of a complex website with different functionalities, features, and a lot of pages.
Unfortunately, transferring thousands of files is not as simple as transferring a couple. For this, like with many tasks involved in creating a website, you need a special tool.
Such tools are called FTP clients. Since file transfer is such an integral part of the website development process, a number of companies offer FTP clients targeted at website owners.
In this article, we will list the best tools that are available in the market, helping you make the correct decision.
Before we start with the list, let's understand FTP clients in a bit more detail:
What Are FTP Clients? Why Are They Necessary?
"FTP" is short for file transfer protocol. As the name suggests, FTP clients enable file transfers between your computer and your website servers. However, that's an oversimplified explanation of what an FTP client truly does.
With an FTP client, you can seamlessly connect your local folders and your remote folders. With this feature, you can create entire websites in a private environment (on your PC) and once it is ready, you can quickly transfer the files of the completed website to the servers and make it live on the web.
This also means that once your website is live, and you notice something is wrong, you can use the FTP client to troubleshoot website issues and resolve them without causing inconvenience to your visitors.
While many hosting service providers offer the ability to install website files on the server with just a simple click, the functionality of FTP clients is still incredibly relevant as troubleshooting and training tools.
With that said, since the FTP client lives on your personal (or work) computer, checking for operating system compatibility is extremely important before making a purchase. However, that isn't the only thing one should check for. There are a number of FTP client features that you should look out for because these features will enable you to use the tool to perform the tasks it is actually meant for.
Let's look at what these features are and how they make FTP clients more adept at their job.
Most Important Features Of FTP Clients
Many top FTP clients offer a number of identical and similar features. However, some have one or two specialized features that may make those tools more useful for certain users. This entirely depends on the use case of specific users and their technical capabilities. Besides these specialized features, there are a few integral features that you must look out for when selecting an FTP client for yourself. These are:
1. Operating System Compatibility
This has already been mentioned in the previous section but operating system compatibility is such an important feature that it deserves to be mentioned again. While checking for the operating system compatibility of an FTP client, make sure you are also checking whether or not the FTP client is compatible with the current version of your operating system.
2. Drag And Drop Functionality
There are a number of great FTP clients that work with coding functionality. However, in modern times, where more and more website builders and CMS are becoming available, coding isn't necessary to create websites. That, in turn, means many website owners don't know much about coding. If you are one of them, look for an FTP client that offers drag and drop features. Even if you know coding, a GUI based drag and drop feature will help you get things done faster and more efficiently.
3. Bookmarking And Search Feature
As mentioned earlier, many websites are made with thousands of files and folders. Sometimes, you may need to find a specific file out of a directory of thousands. Doing this without a bookmarking or a search feature will be incredibly difficult.
4. Integrations
Most FTP clients enable seamless transfer between your computer and your website servers. The best FTP clients also integrate with services like Google Drive or Dropbox, letting you access those servers, and exchange files with them seamlessly.
5. Side-By-Side Directory Comparisons
With side-by-side directory comparison feature, it becomes much easier to create and maintain an alignment between the files present in your private environment and the files present on your website server. It also reduces the margin for error and helps you minimize issues with your website's functionality.
6. SFTP/SSH/SSL Support
Unencrypted file transfer is not safe. Virtually anyone can intercept unencrypted information and get access to sensitive information like your website's admin username and password. For this reason, it is imperative that you look for an FTP client that supports multiple secure protocols.
7. Security Features
Besides the data transfer security, an ideal FTP client should offer additional security features to make sure your data is safe at all times. This is especially critical for websites that are processing sensitive customer data like credit card details.
8. Ability To Transfer Large Files
The FTP client you choose should not have any restrictions on the size of the files that you can transfer using the FTP client.
Besides seeking out the above-mentioned features, there are a few other considerations that you must make while picking your FTP client:
Price
There are a number of free and premium options for FTP clients available on the market. The free and more affordable ones may offer a limited number of features. On the other hand, feature-loaded FTP clients may prove to be unaffordable for many website owners. The key is to find balance by identifying the features that are most relevant to your needs and finding an FTP client that offers those features within your budget.
User-Interface
As mentioned earlier, going for a GUI-based user interface is the best choice when choosing FTP clients. However, simply having a GUI-based interface may not make an FTP client user-friendly. Your objective should be to look for a user-friendly FTP client.
Stability And Performance
If the FTP client keeps crashing or is unable to complete simple file transfers, it may not be a good choice. Similarly, in some cases, you may find a tool that performs poorly as compared to the performance metrics claimed by the creators. To avoid purchasing such tools, it is best to keep your preferences centered around tools that offer a free trial or a free version of the premium tool. Using these, you can test the tool and see if it's really working as you had expected. This is also a great way to test whether or not the user interface of the tool is suited to your needs and technical capabilities.
Quality Of Support
FTP clients help website creators with complex things. Even if a tool offers a relatively easy to understand, master, and operate interface, it still helps you do a complex task. If you find yourself stuck somewhere, finding your way back can be difficult and in some cases, it may result in erasing precious progress you have made with the tool. In such cases, if you don't have developer-level technical proficiency, you will need the support of the creators of the FTP client you use. In some cases, the tool may not function as intended, maybe because of a bug in its code. Even here, you will need the support of an expert from the team that is behind the FTP client that you use. Now, if this support is slow or inefficient, your work and your website's revenues may suffer. For this reason, it is recommended to check the quality of support of an FTP client before purchasing it.
Reviews
Going through unbiased reviews on platforms like G2 can reveal a lot of useful information about many tools. You can pinpoint the common issues that customers face with a particular tool and see if the support team has been able to help such customers. If you find too many bad reviews for an FTP client, move on to another tool.
Top 20 FTP Clients Available Today:
Now that we have established what's important when shopping for an FTP client, you can make a sensible purchase decision. These are also the parameters we have used to prepare the following list of the top 20 FTP clients available today:
1. FileZilla
FileZilla is perhaps the most popular FTP client on this list, and for good reason. The biggest advantage of using FileZilla is that it doesn't matter what operating system you are using, FileZilla supports them all. This support isn't just limited to the latest versions of Windows, Mac, and Linux. FileZilla works just as well with Windows 7, as it does on Windows 10/11.
FileZilla also offers a bookmarking system, making it easy for users to remember where specific files are located. It also comes loaded with powerful search features that lets users search for specific instances within specific files. FileZilla also supports multiple simultaneous file transfers and has a side by side directory view feature. This makes using FileZilla an absolute delight.
It also supports large file transfers. FileZilla can seamlessly transfer files larger than 4GB, which is something that a lot of FTP clients cannot do. It is also quite secure and supports multiple protocols including (but not limited to) SFTP and FTPS.
One of the most lucrative things about using FileZilla is that it's free to use. That's right, all the features mentioned above are available at no cost. The community built around FileZilla is quite active and it is easy for users to interact with the developers. It also means that the tool itself gets frequent updates and security features are regularly tested. The support documentation for FileZilla is also quite thorough and detailed.
The only apparent downside associated with FileZilla is its user interface. It's not really bad or clunky, it just looks outdated and requires some getting used to.
Features That Make FileZilla Awesome:
FileZilla is free to use.
It supports almost every operating system.
It supports multiple languages, making the tool relevant for users that are not used to the English language based user interface.
It supports multiple protocols. Meaning, it offers a lot of security.
It supports large file transfers and multi-threaded transfers.
It offers bookmarking, search, and drag and drops features.
2. GoodSync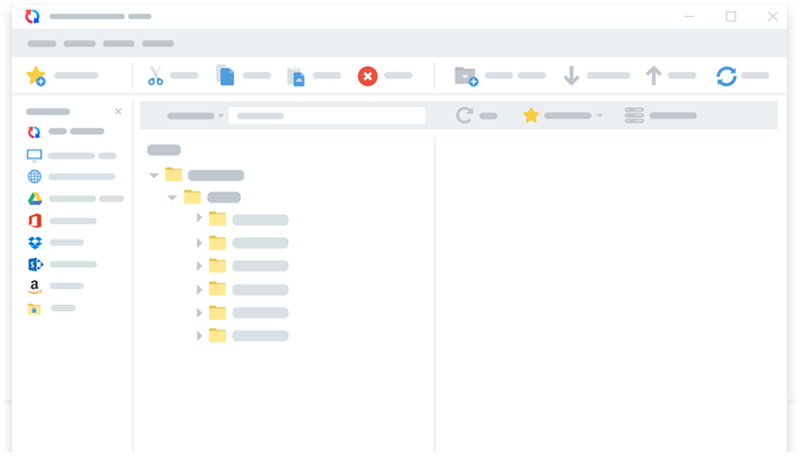 GoodSync is an extremely popular premium FTP client. However, unlike most other options on this list, GoodSync does not charge their customers a one time fee. Instead, users have to pay $19.45 every year to use GoodSync. This gives users access to GoodSync on five different machines, which is a great added bonus. Moreover, with the wide variety of features offered by GoodSync, it is a steal at $19.45 per year.
Besides performing all of the tasks that are expected of an FTP client, GoodSync is also a superb file backup tool. In fact, creating backups is such an integral function of GoodSync that the company even sells space on their own server. This space can be used to create a secure backup of your files, away from your website server or your physical hard drive.
GoodSync offers an incredibly simple and easy to use interface with a ton of functionality. Like most of its competitors, it also offers a drag and drop functionality for file transfers. However, that's not the best part about using GoodSync. What makes this tool stand out is its capability to automate a large number of tasks. Besides automation, it also offers a scheduling feature that will transfer files on the schedule that you dictate to the tool.
These smart features are also available for performing backups. Speaking of backups, GoodSync offers another really smart feature that is designed to speed up transfers and backups and reduce bandwidth usage. Known as 'Block Level Data Transfer', this feature lets the tool distinguish between unchanged and modified files. With this knowledge, the tool only transfers or backs up the files that have been modified. As a result, the transfers are faster and the network usage is minimized.
Another noteworthy feature of GoodSync is the level of security it offers. Besides supporting all the secure file transfer protocols, GoodSync provides you with additional security in the form of AES-256 bit encryption.
Features That Make GoodSync Awesome:
As far as premium FTP clients go, GoodSync is incredibly affordable.
GoodSync maintains a real time log of all file changes and file transfers, even for files that are modified in editors that don't enable users to record changes.
Goodsync also automatically solves conflicts that arise due to different data versions. It identifies a "winning" version and also saves the old version for manual verification.
It also offers administrative capabilities that maintain permission attributes across different file locations.
Another feature allows GoodSync to detect file name changes and automatically move them to the correct folder or location.
GoodSync is one of the most secure FTP clients available today.
3. Cyberduck
Cyberduck is another popular FTP client. Like FileZilla, Cyberduck is free to use. However, there is an option to donate to the developers. Unless you make a donation, you will have to deal with repeated donation prompts. However, if you donate anything more than $10, you can get rid of the prompts and even receive a unique registration key.
Cyberduck, unlike FileZilla, does not support all operating systems. It has no support for Linux users. With that said, a lot of Windows and Mac users prefer Cyberduck over other options because of the intuitive and modern interface it offers. Cyberduck interface is quite clean, which makes it a delightful experience to use the FTP client.
Cyberduck also offers the ability to integrate with cloud services like Google Drive and Dropbox, a feature that gives it the edge over many of its competitors. Besides supporting multiple protocols like its competitors, Cyberduck offers additional security for its users. In the form of "Cryptomator", Cyberduck offers users an additional layer of security.
Features That Make Cyberduck Awesome:
Cybertruck does not charge a fee and it's an open source project supported by an active and thriving community.
It runs smoothly on the most popular operating systems like Windows and Mac.
Cyberduck supports multiple protocols, enabling you to make your file transfers secure. It also provides you with additional security with Cryptomator.
Cyberduck also has a feature that allows users to generate URLs for sharing files, making it incredibly easy to work with collaborators and contributors.
Another Cyberduck feature that enables efficient collaboration is its ability to seamlessly connect with cloud file management systems like Google Drive. Cyberduck can also integrate with other applications that you may already be using, like the Keychain password protector.
It has a dedicated bookmarking tool that logs the history of changes made and does a lot of other useful stuff.
The quick look feature is designed to make it easier and quicker to check individual web pages. It allows you to look at an automatically generated outline of any document or file.
4. ForkLift
Forklift is an FTP client that works exclusively with the Mac OS. It offers a smooth, good looking interface that is easy to understand and operate. The interface features separate small windows of all your file locations, enabled with a drag and drop feature.
Speaking of multiple file locations, Forklift has the capability to connect with multiple servers at the same time. This can save you a lot of time if you are using your FTP client for managing multiple websites.
Forklift also integrates seamlessly with many cloud services Google Drive. However, it works delightfully well with Dropbox. It actually allows users to cut/copy files from Dropbox and paste them in the Forklift interface!
However, all of this utility and a bunch of cool features like Dark Mode have a price. The tool does offer a free trial, and I strongly recommend that you use it. Once that is over, there is a one-time fee of $29.95 for single user access. Forklift also offers three and five user packages priced at $49.99 and $99.95, respectively. If you are a student or a teacher, you can avail some discount on those prices.
Features That Make Forklift Awesome:
The dual-window interface of Forklift offers unmatched utility.
Dropbox integration works incredibly well.
It offers access to a number of remote connections like Amazon S3 and Google Drive.
SFTP and FTP support are available.
The preview feature allows users to inspect files without having to open them. It can play audio or show an image without having to open the file.
Forklift offers a bunch of small but useful features like Dark Mode and bulk rename.
5. Classic FTP
Classic FTP is an FTP client developed with individual users in mind. Meaning, it is extremely relevant for solopreneurs and individuals managing their own websites. If those situations seem relatable, then Classic FTP is also free for you. However, if you are planning to use Classic FTP for commercial purposes, the basic premium version is available at $14.99 and the "Pro" version is available at $24.99. Classic FTP is compatible with Mac and Windows operating systems but does not work with Linux systems.
The Classic FTP interface is designed with individual users in mind. To that end, the interface is quite simple and free from clutter. The directory view allows users to simultaneously look at and compare the files present in two locations.
It also offers a really capable Synchronize feature that allows you to synchronize all files between a local and remote folder or server.
Features That Make Classic FTP Awesome:
Classic FTP is free to use for non-commercial purposes.
Even when used for commercial purposes, it is one of the most affordable FTP clients available today.
Classic FTP offers a really powerful synchronization tool.
The interface of Classic FTP is primitive yet straightforward. The drag and drop functionality makes transferring files easier and faster.
It supports all popular protocols like STP, SSL, and SFTP.
The installation process for Classic FTP is easy to grasp, even for beginners.
6. Transmit
Transmit is another premium, Mac-only FTP client. It starts at a one-time license fee of $45 for a single user but there are discounts available on bulk purchases.
With that said, some users may find a lot of value in the features offered by Transmit. Like most other best FTP clients on the market, it offers a double-window interface that is enabled with a drag and drop feature. It also works seamlessly with remote servers like Backblaze and Google Drive. Transmit also supports simultaneous transfers between multiple servers at the same time.
As you can see, Transmit has all the bases covered. Besides these basic features, it also boasts an amazing file transfer speed, higher than almost every other tool mentioned on this list. The amazing thing is, it's not just Transmit that's fast, the features it offers will also make the user more efficient. It offers many useful features like a preview sidebar and a shortcut enabled search feature.
Features That Make Transmit Awesome
The user interface of Transmit is one of the best available.
It supports multiple protocols including FTP and SFTP.
Transmit integrates with a number of remote servers seamlessly.
It can connect and exchange files between multiple servers at the same time.
It has a lot of unique and useful features, like the Panic Sync (among many others), that instantly locks your files in a separate location. Such a feature becomes extremely relevant in times when something goes wrong with your server.
7. FTP Voyager
FTP Voyager is a free FTP client that works with Windows and Linux. Originally developed in 1995, it is perhaps one of the oldest tools on this list. However, over the years, the tool has been updated several times and has evolved into a capable and modern FTP client.
The biggest advantage that FTP Voyager offers is that there is no restriction on the size of the files you can transfer using this tool. However, there are many other impressive features that it offers. For instance, FTP Voyager offers a fully customizable user interface, along with synchronization capabilities.
What makes FTP Voyager truly special, however, is the scheduler. Unlike other tools, the FTP Voyager scheduler doesn't just allow users to schedule file transfers. You can schedule a whole bunch of actions using the scheduler, including uploading or downloading files, local and remote synchronizations, and even file move operations.
Features That Make The FTP Voyager Awesome:
FTP Voyager is absolutely free to use.
The ability to synchronize entire directories.
The ability to perform multi-thread transfers.
FTP Voyager allows users to enter custom FTP commands.
It supports all major file transfer protocols including SFTP, FTP, and FTPS
FTP Voyager offers an incredibly capable scheduler.
8. WinSCP
WinSCP, as the name suggests, works only with the Windows OS. It's a free-to-use FTP client that enjoys a lot of popularity (downloaded over 124 million times), and for good reason. Besides being free to use for all Windows users, it also offers a fairly straightforward and aesthetic user interface with a multi-window module.
WinSCP is also loaded with a lot of other features like simultaneous multi-server file transfers, multiple protocol support, and ability to implement administrative restrictions.
WinSCP is also great in terms of the support available. The official website contains incredibly detailed support documentation and there is also the option of seeking support that goes beyond the documentation, which is rare for a free tool.
It also comes with a customizable dashboard where you can add your own tabs, commands, and sessions.
Features That Make WinSCP Awesome
Simple and minimalist user interface focused at improving productivity.
Large feature set that has all the basic features that one may expect from an FTP client.
WinSCP encrypts all file transfers, making them extremely secure.
Additional features like customizable dashboard and third-party text editor integrations make WinSCP a delightful tool to use.
The support documentation is one of the best in the market.
WinSCP also offers the ability to automate certain tasks with the help of scripts and rules.
WinSCP is offered in several languages, making it accessible to non-English speaking users.
9. FetchFTP
FetchFTP is a Mac-only, premium FTP client that offers a great user interface. Priced at $24, it is one of the more affordable options, especially for Mac users. The company behind FetchFTP, Fetch Softworks, also offers substantial discounts to large enterprises, and offers the tool for free to non-profit and educational organizations.
If a company is paying for more than 100 licenses, the cost per license is $18 and if a company is paying for more than 1000 licenses, the cost for each license is cut by half, and such companies only have to pay $12 per license. The developers have recently launched a new version of their tool. Existing users can upgrade to this new version, the Fetch 5.8, for a nominal fee of $10.
It supports the most popular file transfer protocols like FTP and SFTP, among others. The interface is fairly aesthetic, and enabled with drag and drop functionality. The drag and drop feature can be used to not just transfer files between your physical storage (laptop) and a remote server, but also works seamlessly when transferring files between two servers.
Features That Make FetchFTP Awesome:
FetchFTP is one of the most affordable premium tools on the market.
It allows users to create Droplet shortcuts to improve productivity.
FetchFTP offers a unique Mirror command that allows users to synchronize entire folders with a few clicks.
The drag and drop functionality offered by FetchFTP is one of the most cutting-edge in the industry. Besides enabling seamless transfers between local and remote servers, it also enables equally seamless transfers between multiple remote servers.
FetchFTP offers compatibility with almost every FTP server out there.
It also offers a feature that automatically resumes stalled or failed file transfers.
Another unique feature of FetchFTP automatically updates changes in the server, regardless of where the file is edited.
The new and updated version of FetchFTP also offers a progress view that allows users to track file transfers in real time.
The new version of FetchFTP also offers a filtering feature that allows users to view specific lists and makes finding files much easier.
10. WS_FTP® Professional
WS_FTP Professional is another incredibly popular FTP client, with 40 million active users. As one can expect from such a popular FTP client, it offers a superb interface, some truly advanced admin tools, and easy customization of controls. However, these features are also offered by many competitors.
The unique feature of WS_FTP Professional that makes it so popular is its security. It is perhaps the most secure FTP client out there. WS_FTP Professional protects your data with multiple layers and types of encryption. Besides the encryption, it also helps you ensure you don't lose any files or your progress due to a server failure or a human error with its automated backup system. To make things even more secure, iWS_FTP Professional comes with a built-in file compressor that allows you to transfer and save files in, say, a pendrive.
With all of these amazing features, WS_FTP Professional is a premium FTP client, priced at $49.95. There is also an upgrade available, priced at $89.95, that gives users access to their thriving community of users and email support. Another thing to note about WS_FTP Professional is that it is a Windows-only FTP client.
Features That Make WS_FTP Professional Awesome
Customizable interface and synchronization capabilities make WS_FTP Professional easy to use and the interface easy to follow.
The security offered by WS_FTP Professional is simply unmatched.
Additional features such as the file compressor make WS_FTP Professional a joy to use.
Customers paying for the premium software that is WS_FTP Professional get premium service with premium email customer support.
WS_FTP Professional allows users to send automated email reminders to specific addresses. These are usually sent every time a file transfer is done using WS_FTP Professional.
11. PureFTPD
If you are looking for a no nonsense FTP client, PureFTPD is an excellent choice. It is a free to use tool that has been designed with simplicity in mind. When the feature list is compared, PureFTPD's list is a little shorter than its competitors. However, it still offers all the necessary features that will satisfy most common FTP client needs.
However, the only limitation of using PureFTPD is that it works on the command line. Meaning, if you have absolutely no experience with coding of any kind, this may not be the right tool for you. However, if you are even a little bit comfortable with code snippets, PureFTPD will amaze you. On PureFTPD, command line commands can be utilized to turn specific features on or off.
It offers almost all the features that make an FTP client a good FTP client. Some examples include multi-threaded transfers, bulletproof security features, and support in over 15 languages.
The truly special thing about PureFTPD has to be the administrative capabilities it offers. Administrators can specify who can access which kind of files, can restrict or allow access from specific IP addresses, hide system files, limit the number of simultaneous users, define upload limits and do a lot more.
PureFTPD supports all common file transfer protocols and a few rare ones, like the MLST and the MLSD.
Features That Make PureFTPD Awesome:
PureFTPD is free and works with almost every version of Windows, Mac, and Linux.
It offers almost every basic feature and a lot of advanced features.
The tool, despite being a free tool, offers a lot of security features, like a built in cryptogenic tool.
The administrative capabilities of PureFTPD are absolutely unmatched.
PureFTPD also comes with a feature that auto-blocks downloads when the load on the system becomes too high.
12. WiseFTP
WiseFTP is a premium, Windows-only FTP client developed by a Dutch tech company. It is priced at €49.95. Users that are using an older version of WiseFTP can also choose to upgrade to the latest version by paying a fee of €24.95.
As a premium tool, WiseFTP offers a variety of amazing features. For starters, it offers a delightful user interface that offers a ton of useful features like the ability to simultaneously transfer multiple files to multiple locations. It is also incredibly compatible with Windows, allowing users to drag and drop files between servers and the Windows explorer. Of course, it also enables users to drag and drop files between servers.
WiseFTP also allows users to define their own hotkeys and provides them with powerful search functionality and filter options. To help users save time, it also enables web-optimized transfers of CSS and HTML files. WiseFTP also allows users to create a schedule for file transfers and adheres to that schedule without the need of any human intervention.
Features That Make WiseFTP Awesome:
WiseFTP offers a brilliant user interface.
It has the ability to establish and make transfers over multiple concurrent connections.
It supports all secure file transfer protocols like SSH or the FTPS protocol.
The built in task planner allows users to plan and automate tasks. It also allows users to ensure they don't miss out on doing any of the important tasks.
WiseFTP offers many time saving features like web-optimized uploads and the ability to save transfer tasks.
13. CrushFTP
CrushFTP is one of the most versatile FTP clients in the market. It is primarily targeted at advanced users but offers a ton of features that make it relevant for beginners as well. It is a premium tool that offers multiple plans and packages to its potential clients.
There are three "normal" licenses available. These are meant for the "pro" version of CrushFTP. The Small Business License costs $70 and limits the number of concurrent connections to 50. The Professional License, which is priced at $100, eliminates this restriction completely. Finally, there is a Professional, Site License that costs $2000 and enables users to install CrushFTP unlimited number of times. With all these plans, CrushFTP customers get email support from the developers' side.
There are also "enterprise" licenses that are a bit more pricey but come with a lot of additional features and industry-leading support. From the ability to create conditional task flows to maintaining high transfer speed despite latency, the enterprise version of CrustFTP is a powerful tool. Enterprise plans start at $1000 and the most expensive one is priced at $20000. The cheapest enterprise plan only comes with installation support. However, the rest of the plans come with additional 24X7 emergency phone support. However, it is worth noting that customers can only avail this support when they are paying a yearly renewed maintenance fee that ranges between $500 and $5000, depending on the chosen plan.
With that said, CrushFTP claims to provide their enterprise customers with a solution to any CrushFTP related problem within an hour.
Features That Make CrushFTP Awesome:
CrushFTP comes with a built-in file compression mechanism that improves the speed of file transfers.
It also offers the ability to establish and transfer files between multiple concurrent connections.
Besides supporting secure file transfer protocols, it offers additional security features. For instance, the developers deploy robots to identify weak user passwords and prompt the users to upgrade their passwords.
Since CrushFTP is an enterprise software, it comes loaded with impressive administrative features.
The CrushFTP team is known for offering quick and satisfactory support to customers.
Enterprise customers of CrushFTP have access to a 24X7 emergency phone helpline.
14. SmartFTP
SmartFTP is a premium FTP client that is only compatible with Windows. These are three versions available, each offering more features than the last. The Professional edition costs $89.95. The Ultimate edition costs $139.95 and the Enterprise edition costs $339.95. SmartFTP customers also have the alternative of paying for the tool on a yearly basis. However, the way their pricing is designed, paying yearly will prove to be substantially more expensive in the long run.
The Professional version supports multiple FTP protocols in addition to standard FTP. It also offers additional features like the ability to resume stalled transfers and automatically compressed transfers. The Ultimate edition takes things to the next level and supports integration with Microsoft OneDrive and Google Drive. It also comes loaded with a terminal emulator, file encryption abilities, and integrations enabled with password tools like 1Password and Bitwarden, among many others. The Enterprise edition offers even more integrations with Amazon S3, Google Cloud Storage, Backblaze, and Box. It also offers a bunch of useful features that are not offered with the other editions. For instance, Enterprise edition users can schedule transfers, obtain reports, get automated email notifications, and use SDK to automate SmartFTP tasks.
Features That Make SmartFTP Awesome:
Multiple editions allow users to pick a tool that offers the features they need and fits their budget.
SmartFTP can integrate seamlessly with cloud storage services.
There are a number of time saving features like the automatic resume feature and compressed file transfers.
It supports multiple file transfer protocols.
Enterprise edition users can automate specific tasks using SDK.
SmartFTP integrates seamlessly with password protection programs like 1Password, KeePass Password Safe, LastPass and Bitwarden.
15. FlashFXP
FlashFXP is a premium FTP client designed for novices. Besides performing regular FTP tasks, it also allows users to share files with other users. There is a 30 day free trial available post which, the license costs $29.90, which can be used on up to 4 personal computers. Unlike many other tools on this list, FlashFXP does not charge its customers when they upgrade to a newer version of the software.
The FlashFXP user interface is simple to learn and yet, it is designed in a manner that even seasoned professionals will find it useful. The tool supports all secure file transfer protocols, has an in-built file compression feature and even allows users to adjust and limit the speed of transfers. It also offers other advanced features like automatic resume of stalled downloads, ASCII/binary selection, and administrative tools to control file access permissions.
FlashFXP also has a portable version that users can take with them anywhere they want. While there is an active forum where users can often find quick resolution to common problems, the developers also offer email support to their customers. Since this support comes directly from the developers and not a support executive, the quality of support is stellar.
That Make FlashFXP Awesome:
FlashFXP is one of the most affordable premium tools available today.
It supports multiple file transfer protocols and multi-threaded transfers.
FlashFXP also offers a bunch of advanced security features like SSH transfers and password protection.
It allows users to visually compare two folders, enabling them to spot anomalies and differences.
FlashFXP is more accessible than many other tools on this list because it is offered in 20 different languages including English, Traditional Chinese, Modern Chinese, French, German, Italian, Polish, Romanian, Russian, and many others.
The 30 day trial is great for customers to figure out if the tool is right for them.
16. Commander One PRO 2
Commander One PRO 2 is a great choice for casual Mac users that are looking for a free FTP client. Yes, Commander One PRO 2 is another Mac-only FTP client. Besides the limited-feature free version, known as Commander One, the premium version is the Commander One PRO 2.
While it is a paid tool, it is quite an affordable one. The single user license is priced at $29.99, 5 licenses can be purchased for around $99, and the 50 license package only costs $150. This makes the Commander One PRO 2 a great choice for medium to large size companies.
The Commander One PRO 2 is a recent upgrade of the Commander One PRO. The new version comes loaded with all the original features like multi-server support and support for FTP, SFTP, and FTPS. It also offers some great speeds for file transfers and offers an intuitive, tab based interface that boosts productivity. The main new feature added to the Commander One PRO 2 is the cloud synching ability. The new version seamlessly syncs with almost every leading cloud application like B2, Box Cloud, Amazon S3, and Backblaze.
Features That Make Commander One PRO 2 Awesome:
Even the premium version, Commander One PRO 2, is one of the most affordable Mac-only FTP clients out there.
For an affordable price, the Commander One PRO 2 offers a large number of useful and smart features, all packed in a simple and delightful user interface.
Commander One PRO 2 comes with a built-in file compression feature that can compress files in ZIP, RAR, and TGZ formats.
It also allows users to assign custom hotkeys to make it easier to use the FTP client and find files.
It synchronizes seamlessly with cloud services including Dropbox, Amazon S3, and many others.
The Commander One PRO 2 comes with a built-in encryption service, making it one of the most secure options on this list.
The premium version, that is, the Commander One PRO 2 offers multi-language support, which greatly improves the tool's accessibility.
17. Core FTP LE
Originally, Core FTP LE was a premium software. However, nowadays, the company behind Core FTP LE is offering the tool as a free one, along with a premium version, called Core FTP Pro, which is priced at an affordable $24.95.
With that said, if your needs are fairly basic, you may not even need to purchase Core FTP Pro. The free version offers a lot of utility. It comes with a dual-window module, has copy-pasting and drag and drop features, and has a design that is strikingly similar to that of FileZilla. The free version does not offer a search feature but comes with a bookmarking feature to make file management easier.
It also comes with the capability of connecting with multiple servers or sites at once and making simultaneous transfers to all of the remote locations.
Core FTP LE is a Windows-only FTP client and is designed in a manner that Windows users will be able to use the tool almost intuitively. Besides a strong feature list, Core FTP LE is also backed with great community support. The website itself has a lot of self-help resources, stocked with information that answer almost every question that users commonly encounter. There is also an option to avail email support, but the answer to your question can also be obtained on the incredibly active community forum.
Features That Make Core FTP LE Awesome:
Core FTP LE offers a user interface that is very similar to FileZilla, but offers a number of additional features.
Core FTP LE is free to use.
At just $24.95, the premium version is also priced very sensibly
The premium version offers a variety of useful features like ability to encrypt files and customize the home screen.
Core FTP LE supports multiple file transfer protocols including FTPS, SFTP, SSL, and TSL.
Core FTP LE comes with a built-in file compressor that helps improve the speed of transfers.
It also offers a unique auto-retry feature that resends files if a transfer failure occurs for any reason.
18. CrossFTP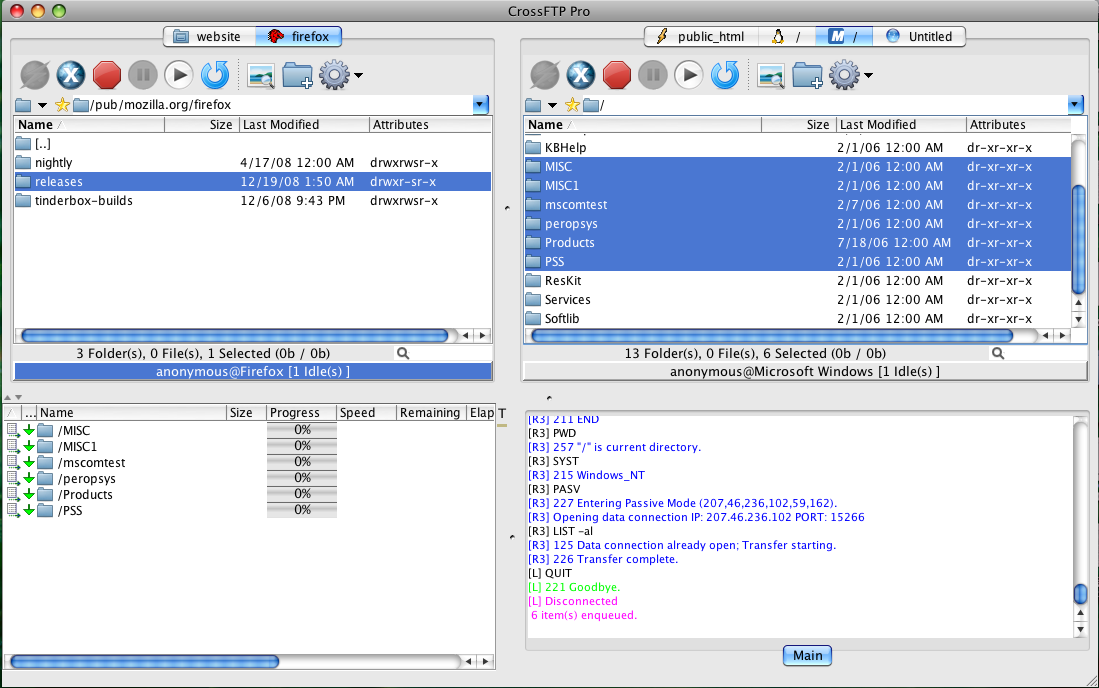 While CrossFTP is a free FTP client, it does have two other premium versions, known as CrossFTP Pro and CrossFTP Enterprise, respectively. CrossFTP Pro costs $24.99 and the CrossFTP Enterprise version is priced at $39.99. Users can avail a 30-day free trial for both paid versions of CrossFTP. CrossFTP works on Windows, Mac, and Linux Operating Systems. However, the features and design is aimed primarily at Linux users.
CrossFTP is a popular choice because of the simple interface it offers. The free version comes loaded with a number of features that may satisfy the FTP needs of most basic users. Some examples include password encryption, a local file search feature, and the ability to synchronize with cloud services like Amazon S3, Amazon Glacier, Microsoft Azure, Box, and Google Cloud Storage. It also supports multiple transfer protocols including WebDAV(s), SFTP, SSH, and of course, FTP.
The less pricey premium version, CrossFTP Pro, adds about 15 new features to the free version interface. Many of these are incredibly useful, like multi-channel transfers, multi-part transfers, the ability to schedule transfers, and much more.
The Enterprise version further adds a few features, but most of these may not be relevant to beginners. For instance, the CrossFTP Enterprise comes with CrossFTP Commander, a command line tool that enables users to handle data sync and transfer tasks on Linux systems.
Features That Make CrossFTP Awesome:
CrossFTP has a powerful free tool that is perfect for basic users.
The premium versions are priced very sensibly.
All CrossFTP users get access to great support documentation available on their website.
Premium users, besides getting additional features, also get access to premium customer support.
The tool automatically records the history of all transfers made.
CrossFTP offers some great security features, including the unique password encryption feature.
Premium versions offer the ability to connect with multiple servers and perform simultaneous transfers.
CrossFTP also offers the ability to transfer data in large batches.
It also offers a powerful search feature that makes it easy to sort through files and locate important ones.
The premium versions add to the search capabilities by extending their reach to remote servers.
There is also a preview feature that can potentially help users save a lot of time.
The Linux client also offers sound and event notifiers.
19. CuteFTP
CuteFTP is a Windows-only, premium FTP client, priced at $59.99 per year. It is one of the few FTP clients that does not work on a license fee. This is because the developers regularly release newer and better versions of their FTP clients. Existing customers have the option of upgrading to a newer version by paying an additional $29.99. For another extra $30, CuteFTP customers can avail year long maintenance and support service from the developers.
When compared to the other options on this list, CuteFTP is a pricey option. However, the features and quality of support given by the company behind CuteFTP may make it worth the price for many website owners.
For instance, CuteFTP offers some truly great security features. Besides encryption, it also offers additional security features like two-factor authentication and an in-built password manager. Moreover, it offers a bunch of other useful features like the ability to automate specific tasks and customize the already intuitively designed interface.
However, the best feature offered by CuteFTP has to be the support it offers. The website is filled to the brim with useful resources designed to help customers make the most of the tool. It also comes with an online help guide and a user guide that can minimize the time it takes for you to get used to using CuteFTP.
Besides these, you can also avail real, human support, and not through the popularly used email channel. You can actually chat or even talk on the phone with a real human being from the customer support team of CuteFTP. If you are someone that struggles with the complexity of FTP transfers, paying a small fee to get support from actual experts can turn out to be a great investment.
Features That Make CuteFTP Awesome:
The user interface of CuteFTP is both straightforward and aesthetically pleasing.
CuteFTP offers a ton of security features. The in-built password manager is especially a great feature.
It supports multiple file transfer protocols including HTTP/S, SFTP, and FTP/S.
Transfer actions can be automated. It is also possible to create scripts within CuteFTP.
CuteFTP automatically and continuously monitors all ongoing transfers and sends automatic updates in case something goes wrong.
The support offered by the creators of CuteFTP is simply phenomenal. It even comes with a step-by-step setup wizard that walks users through the process of connecting remote and local servers.
20. Free FTP
While Free FTP is a free to use tool, it also has a premium version called Direct FTP. Both versions only work on Windows 10, 7, Vista, and XP. Direct FTP is priced at $39 and it also offers a limited period free trial that potential customers can use to make an informed purchase decision.
With that said, Free FTP in itself offers a lot of useful features. It offers a simple user interface, powered by a drag and drop functionality. Free FTP boasts high transfer speeds and let's users track the status of their file transfers in real time, using a beautifully designed list system. It also allows users to perform most of the file management actions, such as moving files, launching files, and adding files within the Free FTP interface. Finally, Free FTP also offers some great backup options.
If that feature list looks satisfactory to you, there is no need to upgrade to the paid version. However, advanced users may be looking for a bit more utility from the FTP client. This need is satisfied by Direct FTP. The premium Direct FTP builds on a lot of features offered in the free version and offers a number of additional features. For instance, with Direct FTP, users get access to a more functional dashboard that is loaded with all sorts of website design features and tools. It also offers additional layers of security for file transfers and adds administrative abilities that allow users to restrict access of other specific users. With Direct FTP, it is also possible to edit files directly on a remote server.
Features That Make Free FTP Awesome:
Free FTP offers a free version and a premium version with additional features.
The free version offers all the features most basic users will need.
The premium version of Free FTP, Direct FTP, is priced very affordably.
The free version comes with a dual-window interface that is enabled with drag and drop functionality.
Both versions automatically record all the history of file transfers.
File transfers are monitored and reported in real time.
It supports many file transfer protocols that the competition doesn't. This includes examples like HTTPS, SFTP, SSH, and TSL, among many others.
The premium version also comes with a code completion feature that automatically gives suggestions for HTML code snippets.
Conclusion
There you have it, our handpicked list of the top FTP clients available in the market today. Before wrapping up this guide, I would like to remind the readers that when it comes to FTP tools, there is no one-size-fits-all best option. What's best for you may not work well for another individual or business. For this reason, it is recommended that you shop around a little before settling on one of the options mentioned in this list.
If you have any questions regarding FTP clients or choosing the right FTP clients, drop them in the comment section below. I promise to come back with a prompt response. Moreover, if you love an FTP client that we have not mentioned here, you too can drop your recommendation(s) in the comment section.
Finally, if all this talk about FTP clients simply seems too technical to you, you may need the help of a web development expert. If you agree, get in touch with our team through our 'contact us' page and we would be happy to help you with all kinds of web development and design needs.