Table of Contents
Introduction
By 2020, it is estimated that there will be upwards of 31 million blogs on the web. While some are more successful than the others, there is no denying that a substantial chunk on internet users visit these blogs regularly.
This means, just like any major social media platform, blogger outreach should be an indispensable part of a holistic marketing strategy
Not only does blogger outreach help websites secure high quality backlinks, but also contribute significantly to brand exposure.
.
At Digital Web Solutions, we have successfully executed blogger outreach campaigns for over 50,000 clients.
In this post, we talk about the different approaches and tactics we use to produce successful influencer partnerships with top bloggers across categories.
Let's jump right into it:
What is blogger outreach and why you should be doing it?
Those of you that are aware of the answers are free to skip to the next section which talks about the process we use for blogger outreach at DWS.
For the others, blogger outreach, just as the name suggests, is the process of reaching out to bloggers (usually in your niche) or influencers and building a mutually-beneficial relationship with them.
In most cases, the benefit you enjoy is the exposure to their audience, in exchange of high-quality content that you provide to the blogger.
See how high quality content is highlighted in the last line? That's because effective blogger outreach is all about trading real value. Unless you have something unique, useful, and beneficial to offer, no blogger that cares about their audience will be ready to share it.
That being said, when you do have something valuable to offer, the benefits of blogger outreach can be condensed into the following:
Exposure to previously unexplored, highly invested audiences

A juicy backlink to aide better SERP performance

Word-of-mouth benefits from an influencer
Blogger outreach: A Step-By-Step Guide
While the following method can also be applied to influencers that only have presence on social media platforms, the following steps will talk about influencers that also have a blog.
Step 1: Identify Influencers

Begin by listing out as many blogs in your niche as you can. At first, the list will mostly contain those blogs that you personally follow. The list can then be further expanded with the help of a few smart Google searches.
Let's understand this better with an example of our own brand, Digital Web Solutions. For us, the obvious influencers of interest would be people like Larry Kim, Jeff Bullas, and John Rampton.
While as a beginner you may feel hesitant about reaching out to the big players in your niche, it doesn't hurt to try. A well crafted pitch (more on this in the next section) sent with the right approach at the right time can convince even the most in-demand bloggers to consider your content.
Here's an example on how we secured a guest post on Jeffbullas.com for one of our own brands:
The first email did not get a positive reply:
But we kept trying:
And finally, it paid off:
That being said, influencers with smaller communities are usually very invested with their audience and have better engagement with their few users and are much easier to approach.
Success with micro-influencers will eventually help you land a star influencer in your niche.
Step 2: Expanding The List Of Influencers
To expand the list of smaller influencers, Google is a great place to start.
We would begin by searching for long tail, informational keywords relevant to our niche (example: top strategies for conversion rate optimisation). The resulting websites are usually "authority sites" and have good influence on their audiences.
When you research these blogs, you will eventually find more long-tail keyword ideas in the comments and other sections of the blogs.
Every time you find a blog whose content you like, add it to your list. Keep repeating the process till you have collected at least 30-50 names.
In order to be able to connect with these bloggers, it is also important to collect their email addresses. While many websites readily offer these information, in many cases, the contact form available on the website is your best bet.
Hunter is also a great freemium tool that reveals all the email addresses associated with a company website. The free account, however, only allows users to search for 100 websites in a month.
Step 3: Evaluating The Influence Of Influencers
Before moving on, it is important to understand that there is no one-size-fits-all approach when it comes to blogger outreach. Blogs vary in terms of audience size, engagement, authority, and these variations affect the way these blogs will be approached.
For this reason, it is important to understand which blogs in your list require more attention than the others. Let's begin this categorization by building an Excel sheet like the following:
Website URL is, 

of 

course, the URL of your blog.
Niche can be further divided into sub-categories like inbound marketing, SEO, social media, web development, CRO etc.
Domain Authority (DA) is a search engine performance indicator that signifies authority of a website in its niche.
Trust Flow (TF) refers to the quality of websites that are linking to the blog in question. Citation Flow reflects the amount of "link juice" a website is able to pass with an outgoing link. It is also an indicator of the volume of links.
TF/CF Ratio is important because it compares the number of links against the number of quality links on a website and is a critical factor in understanding the trustworthiness of a blog. It is advisable to look for websites with lower TF/CF Ratio.
There are other more specific metrics to measure the quality of the blogs in your list, such as social media engagement rates and blog comments. However, Domain Authority is a great starting point for beginners.
The blogs that score poorly on these metrics, are not worth your time.
Bonus Tip: BuzzSumo is a great free tool for finding promising blogs in your niche. Simply log on to the website, enter your desired keywords, and the tool will display the best performing blog posts for those keywords, along with a number of engagement metrics for each result.
Step 2: Start Building Relationships
Now that you have the list of potential influencers in your niche, it is time to make your presence felt.
Why?
Because there are tons of other businesses in your niche reaching out to these influencers on a daily basis, and your request needs to stand out.
Building a relationship before making a collaboration pitch has two main benefits:
1. Improved chance of landing a collaboration.
2. Better understanding of the influencer and their audience.
The first benefit is pretty self-explanatory. If you invest your time in engaging with and appreciating the work of the blogger, they will be more inclined to consider your offer.
The second benefit will allow you to understand the kind of content your target influencers are producing. This will, in turn, guide you in creating content that will both, resonate with their audience, and promote your brand at the same time.
Bottom line: Relationship building improves your chances of being noticed by an influencer.
Blog Commenting
Being an important step in the process of blogger outreach, building relationships is a fairly straightforward but time-consuming task.
Start by visiting a blog on your list, and locate a piece of content that is relevant to something on your blog or something you are planning to write about.
Read the post and drop a genuine comment about something that you liked, or better yet, a query that may have popped up in your head while reading the article.
Even the most influential bloggers make it point to reply to comments on their work, so your chances of being noticed here are pretty high.
Social Media Interaction
Next, follow the influencer on various social media channels and share the post you commented on through your own social media.
Don't forget to tag the influencer when you do this.
Here's Daniel Knowlton of KPS Marketing UK sharing Jeff Bullas' post on his Twitter:
This step will fortify the notion that you are trying to build an authentic relationship with the influencer.
Social Tagging
Next, start tagging the influencer every time you publish a post that you think they will find interesting.
This will make them further aware of your existence and your content.
Keep in mind that even after doing all of the above, some influencers may not respond to your efforts, and that's alright.
The goal after all, is to get the to reply to your outreach pitch.
If, on the other hand, the influencer responds to these efforts, try to keep the conversation casual but intelligent.
Step 3: Start Reaching Out With Personalised Emails

Finally, it's time to send out a cold email. However, it is important to keep in mind that even the less popular bloggers on your list receive somewhere between 10 and 15 outreach collaboration emails daily, so you need to stand out.
If you executed the previous step with perfection, your emails are already a little 'warmer' than all the others present in your target influencer's inbox.
That being said, the email itself needs to be personalised in order to really command attention.
That's right, say goodbye to templates and start writing genuinely personalised emails to all the bloggers.
There are, however, a few common elements in all the personalised emails that you will send out:
A precise subject line that clearly communicates the purpose of your email, and also mentions the name of your brand (if the blogger saw one of the notifications that you dropped in the previous steps, your brand name stands a better chance at being recognised)
While this one is pretty obvious, the necessity of addressing the recipient by their name is too important to not be mentioned in this list
Mention what you love about their work before presenting your offer
Show them that you have been engaging with their content
Mention the benefits of your offering for them
Add social proof by including links to your best published work
Make sure your email body is free of spelling and grammar errors
Keep it short. Shorter emails generally convert better.
When you put all of the above together, your email should look something like this:
Hi [BLOGGER]
My name is [NAME] and I have been following your work for [TIME MONTHS/YEARS].
I really enjoyed reading your recent post about [POST TITLE AND LINK]. I even shared it on my Twitter [TWITTER POST LINK]!
I have been working on [ARTICLE ON RELEVANT TOPIC] myself and wanted to see if you would like to share it with your audiences.
Blogs like [REPUTED BLOG 1,2, AND 3] have published my posts in the past.
Even if your don't, I would love to know your very valuable feedback on the same!
Cheers
[NAME OF SENDER]
Remember, this is just a sample template. The content of the email body will vary depending on your goal.
If, for instance, you simply want a shoutout on social media for one of your articles, a simpler version like the following may work:
Hey [BLOGGER],
I wrote [ARTICLE TOPIC] and thought you'd find it interesting as it is your area of expertise.
Recently read your [ARTICLE ABOUT A RELEVANT TOPIC] so I thought this might be relevant.
Don't forget to share it if you like it!
Thanks!
Once again, no matter how well-written you email copy is, there is no guarantee that it will be even opened by the recipients, mainly because their email inboxes are flooded with outreach requests. This brings us to our next step.
Step 4: The Subtle Art Of Following Up
The goal of following up is not to harass the influencers into replying to your email, that job rests with your initial email. The objective of sending a follow up is to ensure that the influencer reads your initial email.
Keeping that in mind, your follow ups need to be limited, subtle, and timed smartly.
Once again, there is no fixed number of ideal number of follow ups, nor does any study supporting a fixed frequency for the replies.
At DWS, we have sent about quarter of a million emails for outreach campaigns for our clients. For us, limiting the number of follow ups to three has worked best.
The first follow up, in most cases, is the most successful. The success rate usually declines with more follow ups.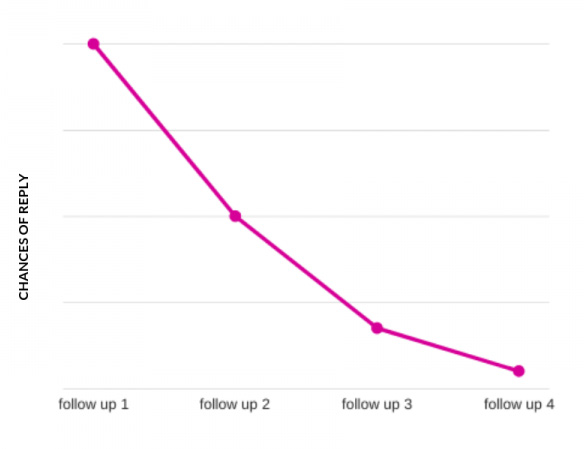 The frequency of your follow ups is extremely critical. You want to give your prospects enough time to think about your offer.
We prefer sending the first follow up after waiting a full 48 hours after the initial mail. Moreover, the follow up email should be consciously sent at a different time of day.
Finally, keep your follow ups short and cordial. Remember, the goal is to remind the recipient of the initial email.
If, even after three superbly crafted and timed follow ups, your prospect does not reply, it is time to move on. However, don't let this stop you from including them in your list of prospects when you have a fresh offer to make.
Step 5: Fortifying Bonds
When you receive a positive response to your pitch (or follow up), it is important to show your appreciation for the benefits you are drawing from the contribution.
If you have not sent in your final offering with your first email, you must ensure you deliver high quality content that the influencer would love to share with their audience. Remember, influencer collaborations are based on exchange of real value.
Once they have delivered their end of the bargain, don't forget to thank them. In fact, use this opportunity to strengthen your relationship with them.
For instance, you could ask them to give you feedback on the content of your blog. The blogger will see that you appreciate their expertise, and were not in it just for the backlink.
Building Long Term Influencer Relationships
Long term influencer relationships offer great benefits when you are trying to build a brand.
Repeated promotion by the same influencer will make their audience trust your brand more.
Similarly, long term partnerships allow the opportunity to explore different angles and marketing experiments that would not otherwise be possible in one-off partnerships.
While it is not necessary to try to turn every collaboration in a long-term partnership, it doesn't hurt to be nice and appreciate the efforts of the blogger promoting your brand to new audiences.
Whether or not a blogger is worthy of a long-term partnership, we will find out in the next step.
Step 6 : Tracking And Improving
Tracking your blogger outreach efforts will help you identify the best opportunities, test different email templates, and ultimately track the contribution of your blogger outreach efforts to your business goals.
Start with tracking replies and successful publishing of your content or promotion with the bloggers.
Once that happens, you can use Google Analytics to track the amount of referral traffic and social engagement from the published content.
The influencers that perform well at this stage can be considered as potential long term ambassadors.
Conclusion
More businesses are engaging with blogger outreach every day. In such a competitive environment, it is important to take the time to identify and target the right influencers with the right approach.
Moreover, with an ocean of content being published on various blogs everyday, special attention needs to be paid to the quality of the content being used for influencer partnerships.
Finally, the importance of building and maintaining strong relationships in the success of influencer outreach cannot be stressed enough. It is critical that businesses view this process as a brand building exercise and not as just another strategy to get more backlinks.